Remembering St. Ezekiel's daring trip: 4 days to another waterworld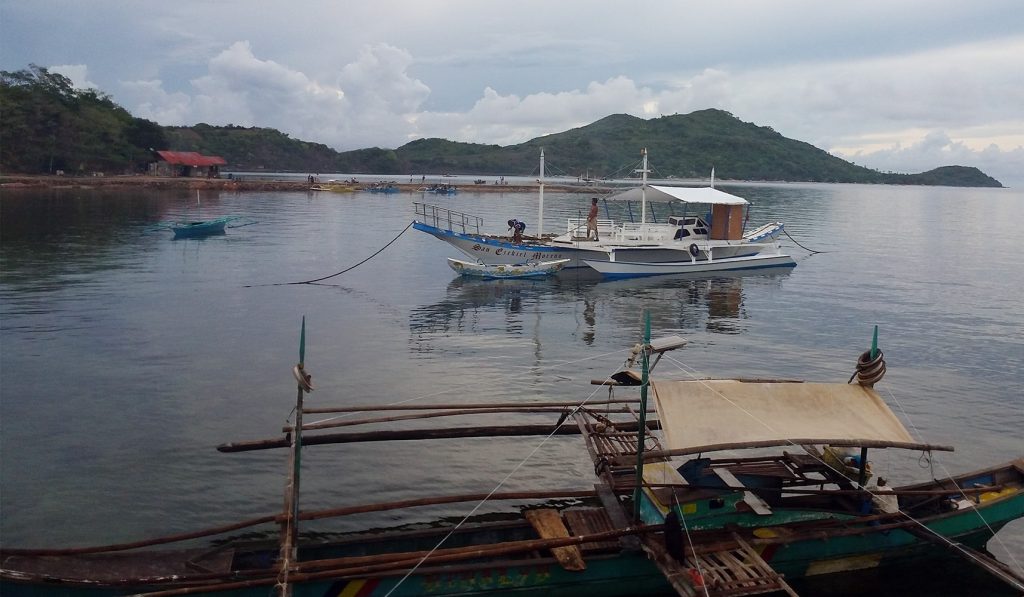 TAYTAY, PALAWAN–Four days of buoying up in the sea, with three stop-overs, and equipped only with some provisions, the needed technology to guide the voyage (CPs, GPS, map, compass), and prayers, Fray Joel "Notnot" Naranja OAR, together with 8 lay companions, aboard the boat named after St. Ezekiel Moreno, dared to cross the sea waters from the southeastern part of Negros to Casian island in Taytay, Palawan.
It was May 10, 2016 when Fray Naranja brought St. Ezekiel from his former chaplaincy (under the patronage of San Vicente Ferrer) in Apo Island, Dauin, Negros Oriental to his new assignment in San Isidro Labrador Parish in Casian.
The said chaplaincy was an apostolate area under the Recollect community in Valencia, Negros Oriental where Fray Naranja was a member, and now the appointed prior of Recoletos de Casian community.
The crew were composed of three (3) other men: Tocles as the captain, Melecio as boat carpenter, and a certain Boboy as boat helper. Five (5) women saw to the needs of the entire odyssey. Two of them were from Apo Island's Chapel Pastoral Council (CPC) officers and three were members of the Mother Butler's Guild from the Parish of Our Lady of the Abandoned in Valencia, Negros Oriental.
The beginning of the journey at 10AM from Malatapay in Dauin was smooth and uneventful when suddenly, a technical problem occurred. The group cast anchor at Tambobo Bay in Siaton, still in Negros Oriental, for an emergency repair. Sailing resumed after, and they arrived in Bayawan City in late afternoon, where they spent the night.
Early the following day, May 11, at around 5 o'clock, the "little church" proceeded towards Maricalum Bay of Sipalay, Negros Occidental, crossed Panay Gulf that is shared by the islands of Negros, Guimaras, and Panay, until, at 1PM, they reached the silent town of Anini-y at the southern tip of Antique province. They rested here, replenished their provisions, and strategized their plans for the next challenging leg of their voyage.
Again, they woke up very early of May 12 and left at 5AM en route to Cuyo. Father Notnot recalled how they were blest with good weather and a serene cellophane-like cobalt waters that carpeted the open sea to Cuyo archipelago. They landed in the población of Cuyo at 12 noon of that day. They underwent the usual inspection and interrogation as part of the standard operating procedures. They passed the grilling, thank God.
They stayed there, enjoyed the sightseeing of the similar sceneries they had back in Negros, and waited for the break of dawn to start afresh the last and the most exciting chapter of their travel.
On May 13, feast of Our Lady of Fatima, at 5AM, they bid goodbye to Cuyo and sailed towards their destination.
At long last, with grateful relief, they docked at 1:30 PM in front of the convent, after around 8 hours of navigation. St. Ezekiel would become a big help for local missionaries assigned in Casian especially during seasons of big waves and strong winds. Boasting of a passenger capacity of 50 persons, St. Ezekiel became the biggest of the four seacrafts for interisland mission works of the Recollects who came "again" here in 2009. (The other boats in this Recollect waterworld are the St. Nicholas which is medium-sized and can accommodate around 20 passengers, a two- to three-seater outrigger named Our Lady of Consolation, and a "dyonkong" which is the smallest and the fastest and used especially for emergency cases.
Three days after, on May 16, the parish in Casian celebrated its 7th patronal fiesta and the Recoletos community (composed of Fray Naranja, Fray Charlie Orobia as parish priest, and Fray Ken Oliver Lao as procurator), its 7th founding anniversary.