RST Celebrates Mass of the Holy Spirit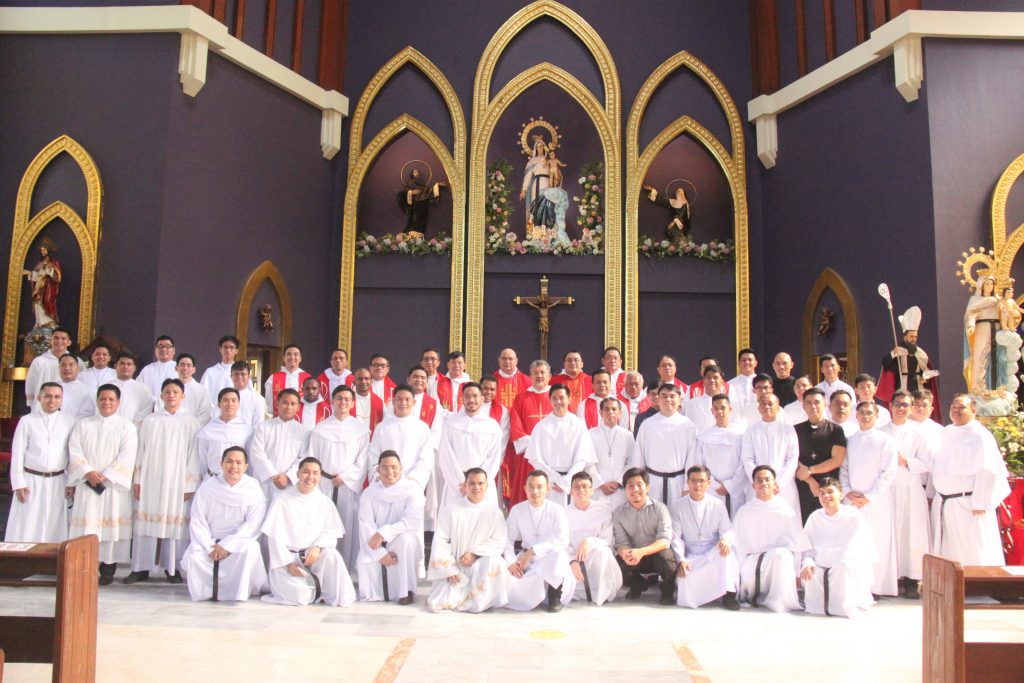 MIRA NILA HOMES, Quezon City–The Recoletos School of Theology (RST) celebrated its Mass of the Holy Spirit at Our Lady of Consolation Parish last August 26, 2022.
The celebration was presided over by Very Rev. Fr. Bernard Cañada Amparado, OAR, the newly elected prior provincial of the Augustinian Recollect Province of St. Ezekiel Moreno. Also present concelebrating in the Eucharistic celebration were Rev. Fr. Ian Anthony R. Espartero, OAR, Dean of Studies of RST, and Rev. Fr. Mark Rochelle F. Renacia, OAR, Rector and President of RST. They were also joined by some of the professors and formators of the students.
In his homily, Fr. Amparado pointed out that "a good person is someone who conquers with the action of the Holy Spirit and so he encouraged the students to respond to His promptings by allowing Him to work in them." After the homily, the professors, led by Fr. Espartero had their profession of faith. And before the final blessing was given, the newly elected officers of the RST Students' Forum came forward for their oath-taking. It was then followed by the official declaration of the Academic Year 2022-2023 by Fr. Renacia. Afterwards, the students and formators enjoyed a simple snack prepared for them.
Present during the said event were the students of theology from the different religious congregations, pious unions, and dioceses who are enrolled in RST – from the Order of Augustinian Recollects (OAR), Order of St. Augustine Province of Sto. Niño de Cebu (OSA), Emmanuel Servant of the Holy Trinity (ESHT), Servants of Charity (SdC), PACEM Missionaries, Dominican Missionaries for the Deaf Apostolate, Marian Missionaries of the Holy Cross (MMHC), Marian Society of the Holy Redeemer (MSHR), Franciscans Sons of Mercy, Clerical Congregation of the Korean Martyrs (BMC), Society of Catholic Apostolate, Order of St. Benedict Celestines (OSB- Cel.), Priests of the Sacred Heart of Jesus (SCJ), and students from the Diocese of Tandag and the Diocese of Urdaneta.