RST holds Solemn Investiture with new Prior General and Prior Provincial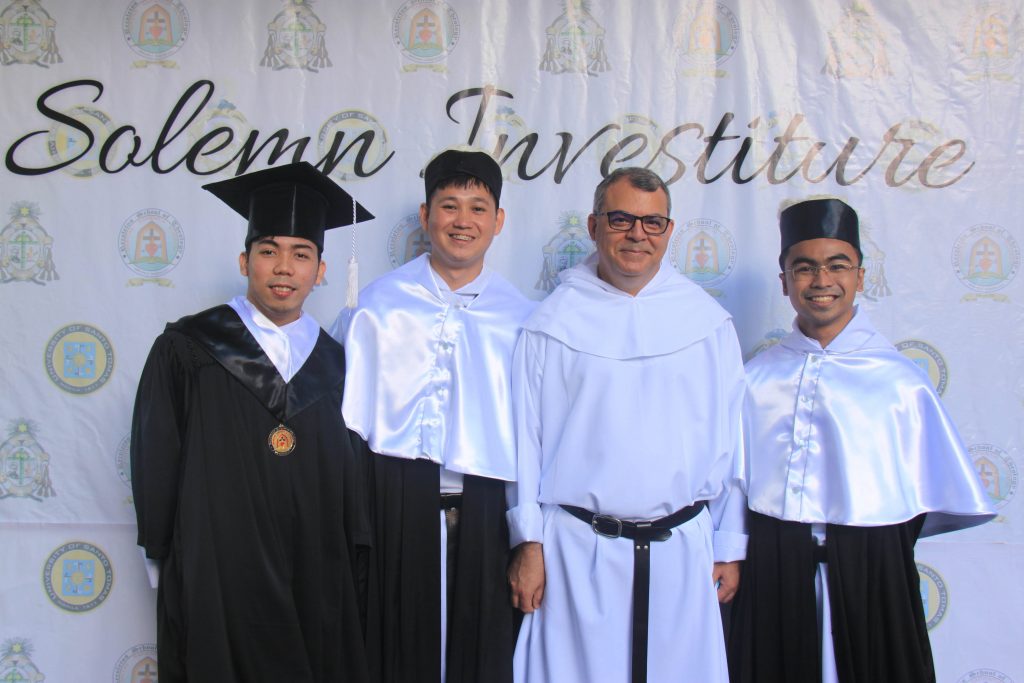 MIRA-NILA, Quezon City – June 3, 2022, was a meaningful day for the graduating students of Recoletos School of Theology (RST). Rev. Fr. Bernard C. Amparado, OAR, the Prior Provincial-elect and the new RST Chairman of the Board of Trustees, presided over the mass alongside Fr. Miguel Angel Hernandez, the new Prior General together with the seminary formators. For the first time in the history of Recoletos School of Theology, the Prior General of the Order of Augustinian Recollects, attended the graduation rites and Solemn Investiture of the school.
The rite of Solemn Investiture was headed by Fr. Leander Barrot, OAR, (RST Rector), Fr. Ian Anthony Espartero, OAR (RST Dean of Studies), and Fr. Rodel Aligan, OP (UST-Manila Dean of the Faculty of Ecclesiastical Studies). Professors and formators from the different religious congregations, orders, and pious congregations were also present at the ceremony.
Six (6) graduates for the Master of Theology (MAT) degree program:
Only one (1) graduated from the original batch this year:
Bro. Nguyen Thanh Hoai, SCJ, from Vietnam
Thesis Title: Reconciliation, a Way of Doing Mission in Vietnam: The Case of Filial Piety
Adviser: Fr Edgar Javier, SVD, SThD
Three (3) of the graduates of the MAT program came from the Order of the Augustinian Recollects:
Fray Jhoben M. Rodriguez, OAR (Cum Laude)
Thesis Title: The Holy Eucharist as a Sacrament of Unity: A Response to Individualism in Catholic Filipino Family
Adviser: Fr. Dexter Austria, OP, SThD
Fray Jhyryx Vincent F. Gamulo, OAR
Thesis Title: Santo Tomas de Villanueva in Bayawan City, Negros Oriental: Its First Twenty-Two Years (1876-1898)
Adviser: Fr. Rene Paglinawan, OAR, HEL
Fray Jose Enrico V. Gallego, OAR
Thesis Title: The Sacramental Nature of Aesthetics in Sacred Architecture
Adviser: Fr. Carmelo P. Arada, Jr., SThL
Two (2) candidates finished the MAT program with a non-thesis degree masteral program.
Br. Renante D. Jarito, OATH
Translation from English to Waray: Misericordiae Vultus
Adviser: Prof. Richard Tuba, PhD
Fray Ariel A. Panimdim, OSA
Translation from English to Cebuano: Christus Vivit
Adviser: Fr. Ian Anthony Espartero, OAR, PhD
Thirteen (13) graduates of the degree of Bachelor in Sacred Theology (SThB) • six got (6) Latin Awardees: four (4) Cum Laude, two (2) Magna Cum Laude, and one (1) OAR graduate, Fray Neil Robert M. Alilain, OAR, who graduated Cum Laude.
Bro. Nguyen Thanh Hoai, SCJ, delivered their Address of Gratitude on behalf of their batch. Meanwhile, Bro. Jimmy Salonoy, OSB Cel. received a special award, the St. Ezekiel Moreno Leadership Award, this award is given to students who served tirelessly in the institution. The program ended with the singing of the RST Hymn and the rite was officially closed by Fr. Ian Anthony Espartero, OAR.