School teachers and staff receive "Gasa ni Tomas" on Feast of St. Thomas of Villanova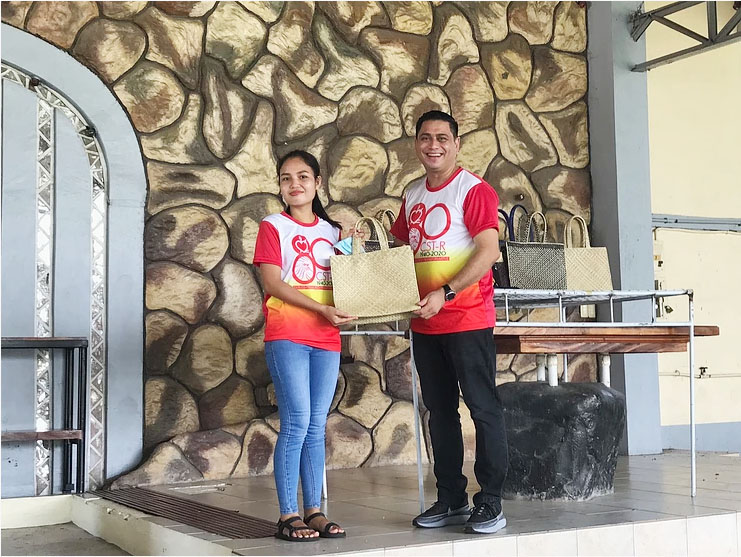 San Carlos City, NEGROS OCCIDENTAL–In her 27 years as staff of the Colegio de Sto. Tomas-Recoletos Registrar's Office, Melinda Dela Paz, has never experienced a crisis such as this pandemic has brought. Melinda used to earn extra income for her children's education by consigning food items at the school canteen. After Philippine schools were limited to distance learning, a portion of her livelihood initiatives had been cut off.
Last October 10, 2020, in honor of St. Thomas of Villanova's Feast Day, CST-R through its community outreach program "Gasa ni Tomas" (Gift of Thomas) distributed poultry to school and seminary staff. There were seven beneficiaries including Melinda and her husband Isaias Dela Paz, teacher and CST-R Safety and Security Officer.
"Gasa ni Tomas" started last year with the distribution of food packs to 100 pedicab (foot-pedalled tricycles) drivers who often drive Thomasians to and from the school. This year, the program focused on helping CST-R's own people by giving them a livelihood start-up. Twenty-one chickens, six guinea fowls and six ducks taken from the school's own poultry holding were distributed to the school driver, guards and janitresses.
Meanwhile, students, parents and the alumni, who interact with the school's Official Facebook page and help spread information about the school and its activities, virtually participated in a raffle. Twenty hygiene kits, 10 student-snack packs and five food packs were given away. The raffle was CST-R's way of saying "Thank You" to the online community that is helping the school migrate from traditional classroom learning and in-campus activities to remote learning and online event modalities.
CST-R has also supported the local pandan weaving industry of nearby town Calatrava. Twelve woven bags were awarded to selected teachers on St. Thomas' Feast Day. Some of the bags were big enough for the teacher's laptop and learning modules. Calatrava's weaving industry uses pandan (Pandanus copelandii) leaves and weavers are mostly women. A number of Thomasian teachers and students are from the said town.
Fray Vicente Ramon, Jr., OAR, CST-R property custodian, said that this program may be small but it is meaningful to the Thomasian community in that it shows how "always united or siempre unidos" Thomasians are at a time of crisis.