SHSC Alfonso now a Recoletos Institution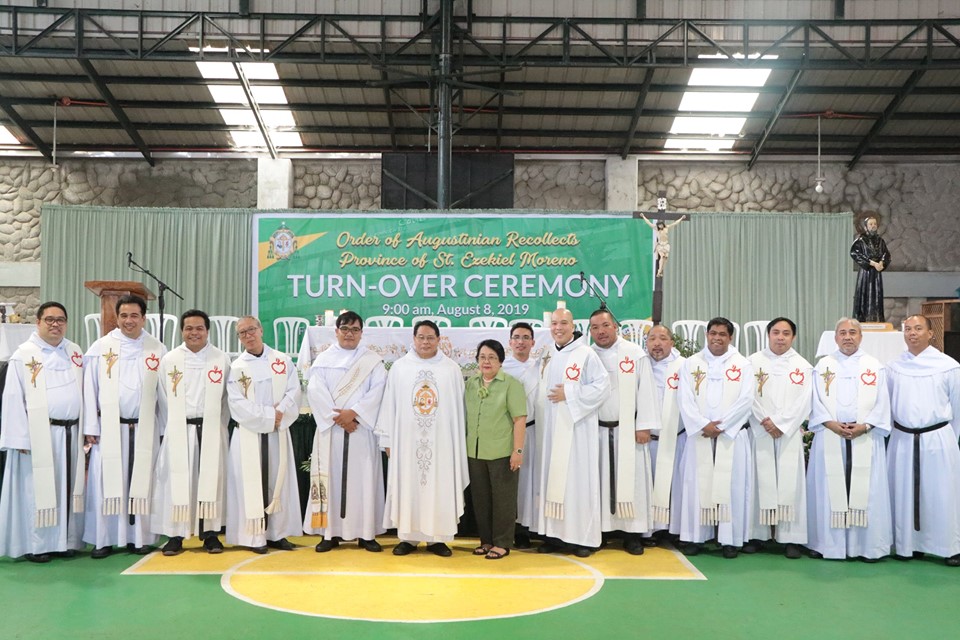 Alfonso, CAVITE–In a formal turn-over program attended by representatives from the Order of Augustinian Recollects, local government officials, administrators, students, faculty, and guests, Sacred Heart School in Alfonso, Cavite officially affixed "Recoletos" to its name, joining the Augustinian Recollect family of schools, August 8.
Not even the occasional downpour could dampen the mood in the SHSC-R covered court, venue of the turn-over program, which commenced with a Eucharistic Celebration officiated by Fray Dionisio Q. Selma, OAR, Prior Provincial.
In his homily, Fray Selma gave an overview of the Province of Saint Ezekiel Moreno, which he described as a "family having a mission in different countries and parts of the Philippines."
He asked the attendees to reflect on the things that enabled Saint Ezekiel Moreno to survive his missions; namely, prayer, the Mass, and Marian spirituality.
Fray Selma's sharing also focused on the concept of the "heart," a reference to the Sacred Heart after which the school is named. He said that Saint Ezekiel Moreno, as early as childhood, was a devotee of the Sacred Heart.
Moreover, Fr. Selma called the heart the venue of all our thoughts and actions. He challenged those present to always have the heart of Jesus. "The heart of Jesus embraces everybody, not condemning, not discriminating," he said.
He also explained the mission of education. He said that intellectual knowledge is "scaffolding toward eternal happiness, which is God." He said that education should not always be in the classroom, but something to be applied.
Fray Selma added that knowledge should be coupled with values. "Not just with words, but with actions, he said. "What we need are witnessing teachers, administrators, leaders."
Present at the Mass were Ms. Irene Bencito, Executive Assistant to Gov. Juanito Victor Remulla, as well as Hon. Madonna Mojica-Pel, Vice Mayor of Alfonso, Cavite.
After the Mass, Fray Selma proceeded to the gate of the school for the ribbon cutting. He was accompanied by Fray William Emilito C. Villaflor, OAR, Second Councilor, and Fray Edgar P. Tubio, OAR, Fourth Councilor.
This was followed by the unveiling of the marker by Fr. Selma and Fr. Villaflor.
The Recollect Fathers then blessed the rooms and facilities of the Sacred Heart School.
After the blessing, the turn-over program started.
"As I always say, this has been my home, the school has been my life, my home, my life for more than 50 years," Mrs. Aida Leyran said, visibly emotional, in her turn-over message.
She thanked various people. In particular, she thanked the Augustinian Recollects and SSC-R de Cavite School President Fray Rafael B. Pecson, OAR. She said she felt Fray Pecson had already become her best friend in such a short time. She also thanked her family, extended family, and her husband the late Jaime Leyran. Finally, she thanked her Sacred Heart School Family.
Mrs. Leyran wrapped up her speech, saying "It's not the money and power that matter; it's the love in your heart that brings your assignment to conclusion. Softly I will leave you, softly I will walk away, but surely I will miss you all."
Fray Selma accepted the documents in the turn-over. He thanked Mrs. Leyran for her trust and confidence in the whole Recoleto family. "Rest assured that the sacrifices that the family invested in this institution will not return in vain," he told her.
"This is not the end, but rather a beginning according to God's plan," Fray Selma added. "Our brothers are extending their congratulations and prayers."
Fray William Emilito C. Villaflor, OAR also gave an acceptance speech as President of the Recoletos Educational Apostolate in the Philippines. He said that REAP accepts the added mission bestowed on it. He also said that they would gradually introduce and "blend the ideas of this school with the Recoletos educational philosophy."
"We will work without ceasing to live up to these ideals," Fray Villaflor said. At this point, he declared that Sacred Heart School was now subject to REAP policies and entitled to its stipulated privileges.
Fray Rommel L. Rubia, OAR, SSC-R de Cavite Vice President for Administration, then presented the Sacred Heart School of Cavite-Recoletos Religious Adminstrators. These include SSC-RdC School President Fray Rafael B. Pecson, OAR as Sacred Heart School's new School Director, SSC-RdC Vice President for Finance Fray Raymund G. Alcedo, OAR as SHSC-R School Treasurer, and SSC-RdC Vice President for Formation, Mission, and Identity Fray Joseph Dexter D. Palagtiosa, OAR as SHSC-R Campus Minister.
Also mentioned in the introduction were other SSC-R de Cavite Religious Administrators. Namely, Fray James T. Bumangabang, OAR, Vice President for Academics, Research, and Innovation; Fray Samuel L. Eyas, OAR, Director of Basic Education; Fray Antonio C. Zabala, Jr., OAR, Director, Safety and Security and Main Campus Minister; and Fray Vincent S. Cadeliña, OAR, Director, Facilities Management and General Administrative Services and Cañacao Campus Minister.
After this, a SHSC-R student and faculty member represented their peers in pledging their support.
Fray Selma then encouraged students who may feel moved by the Holy Spirit to consider a vocation as priests or nuns.
Fray Rubia gave the Closing Remarks. He said that just like Saint Pope John Paul II, he believes nothing happens by chance. Of the turn-over, he said, "I believe it was God's plan."
"Thank you, Ma'am Aida for entrusting Sacred Heart School to us," Fray Rubia said. "Your legacy, Ma'am, will always be cherished and remembered."
He ended his speech by telling the SHSC-R audience, "This is our assurance and promise. We will take care of you." A lunch break preceded basketball games, first between the OAR Fathers and Brothers and SHSC-R Community members (the former won, 90-67), then between the SSC-RdC JHS Baycats and SHSC-R SHS (the latter won, 66-62).
Written by Public Affairs and International Relations Office, San Sebastian College-Recoletos de Cavite