SOLEMNITY of the MOST HOLY BODY AND BLOOD of CHRIST (CORPUS CHRISTI)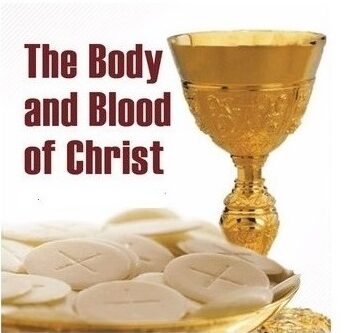 Gospel Bullet Points (John 6:51-58)
Before His death and eventually His ascension to the Father, Jesus had a problem: First, He needed to be with the Father and at the same time wanted to be with us. So, He instituted the sacrament of the Holy Eucharist so that we can have His real presence in the form of bread and wine until the end of time.
And secondly, that we may have life and have it to the full. In the gospel of John, He tells us: "Unless you eat the flesh of the Son of Man and drink His blood, you have no eternal life in you. Those who eat my flesh and drink my blood have eternal life and I will raise them on the last day" (John 6:53-54).
Shortly after the miracle of Jesus' multiplication of the loaves and fishes, the Jews gathered around Jesus to ask Him for more bread (Chapter 6). Instead, Jesus promised to give them spiritual bread and spiritual blood. But their materialistic and shallow mentality could not understand what this spiritual food Jesus was offering them. "How can this man give us his flesh to eat? (v. 52). But Jesus reaffirms saying, "My flesh is true food and my blood is true drink (v 55). And they started to distance themselves from Jesus. They could not accept that hard teaching, because of their materialistic mentality.
Today, that same problem and issue persist. Many still would not understand and believe in the real presence of Jesus in the Eucharist. The Eucharist is true food and true drink but at the same time the real flesh and blood of Jesus. This is not an invention of the Church. It was Jesus himself who made it so.
As we celebrate the solemnity of the Body and Blood of Christ, let us give thanks to God for the permanent and continuing presence of Christ with us in the Eucharist. Let us approach the Holy Eucharist with a livelier faith in the real presence of Jesus under the humble and silent appearances of bread and wine.