The Recoletos Way: Bro. Tagoy's 25 Years for Our Common Home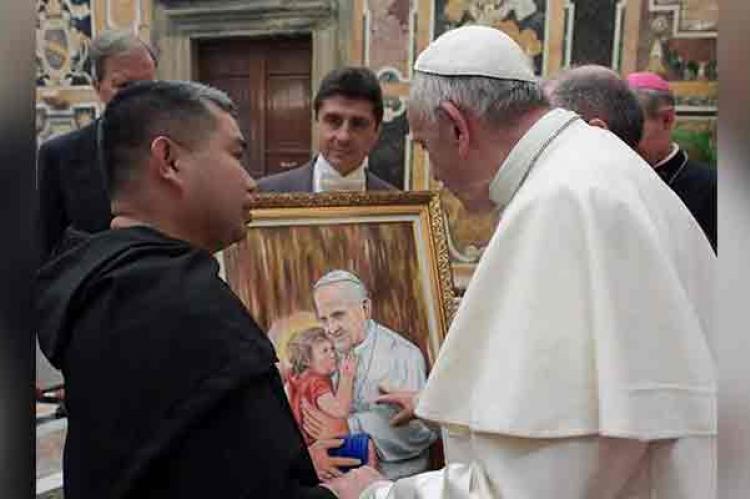 Note: This article was posted on livinglaudasi.ph and was written by John Leo Algo (Living Laudato Si' Philippines Programs Manager) with Rodne R. Galicha (Living Laudato Si' Philippines Executive Director and Co-Lead Convenor)
For the past 25 years, Brother Jaazeal Estelou Jakosalem has embodied the spirit of the Order of Augustinian Recollects. Through his vocations and advocacies, Bro. Tagoy as he is fondly called, has exemplified what it means to live a life in service to humankind, to all Creation, to the truth, and to God.
A product of San Carlos, Negros Occidental, he has been inspired by recoletos (meaning "to come home") since his educational years. It is intended as a sign of fidelity to Augustinian teachings and living a strict religious life, devoting prayers, works, and services to God. He earned his AB Philosophy degree from Seminario Mayor – Recoletos, Baguio City in 1994, and his Master's degree in Theology from the Recoletos Formation Center, Quezon City in 1999.
Bro. Tagoy is a lifelong advocate for environmental protection and climate action at the grassroots level, recognizing the need to inform and prepare communities at the frontline of severe potential impacts. He has led various initiatives in support of his advocacies, from climate change education programs in Negros Occidental and Cebu to assisting in the rebuilding efforts for the victims of typhoon Yolanda.
His appreciation of Creation is reflected in his educational endeavors. Bro. Tagoy served as a faculty member for theology, humanities, art appreciation, and photojournalism at the University of Negros Occidental – Recoletos, Bacolod City from 2006 to 2015. In 2010, Bro. Tagoy participated in a training organized by The Climate Reality Project, a non-profit organization led by former US Vice President Al Gore. Since then, he has expanded his reach to more communities to spread the narrative of the climate crisis and the urgency to address this emergency.
Arts and ecology
Bro. Tagoy has also used his artistic skills as a reflection of not only his devotion to his Order, but also his love for his home. He was connected to the Greenheart Hermitage, an ecological center at the University of Negros Occidental-Recoletos where he worked with the youth in creating environmental murals on public spaces. He also contributed to the construction of the Earth Chapel in the university, which was made with indigenous materials and energy conservation features.

With same vigor and zeal, Bro. Tagoy continued his passion for the arts and defense of human rights when he was appointed Property Administrator at the University of San Jose – Recoletos in Cebu City. There, together with his fellow climate activists and environmentalists, he co-founded Pusyon Kinaiyahan, now an international grassroots movement to empower communities to protect people and planet.

He is known for his works as an iconographer, communicating messages through prominent figures in the Christian lore. In 2015, he created a Filipinized icon depicting the Blessed Virgin as the "Mother of Creation" in reference to a passage within the to-be-released Pope Francis's eco-encyclical "Laudato Si': On Care for Our Common Home". He also created an icon depicting Jesus Christ in the context of creation, which was brought to Rome as a gift to the Pope in support of the Laudato Si'.

In December 2015, after 21 pilgrims walked from Rome to Paris in time for the 21st Conference of Parties (COP21) of the United Nations Framework Convention on Climate Change (UNFCCC), Bro. Tagoy initiated the drafting of "Laudato Si' Manifesto" which would serve as a simple guide (for Catholics, non-Catholics, faith-based groups, civil society, institutions or individuals) on how we should care for our planet and people. To further develop the Manifesto, he then collaborated with the pilgrimage leader Naderev 'Yeb' M. Saño (now, Executive Director of Greenpeace Southeast Asia) and pilgrim Rodne 'Rod' R. Galicha (now, Lead Convenor of Living Laudato Si' Philippines), who were also present at a global meeting organized by the Global Catholic Climate Movement (GCCM) in Paris, France. Upon completion of the text, the Manifesto was sent to the negotiators, faith-based groups and civil society, and was made public until the Paris Agreement was adopted, and thereafter. Download Laudato Si' Manifesto here.
Believing in ecological art for ecological conversion not only for adults but also for children, Bro. Tagoy made a coloring book called "Doodle Earth: Art for the Environment" which shows the beauty of the environment, faith-life experiences, and love for people.
(Visit Bro. Tagoy's Facebook page to view more of his ecological art and his work on social action, justice and peace.)
Beyond borders
In recognition of his efforts, Bro. Tagoy has been the recipient of awards from various organizations. He was awarded the Green Ring Award by Gore during the Climate Reality Leadership Corps Training in Pasay City on March 2016. He also received the Fr. Neri Satur Environmental Heroism Award in 2012 for his contributions in indigenous architecture and engineering.
While Bro. Tagoy is currently based with the Recoletos in Madrid, through his religious congregation's social action arm ARCORES (Red Solidaria Internacional Agustino Recoleta), he is still active in advocating for humankind with renewed and strengthened relationships with God, with nature, and with itself.
At present, he has been lobbying for full citizenship rights and regularization of all migrants and refugees amid the coronavirus disease 2019 pandemic.
His leadership by example and devotion for others inspires us, Living Laudato Si' Philippines, to work with mindfulness, generosity, and compassion in caring for our common home.