Mabalacat City SP recognizes Augustinian Recollects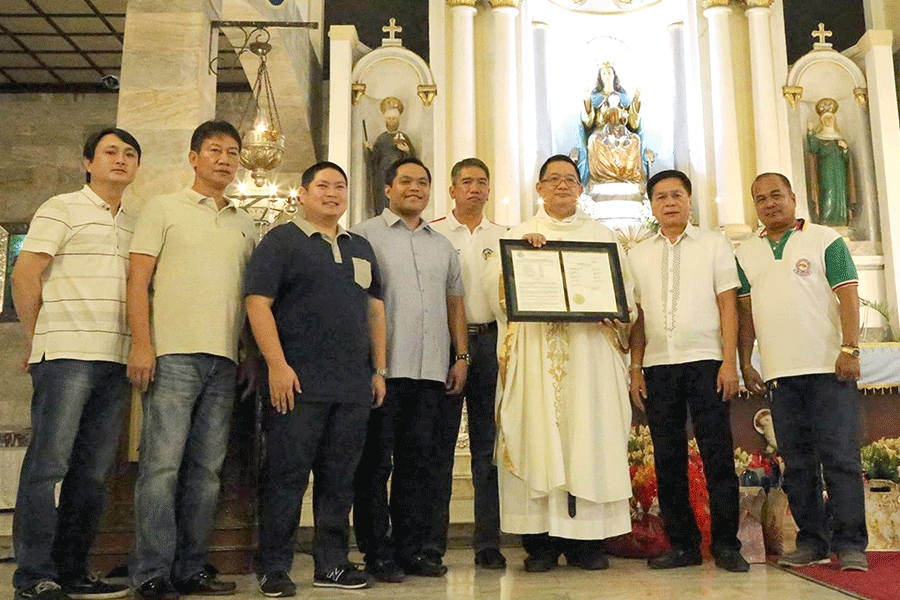 Mabalacat City, Pampanga – January 31, 2017 (Tuesday) The "Sanguniang Panlunsod" of Mabalacat City officially declared that the Augustinian Recollects were its founders.
The "Sanguniang Panlunsod" issued RESOLUTION NUMBER 146 SERIES 2017 Dated January 25, 2017 that officially and publicly declared that the Augustinian Recollects were the founders of the town of Mabalacat (now city) and its parish.
The City Council members gave the documents to Rev. Fr. Emilio Edgardo A. Quilatan, OAR, representing the Very Rev. Fr. Dionisio Q. Selma, OAR, prior provincial, on January 31, 2017. This was held in the parish church of Our Lady of Grace during the eighth day of its Novena Mass in preparation for the city's fiesta celebration. Rev. Fr. Quilatan, OAR, presided at the Mass. Then the parish pastoral council president, in the name of its parish priest, Msgr. Felicito C. Sison, gave as gift an icon of its patroness to Fr. Quilatan, OAR.
Before the final blessing, Rev. Fr. Quilatan, OAR, in behalf of the Province of St. Ezekiel Moreno and its prior provincial, gave words of gratitude to the city council members and the parish priest.
Historical Note: Mabalacat, Pampanga, was the only town and parish founded by the Augustinian Recollects since the Province of Pampanga during the Spanish colonial period was under the pastoral administration of the Augustinians. The Augustinian Recollects came first to Mabalacat in the eighteenth century and founded a mission station. According to Rev. Fr. Ángel Martínez Cuesta, OAR, the Order's official historian, "In 1713, three Augustinian Recollects — Manuel de San Nicolás, Andrés de San Fulgencio and Juan de Santo Tomás de Aquino — evangelized of what is now Patling (now O'Donnel), Bamban, Mabalacat, Dinalupian, Talimarin and Capas" (Historia de los Agustinos Recoletos, Vol. I, p. 597).