Two new missionaries sent to Sierra Leone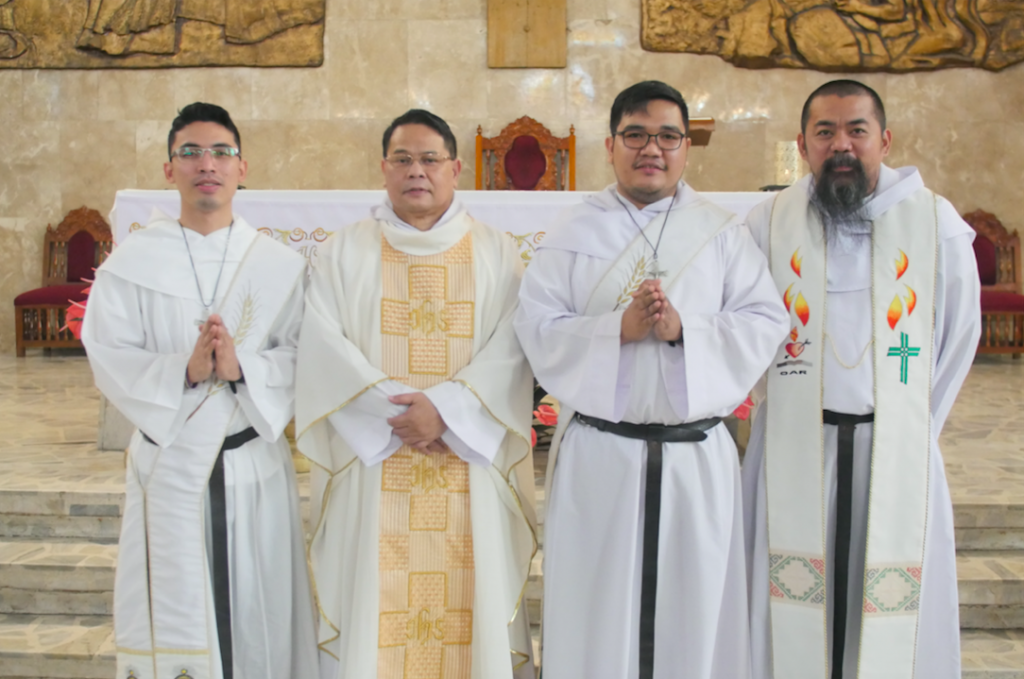 Provincial Curia, QUEZON CITY—"We are all missionaries…" These were the words of Fray Dionisio Selma, OAR, Prior Provincial, during the send-off Mass for two new and young missionaries to Sierra Leone.
As the Catholic Church in the Philippines celebrates the Feast of the Black Nazarene, an image brought to the Philippines by Augustinian Recollect missionaries 400 years ago, the Province of St. Ezekiel Moreno sent Fray Andrie Pugate, OAR, and Fray Tomokatsu Yamaguchi, OAR, for their diaconal pastoral exposure program. The two missonaries were ordained as deacons last November 17, 2018. They volunteered to be missionaries in the Recollect communities in Kamabai and Kamalo, Sierra Leone, West Africa. The two deacon-missionaries were accompanied by Fray Jess Marco Sanchez, OAR, who is one of the "veteran" missionaries assigned in Sierra Leone.
During the 6:30 AM Mass at San Nicolas de Tolentino Parish, the two missionaries were introduced to the parishioners by the Prior Provincial who also presided the Mass. In his homily, Fray Dionisio said that "we are all sent by God in a particular mission. Not only the religious and priests are sent to proclaim the Gospel of Christ, but all of us. You are also sent by God to your own home, family, and workplace to spread the Good News of Christ."
Fray Selma reminded the missionaries to pray always. "Prayer is our source of strength. If you will forget your life of prayer, it is the beginning of your weakening…" said Fray Selma. Aside from prayer, they should always put trust in the Lord because Jesus himself said to his disciples to be not afraid. They should also be sustained by the Sacraments, especially of the Eucharist and Reconciliation. The missionaries should not forget their devotion to Mary and the saints for they are their comfort in times of crisis and difficulties. Finally, the Prior Provincial urged them to always love God. "It is because of the Love of God that we are able to love our neighbor, ourselves, and our mission," were the words of Fray Selma at the end of his homily.
After the homily, the new missionaries were given a missionary cross. It is a reminder for them to bring Christ to the place where they were sent, not because Christ is not there but to proclaim the truth about Christ.
Fray Tomokatsu and Fray Andrie, together with Fray Jess Marco, will leave the Philippines this evening, 11:10 PM Philippine time, and will land to Dubai International Airport. Then, from Dubai, they will leave for Accra Kotoka International Airport in Ghana before going to Lungi International Airport in Freetown, Sierra Leone.
(Photo below) Fray Andrie Pugate, OAR, Fray Dionisio Selma, OAR, Tomokatsu Yamaguchi, OAR, and Fray Jess Marco Sanches, OAR.