UNO-R Alumnus tops 2020 PLE; Alumna hailed as Outstanding Social Worker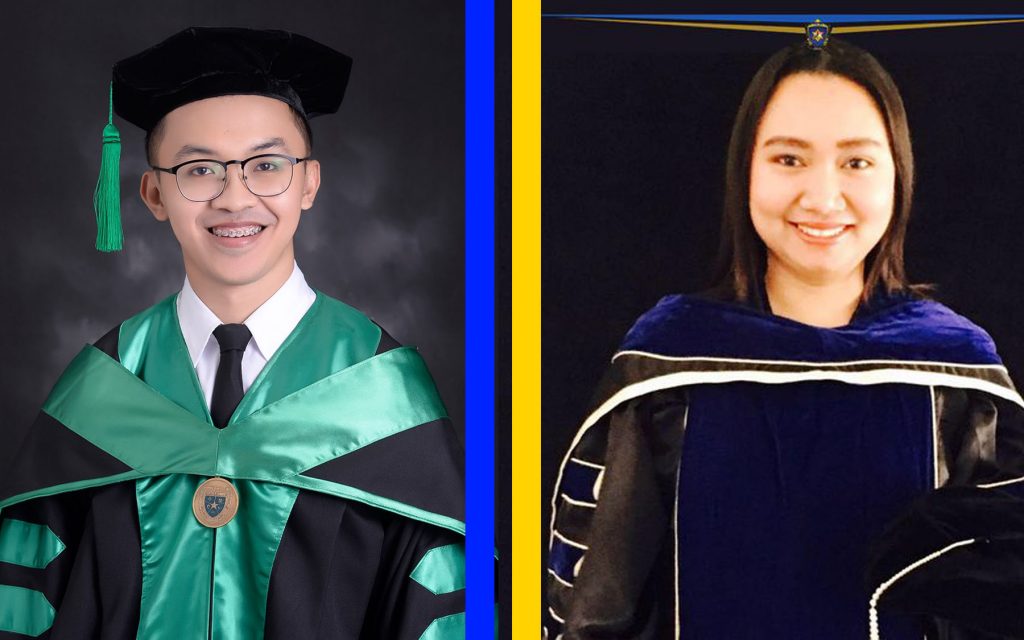 News from Tolentine Star
Bacolod City, NEGROS OCCIDENTAL–UNO-R alumnus Patrick Joseph Mabugat, RMT, MD, ranked top 2 in November 2020 Physician Licensure Examination (PLE) with a rating of 88.58 percent.
The 2014 Medical Technology Licensure Examination topnotcher shared that his only goal is to pass the PLE, but it had been a bonus to be on the top.
"Unlike in my Medical Technology Board Exam in 2014, where my goal really was to top the Board Exam, for this one, my only aim was to pass the exam and become a medical doctor. Because being a doctor by itself is such a great achievement, and my only wish was to give honor to my family and help treat other people. Topping the board is just a bonus for me, albeit a quite wonderful bonus," he said.
As a graduate of Medical Technology Class 2014 from the University of Negros Occidental – Recoletos, his college mentors expressed their congratulations for yet another achievement.
"Patrick [Mabugat] and the rest of the UNO-Rian graduates who now excel in their own fields were honed by the University. Not only academically but holistically – mind, heart, and soul. Their success is our success too. Patrick [Mabugat] brings the name of UNO-R to the limelight, not only once but twice. He brings pride and honor to the University and we will always be thankful and proud," Medical Technology Department Head Fatima Medel, RMT, MSMT said.
According to Medel, UNO-R graduates Daryll Antipuesto, Alyssa Marie Arceño, Ma. Karina De Leon, Dyan Dimalaluan, and Kim Valdez also passed the licensure exam for physicians.
Mabugat, together with the other 3,500 medical students, hurdled the November 2020 PLE out of 4,704 takers.
With the initial advisory of postponing the licensure examinations for this year due to COVID-19, the Professional Regulatory Commission (PRC) and the Board of Medicine pushed through the PLE in response to the urgent need for physicians amid the COVID-19 pandemic.
The November 2020 PLE is the second licensure exam for physicians held this year, while the first one was held on Mar. 8 and 9 and Sept. 20 and 21, with 800 out of 1,421 takers passed the exam.
Likewise, UNO-R alumna Dr. Richelle Verdeprado, RSW, MSSW, a College of Arts and Sciences professor and Sowing Legacy Movement, Inc. chairperson, was hailed as the Philippine Association of Social Workers, Inc. (PASWI) 2020 Outstanding Social Worker of the Philippines in the Field of Academe.
"I am honored and, at the same time, humbled for this recognition. I became a Registered Social Worker in the year 2011 and ever since I had nothing in mind but a conscious desire to uphold the nobility of our profession and to truly create an impact in the lives of others. I hope this would inspire the students to sustain their passion for service and in learning the science and the art of helping," Verdeprado said. She also encouraged her colleagues and future colleagues in the profession to continue doing what they can as agents of social change and as advocates for human worth and dignity.
Verdeprado is an alumna of the Bachelor of Science in Social Work program of UNO-R where she graduated as a Summa Cum Laude of Class 2011. She also ranked top 2 in the National Licensure Examination for Social Workers in 2011.
Affiliated with the Securities and Exchange Commission, PASWI is a national organization for professional social workers in the country (written by Alea Villahermosa)
Photo courtesy of Patrick Joseph Mabugat, RMT, MD and Dr. Richelle Verdeprado, RSW, MSSW