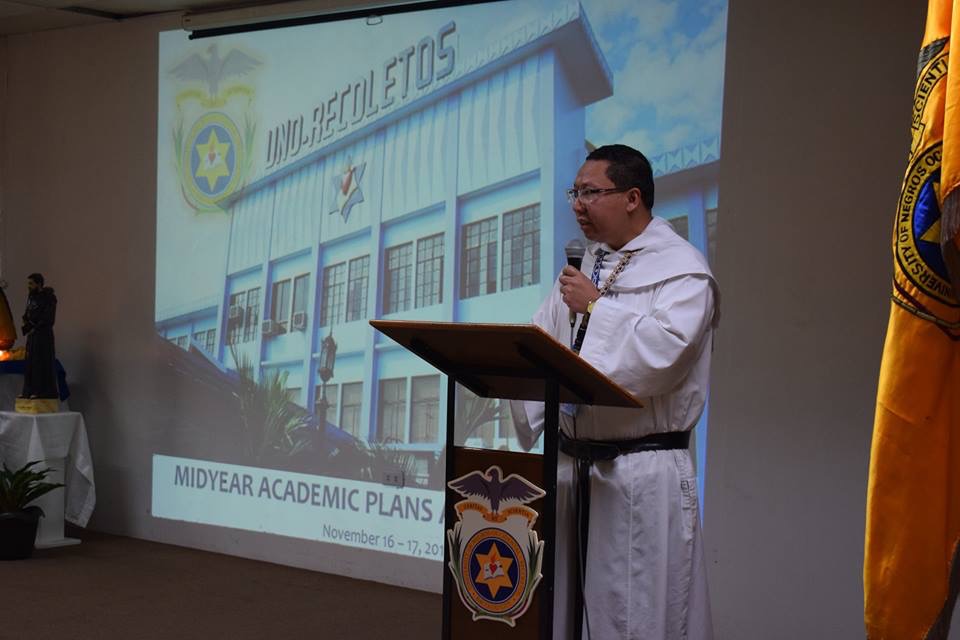 Bacolod City, NEGROS OCCIDENTAL—The Office of Planning and Quality Assurance (PQA) holds the Midterm Academic Planning Assessment 2018 at the President's Hall, November 16-17, 2018. The assembly opened with the prayer led by Rev. Fr. Cristituto A. Palomar, OAR, UNO-R VP-Religious Affairs and Chaplain. This was followed by the Opening Remarks of Fr. Don H. Besana, OAR, University President and Dr. Elmer Haro gave the rationale of the planning activity.

Fr. President, in his Opening remarks, challenged those present to take care of the students. He reminded all that our work in the educational apostolate is the work of God and we are all God's collaborators in forming the hearts and the minds of the young people. Fr. Besana also reiterated that "we are one with the mission of Christ and the Church in spreading the word of God and to holistically and integrally develop the human person." He challenged the community to really make a difference in the areas of instruction, research and community involvement. He strongly reminded the academic deans of these and that we have to be fair in dealing with the students. Listen to what they are saying. Lastly, he challenged everyone that we have to smell like sheep for the Shepherd to recognize us and to smell like fish in order to be identified by the fisherman.
On the first day presentations of the Manual outputs were done by the following Administrative Manual by Rev. Fr. Ronel P. Gealon, OAR, VP-Administration; Faculty Manual by Dr. Dennis Madrigal; Succession Manual by Dr. Elmer Haro; Research Manual by Dr. Mona Freda Secondes; Students Manual by Rev. Fr. Amadeo C. Lucero, OAR; Employees Manual by Dr. Carmenda Leonoras; Compensation and Honoraria Scheme by Rev. Fr. William Emilito C. Villaflor, OAR, UNO-R VP-Finance; Facilities Development Plan by Rev. Fr. Jose Teodulfo A. Jadulco, OAR, UNO-R Property Administrator and Program Marketing and Linkages Manual by Fr. Cristituto A. Palomar, OAR and Carlos Eduardo I. Legaspi, Jr.
On the second day, the program will open with management of learning, CEAP seminar output and presentation of Client Satisfaction Survey. PAASCU recommendation updates for the interim visits shall be discussed. Department Accomplishments, concerns and updates will be presented by the respective Deans of the colleges. Rev. Fr. Ronel P. Gealon, OAR will close the program.