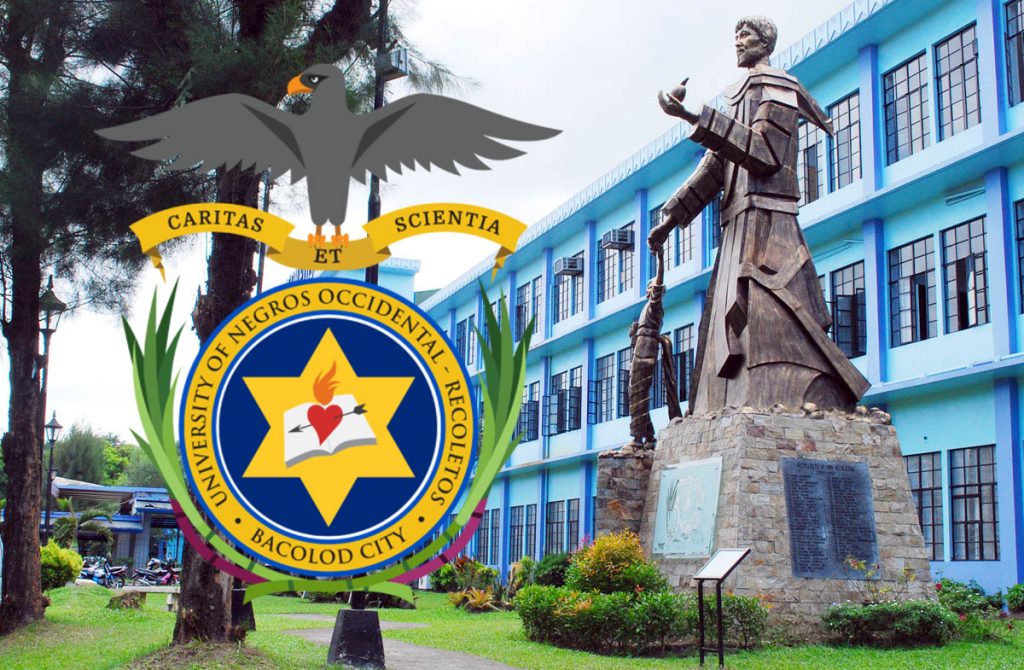 Bacolod City, NEGROS OCCIDENTAL–University of Negros Occidental-Recoletos continues to be the Cradle of Excellence both in the academic and athletic divisions not only in the island of Negros, but also in the national platform. Recently, students, alumni, teachers, and member of the administration have brought laurels for the university making UNO-R a home of achievers.
UNO-R I.S. sparkles in CMLI
The UNO-Recoletos Integrated School (N-6) joined the 40th Graders Convention with the theme SPARK: "Strengthening Proactive Advocacy on Revitalized Knowledge of Filipino Moral Values towards a Stronger Nation" at the Teachers' Camp, Baguio City, September 26-30, 2019. Eighteen public and private schools all over the Philippines participated in the five –day National Graders Convention with simultaneous competitions for excellence and entertainment.
UNO-R was named champion in 4 categories:
Essay Writing in English – Angel Mae Villarente
News Writing in English – Ilyasviel Ryine Sotocinal
Storytelling in English and Mini Me- Jackie Almasa
UNO-R got three second runners-up:
Spelling Bee in English – Julia Marte
News Writing in Filipino – Adia Therese Ola
OPM-solo – Jaimie Ann Cloe Digon
3 made it to the finals: Reader' Theater; Poetry Writing in English and Filipino; Ms. Graders Con 2019; and 2 special awards: Best in Effective Public Speaking Workshop; and Best in Journalistic Writing Workshop. The delegates were trained by:
Mr. Michael Aglubat,
Ms. Joan Bravo
Mr. Allen Peter Montano, MAEL
Ms. Grace Placios
Mr. Karl Pastor
Mr. John Carlo Tomesa,MAEd
Ms. Zonavieve A. Catalan, MAEd
They were accompanied by Mrs. Mary Jane Concel, MAEd, Student Affairs Coordinator, and Fray Persiuz Joseph Decena, OAR. (by Ms. Zonavieve Catalan, MAEd)
7 UNO-Rians join RSPC
Seven UNO-R Integrated school learners join the Regional Schools Press Conference (RSPC), this coming November 15, 16, 22 and 23, 2019 at Iloilo National High School, La Paz, Iloilo City.
IS (N-6) qualifiers are:
Daniel Symon P. Dizon for Copy Reading and Headline Writing in English
Ion Nathaniel F. De Paula for News Writing in English
Their coach is Mr. Allen Peter Montaňo, MAEL.
IS (7-10) qualifiers are:
Lovella Dylin Y. Hechanova for Feature Writing in English
Christian Gelotin for Sports Writing in English
Kristine Cassandra O. Cawaling for Editorial Cartooning in English
Xavier Romeo C. Emnace for Editorial Cartooning in Filipino
Krystel I. Felicisimo for Feature Writing in Filipino.
Coaches are Allen Peter Montano, MAEL, and John Carlo A. Tomesa, MAEd. (data from Ms. Zonavieve Catalan, MAEd)
I.S. sends 19 participants to the Cyberland Cyberbot Challenge 2019
Nineteen learners from the UNO-R Integrated School participated in the Inter-School Cyberland Cyberbot Challenge 2019, Cyberland International Education Center last October 4, 5, and 6, 2019 at the UNO-R President's Hall. The participants were:
Yoshiki Takiguchi
Sherwin Jacildo
Geamar Mikhail G. Manderico
John Paul M. Valdegamo
Shania Dela Rosa
Elmer Kent Eupalan
Leander Iva S. Matullano
Jose Christian Tulio
Neil Bryant T. Alferez
Arielle Allaizah L. Ballega
Aee Miguel Lalisan
Jed Aisher M. Quilantang
Christian Dee V. Perez
Justin Brian Silab
John Michael Yson
Precious Ramiragen S. Batiancila
Ericca Felize P. Juanico
Gene Josef Manuel U. Pedrosa
Ralph Gabriel T. Cabale
The coaches are Mr. Joel L. Nedamo, Mr. Jonathan Mandia, Russell Buslay, and Mrs. Antonette Del Oeste.
UNO-R had 9 participating teams.
UNO-R gets 3rd spot in LEGO Robot Final Round
The Team, mentored by Mr. Joel L. Nedamo and composed of Caryl Joyce J. Andarza, Kristine Laverne R. Gapiz, and Jeniña Claire M. Yulo got the 3rd place in the Lego Robot Competition during the Final Round of the Inter school Competition on Cyberland Cyberbot Challenge 2019. The completion was held at the UNO-R President's Hall, October 17, 2019.( data from Ms. Zonavieve Catalan, MAEd and Mr. Joel Nedamo)
UNO-R joins National University Games
The University joins the National University Games at the University of San Agustin, Iloilo, October 20-27. The university will participate in Basketball (men); Football (men); Volleyball (men and women); Beach Volleyball (men and women).
The UNO-R Rams Basketball team is composed of:
Nico Abaquita
Joshua Abkilan
Bruce Amaguin
Jay-R Bayona
John Louie Caduhada
Clif Jason Carian
Nico Claridad
Christian Gamao
Jemwel Malojo
Carl John Mejica
Leonard Mustre
Jear Ninal
Elmer Orano
Clint Quires
Fritz Tagamolila
UNO-R Football team is composed of:
Philip Adeva
Marcelino Alisbo
Perkins Bernal
Jaycarl Caracas
Jemel Carbon
Argie Mar dela Cruz
Gyles Encabo
Julio Eriman III
Dave Garcia
Vinz Guanga
Mon Shadrock Jocson
Jason Juayang
Emel Jhun Lanasa
Junard Lumawag
Myljun Maghari
Jericho Mahusay
Lordenino Mayagma
Jaque Monterde
Lydse Oleverio
Aldren Palomo
Justin Jose Quinones
Jules Strebel
John Sumaylo
Abraham Agocejo
Fercy Cari-an
John Michael Delmo
Lawrence Garcia
Christian Gevero
Michel Lopez
Marvin Paulite
Julianmar Perez
Joshua Perucho
Nikole Angelo Villacura
The Men's Volleyball team while the Women's volleyball team players are:
Kyla Gallego
Charlene Gonzales
Ellen Jito
Rixi Maligmat
Jessalen Moises
Johana Puzon
Coleen Tigoylo
Karen Tilanas
Gelimae Villanueva
Seeing action in Beach Volleyball men are:
Clyde Jereza
Rubin Clarence
and for the women division:
Jessalen Moises
Gelimae Villanueva
(data from the Sport's office)
UNO-R participates in ASAM 2019
The University of Negros Occidental –Recoletos will participate in the National Augustinian Schools Athletic Meet (ASAM), October 27-31 at the University of San Agustin, Iloilo City.  The UNO-R contingents will see action in Men's Basketball (College), Men's and Women's Chess, Men's and Women's Table Tennis, Men's and Women's Volleyball, Basketball High School boys and girls, Football High School boys, Football Elementary boys, and the Table Tennis High School Boys.   
The UNO-R RAMS Basketball team, mentored by Rolando Aledron and Jorge Sausa, is composed of Niko Abaquita,  Niel Joshua Abaring, Joshua Abkilan, Bruce Amaguin, Stanly Bargamento, George Batal,  Jay-R Bayona, Nico Claridad, Carlo Desucatan, Christian Gamao, Lattrell Latido, Jemwel Malojo, Carl John Mejica, Leonard Mustre, Jear Ninal, Elmer Orano, Clint Quires,; and John Rivera.
Ericson Rios–mentored Chess team members are Lyster Franz Andador, Spencer de Guzman, and Reu Bethel Lucenara for men and Krizia Marie Carmona, Nazareth Gumban, Jean Rose Sangco, and Ira Jade Tenerife for the women's.  Table Tennis team members are Jaypee Campos, John Marcel Concha, Elmer Locsin, Allan jay Maranon, Dealbert Paulma, and Joshua Valdez for men's division while for women's division are Cyrene Canoy, Catherine Dela Cruz, Kimberly Dela Cruz, Rossana Dogomeo, Kimberly Naragdao and Ruhamah Ravello with Gy Canonero as coach.
Jason Delmo's protégés Abraham Agocejo,  Fercy Cari-an, John Michael Delmo, Lawrence Garcia, Christian Gevero; Clyde Jereza,  Luke Patrick Lim, Michel Lopez, Marvin Paulite,  Julianmar Perez,  Joshua Perucho, Clarence Rubin,  and Nikole Angelo Villacura composed the Men's Volleyball team. On the other hand, the Women's Volleyball team players are Kyla Gallego, Charlene Gonzales, Christine Jamantoc,  Francheska Jumayao, Jaryl Ledesma, Rixi Maligmat, Jessalen Moises, Johana Puzon, Karen Tilanas and Gelimae Villanueva.
The team's assistant coach is Lycca Maxine Yu. The High School Basketball Boys Team is composed of Louise Arcojada, Kharl Celeste, Ranier Karl Estrada, Angelo Gonzaga, Wellard Iral, Dave Jayme, Edison Jumayao, Adrian Kwan, John Labrador, Kris Ian Lopez, Jerod Jay Matinong, Pascual Emmanuel, Rob Denver Requiron, Isaiah Tornea, and Kyle Villarosa.
Mr. Rios champion team – Basketball High School Girls will once again dominate the games.  The team members are  Kezia Crisna Aragon, Beatrice Zhea Baylen, Danielle Gwen Dusaran, Nicole Angely Epacta, Angeline Espartero, Franchesca Espina, Marianne Aiyu Fernandez,  Roshell Gialogo,  Brymielette Ligaya,  Kiara Isabelle Mejica,  Larian Krizia Sauce, Rachel Mae Sulitas, Claudia Mae Christine Sumido, Kolyn Marie Talapiero, and Ricci Jen Verzosa.
Luis William Clauor-mentored team is composed of Jance Alojamiento, Chrismark Cantos, Luis Clauor, Dominic Austin William Dreyfu, Rey Gerard Javelona,  Jiem Junsay, Ezekiel Macote, Jose Victor Manalo, Edrian John Mayuga, Derrick Raphael Montelijao, Nathaniel Andre Resuma, Christian Rufin, Joshua Samolde, Jefferson Tolimao, Juan Karlo Torres, Franco Torrevillas, and Andrei  Uy, for Football High school boys. Playing as UNO-R Football Elementary boys are Maji Rense Bacharo, Aleic Wil Bilbao, Lucas Santino Dilag, Yael Espellogo, Aethan Hontiveros, Arne Jaena, Clive Jance, Luis Jocson, Jaime Katipunan, Rounin Clyde Magalona, Baliam John Mondia, Rhybel Pateno, Carl Jaden Quebrar, Ansbert Tayapad,  Cris Edward Tolimao, Czar Trinidad, Jed Andrei Tulale, and Shan Martin Villanueva.
Kyle Joshua Batisla-on, Justine Legislador, Jone Gerard Lorayna, and Kina Lear Sol comprise the RAMS Table Tennis (HS) boys with coach Gy Canonero. (data from the Sport's Office)
12 UNO-R alumni successfully hurdle CPA Licensure Exams
Twelve alumni of the Accountancy Department successfully hurdled the October 2019 Certified Public Accountants Licensure Examinations given last October 5, 6, and 12, 2019. The national passing percentage is 14.32% while UNO-R got 54.55%, which makes UNO-R number 1 in Negros Occidental in passing percentage. The new Certified Public Accountants are:
Keren Kezia A. Camalon
Denise L. Clarite
Almira A. Desierdo
Anika Mae V. Fierro
Bianca T. Gargalicano
Olivia Genobis
Majeed D. Hanif
Ronnie C. Pahilagao, Jr.
Luigi Angelo V. Portuguez
John Hazel A. Siason
Antonette B. Somcio
Gianelli Jude S. Sumugat
PALS elects School of Law Dean as Vice-President
Last October 18, Atty. John Paolo A. Villasor, Dean of UNO-R School of Law, was elected Executive Vice President of the Philippine Association of Law Schools (PALS).
Pres. Duterte appoints Alumnus to JBC
The President of the Republic of the Philippines appointed former Judge, Honorable Franklin J. Demonteverde as a permanent member of the Judicial and Bar Council of the Philippines. According to the message of Dean John Paolo Villasor, "With Judicial and Bar Council (JBC) Member representing the IBP, the Hon. Franklin J. Demonteverde, the highest ranking UNO-Rian in the national government today. As a constitutional office, the JBC's primary task is to screen and recommend appointees to the Judiciary, from Chief Justice to Municipal Trial Court Judge, the Office of the Ombudsman, and the Legal Education Board for the President's consideration. Only those appearing on the JBC list may be appointed by the President to the Judiciary, the Office of the Ombudsman and the Legal Education Board. (As embodied in the Philippine Constitution, Art. VIII, Sections 8 & 9)"
Congratulations!