UNO-R updates: Alumni receive National and International recognitions, awards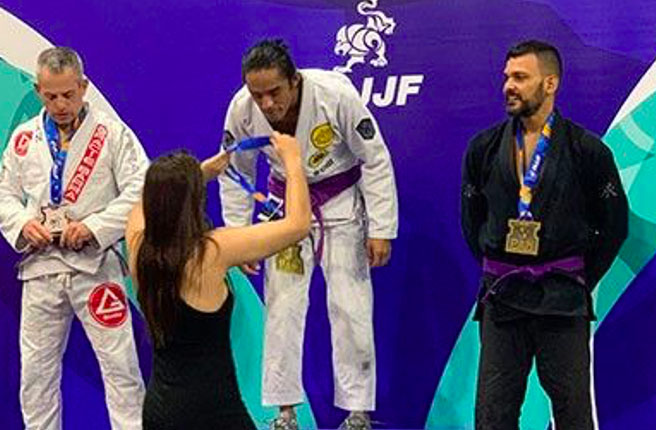 UNO-R alumnus is Jiu-Jitsu Federation Pan-Ams Gold Medalist
Florida, USA–A Negrense has captured the world with his knack on the Brazilian Jiu-Jitsu, a self-defense martial art and combat sport, successfully earning the championship title (gold medalist) in the recently concluded International Brazilian Jiu-Jitsu Federation (IBJJF) PAN Americans Championship 2020, Light Featherweight Division, held at Silver Spurs Arena Kissimmee, Florida from October 8 to 11, 2020. 
Doctor Sunny "Pin" Diego is the first Filipino from Negros Island to become a Master 3 Champion in PAN Americans in history.  Pan Ams is one of the biggest Jiu-Jitsu events in the world. Competitors from different countries travel to the USA just to compete at the Pan Ams. Doctor Sunny Diego fought against Ramiro Morales of Tiburones BJJ Puerto Rico and American Ryan Cramer of Gracie Barra Arizona on the finals which gained him the title of Light Featherweight PAN American Champion for 2020.  He is the first Filipino student of Omar Salum Jr. to win the PAN Americans in history. 
Diego, the current gold medalist, is the great-grandson of late Santiago "Tagoy" H. Diego, Sr., the founder of the Municipality of Candoni, Negros Occidental, son of Sany Diego and Doctor Crispina Diego and is married to Hannah Robles Diego, a Registered Nurse who are both residing in California, USA. He finished his studies at the University of Negros Occidental Recoletos in Bacolod City. One of Sunny Diego's dreams is to be an inspiration to many people especially to his own "kababayans." He has touched many through his words as he always believes that words with actions are way better than just words.  As he is part of the John Maxwell Team, he believes that a leader "knows the way, goes the way, and shows the way."  His humility to learn, discipline and hard work have given him a name in this martial arts world. He always vows to continue to serve as a motivator and inspiration to many people as long as he lives.  He offers this feat all to the glory of God and celebrates his Gold Medal in the good name of his parents, Sany Diego and Doctor Crispina Diego.
(NEWS BY Carla Canet sunstar.com.ph/article/1873677/Bacolod/Lifestyle/Sunny-Diego-wins-gold-in-Jiu-Jitsu-Pan-Ams-Championship-2020?fbclid=IwAR3XnnEUK6FuPL-84zmYqOndJSLOWyfzk4lBhkrh5lZrXHUZpv8s8nDHiDw)
UNO-R alumnus is 68th PSME NATCO Champion
Former UNO-R Rams and PSME Negros Occidental Chapter member Engr. Jan Danielle Magalona emerged champion in the recent Philippine Society of Mechanical Engineers 68th Virtual National Conference online chess tournament. (by Engr. Herminio Tolentino, Jr. www.lichess.org/tea/psme-chess-club)
US School recognizes UNO-R alumnus
Arizona, USA–Dr. Roy Basa, College of Education and Recoletos de Bacolod Alumnus was awarded the "Above and Beyond" Award by the River Valley School, Arizona, USA last October 21, 2020.  This award is given to who performed above and beyond the District's expectations.
In his facebook post, Dr. Basa wrote: "To God be the glory. For a Filipino receiving an award in a foreign land is something to be treasured. I never expected that I will have this award from a foreign country, (Arizona, USA) and from a foreign school (River Valley High School),  but THANK YOU SO MUCH."
Dr. Roy was also a recipient of the Blue and Gold alumni Association as Outstanding alumni achiever in the field of education.