USJ-R's Oplan Tokhay (Toktok Kabuhayan)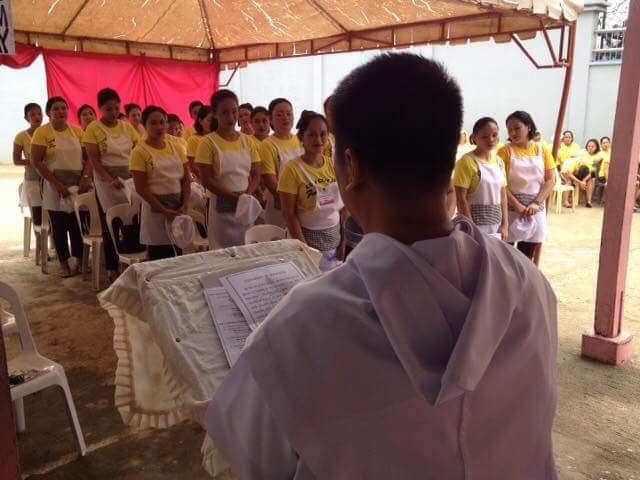 CEBU CITY – In order to make good use of their time behind bars, lady inmates in Cebu underwent technical-vocational (tech-voc) training provided by USJ-R and successfully passed the government accreditation.
Thirty inmates and a lady guard of the Cebu City Jail Female Dormitory were conferred their national certification (NC II) for Bread and Pastry Production by USJ-R President Rev. Fr. Cristopher Maspara, OAR in a "graduation ceremony" yesterday at the jail grounds.
"Deserving kaayo mo i-congratulate kay bisan kamo naa diri sa sulod sa bilanggoan, naa moy na-achieve sa inyong kinabuhi (You deserved to be congratulated because even if you're behind bars, you have achieved something)," Fr. Maspara told the inmates during the mass held before the awarding of certificates.
"Ang inyong nakat-onan kay para ra pod sa inyong personal nga kalamboan ug para sa kalamboan sa inyong pamilya ug myembro sa inyong kumunidad dinhi (What you have learned will be for your own good and the good of your family and members of your community)," he added, as he urged them to use what they have learned to do good.
The lady inmates and Jail Officer 2 Marcia Sayson had undergone 141 hours of training conducted by Miss Grace Barnido, an instructor of the Recoletos Industrial and Technological Training Center (RITTC), the tech-voc arm of USJ-R.
Of the 356 total population of the facility, 30 "willingly" signed up for the program, said Sayson.
Dr. Mary Ann Roble, RITTC director, said the inmates demonstrated competence and skill during the Sept. 22 Technical Education and Skills Development Authority (TESDA) accreditation, registering a 100% passing rate.
The inmates wore their apron and toque blanche, or the pleated, starched white hat worn by chefs as they walked up the mini stage and get their certificates.
They also received a livelihood package consist of baking wares and ingredients from USJ-R as "graduation gift."
Second chances
Bro. Jaazeal Jakosalem, OAR, director of the university's Institute of Non-Formal Education and Community Outreach Program (INFECOP), said the initiative is anchored on the university's community apostolate.
He said that USJ-R looks after the spiritual and livelihood concerns of the inmates as Recollect priests attend to the inmates' spiritual needs by saying mass for them every Sunday, hearing their confessions and giving counsel; and by providing them with the tech-voc training.
"You are already empowered through the skills you acquired," he said. "Bisag diri sa sulod makakwarta namo pinaagi sa inyong mga lutoon ug crafts nga baligya (Even behind bars, you already earn money through baking and selling hand-made crafts)."
Bro. Jakosalem revealed that during the 51st International Eucharistic Congress, crafts made by the inmates were the first to sell out in the booth set by USJ-R at the IEC Pavilion as they became the favorite of IEC delegates.
Community Prior Rev. Fr. Vicente Ramon Jr., OAR encouraged the inmates to never give up even if life seemed bleak behind bars as he told them the humble beginnings and success story of Mrs. Julia Gandionco, owner of Julie's Bakeshop
"Kung naa lang unta ang atong mahal nga Presidente Duterte aron mo-witness sa inyong graduation," Fr. Ramon said, "makakita sab unta siya nga dili diay kinahanglan nga katong mga tawo nga nakasala sa gobyerno nga ato lang pamusilon diha sa daplin. Naa pa gyod diay second ug third ug fourth chances."
(If our beloved President Rodrigo Duterte could only witness your graduation, he would have seen that we don't have to just shoot erring individuals, that there are second and third and fourth chances.)
How it began
JO2 Saycon and inmates Geraldine Espiritu and Gessa Figueras were awarded for their excellent performance during the training. They were given medals and certificates.
In a speech, the jail officer thanked USJ-R for its contributions to the rehabilitation efforts of the inmates.
She revealed that the initiative started with the same 30 inmates who are fond of making yema, pastillas and munchkin. Soon enough, they started planning about opening a bakery store to also augment their income.
It was then that INFECOP supervisor Dr. Joan de Catalina learned about their bakery plan and offered them training on Bread and Pastry Production, which they readily grabbed.
Dr. de Catalina frequents the jail facility as it is one of the beneficiary area of the university's community outreach programs.
"Dako nakong pasalamat sa Ginoo nga kung kita kinasingkasing ka nga manangandoy, daghan kaayong motabang (I thank the Lord because if you heartily dream, many will extend help)," Saycon said.
Figueras, 27, was arrested for drug peddling. She is awaiting the resolution of her case in court for 1 year and 7 months already.
She said she joined the program because she would want to learn something useful when she would be released from jail.
She said the training was really fun and it helped her divert her attention toward more meaningful things. "Ako gyod ning gamiton akong nakat-onan kay magbagong buhay na gyod ko (I would use what I learned to start a new life)," she said.
Next batch
Espiritu, 49, was convicted of illegal recruitment and has been doing time inside the facility since June 2011. She gladly revealed that she has one more year to go inside the facility.
"Timely kaayo ni nga training kay hapit nako molaya," she said. "Magtukog kog coffee shop inag gawas nako."
(This training is very timely because I will be released soon. I would open a coffee shop when I get out.)
She said she joined the trainings because she found it helpful. She said as a mother of four, she had no time to cook for her family because she was "always on the go."
"I didn't have time for things like this," she said. She thanked USJ-R for its help and for not giving up on them.
"Kung unsa may inyong gitudlo namo, amo gyod gamiton sa pagbuhat og maayo (Whatever you taught us, we would use them to do good)," she said.
Fr. Maspara also invited the other inmates to also signup for future tech-voc trainings to be provided by USJ-R.
"Sa sunod namong balik, kamo na sad unta ang mo-graduate kay ang USJ-R dili mohunong pagtabang ninyo (I hope the next time we come back here, may you be the ones who will graduate because USJ-R will not stop helping you)," he told them.
Dr. de Catalina said the tech-voc trainings to be offered to the inmates would continue with the inclusion of the next batches of willing trainees.