Six Augustinian Recollect friars makes solemn profession of vows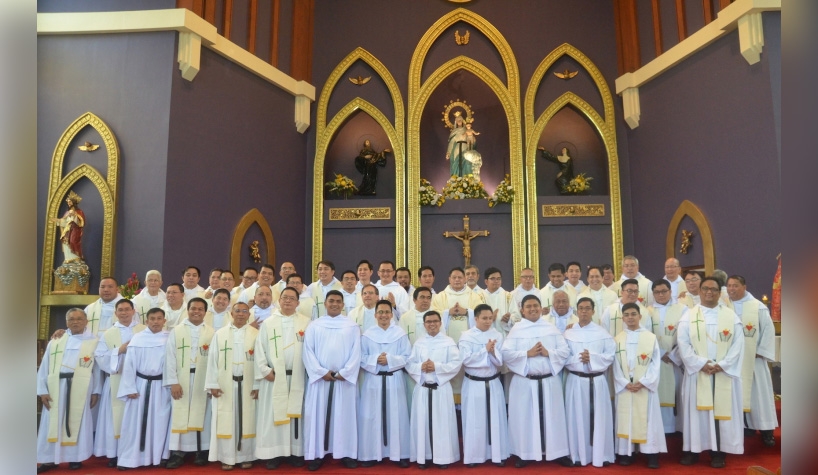 Mira-Nila Homes, Quezon City – August 28, 2017 (Monday) After four years of formation at the Recoletos Formation Center and careful evaluation six Augustinian Recollect friars made their solemn profession of vows with God's mercy and with the support of the Augustinian Recollect family. These friars were:
| | |
| --- | --- |
| Fray Paul S. Demillones, OAR | Fray Elpedio N. Sarita, Jr., OAR |
| Fray Robin Ross S. Plata, OAR | Fray Keneth B. Pahamutang, OAR |
| Fray Niel Ryan E. Jarumay, OAR | Fray Kenneth S. Caligdong, OAR |
According to Canon Law, "by religious profession, members assume the observance of the three evangelical counsels [chastity, poverty and obedience] by public vow, are consecrated to God through the ministry of the Church, and are incorporated into the institute with the rights and duties defined by law" (CIC, n. 654; OAR Consts., n. 35). The above mentioned friars have been members of the Order of Augustinian Recollects of the Province of St. Ezekiel Moreno with simple vows which they renewed every year. With the solemn profession of vows they are now perpetual members of the Order.
The celebration began with the Holy Mass at 9:00 AM and it was held at the parish church of Our Lady of Consolation, Mira-Nila Homes, Quezon City. The Holy Mass was presided by Very Rev. Fray Dionisio Q. Selma, OAR, prior provincial. Together with him at the main altar were Fray Lauro V. Larlar, OAR, local prior of RFC, and Fray Kenneth Joseph Onda, OAR, Master of the Professed. More than forty priests who represented the different OAR communities in the province joined in the solemn liturgy as concelebrants. Fray "Paco" Legarra, OAR, of the province of St. Nicholas of Tolentine who happened to be visiting the country was also present at the celebration. Fray Jose Fortunato "Larry" J. Garces, OAR, served as the liturgist for the occasion.
Before the final blessing, Fray Paul Demillones, OAR, spoke in behalf of his batch words of acknowledgements and gratitude. After the final blessing that was pronounced by the prior provincial, group picture taking took place in the church then followed by the reception at the Bulwagan Recoletos Atrium.