18th Sunday of Ordinary Time (A)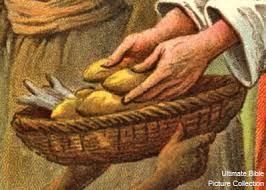 18th Sunday A
Multiplication of Loaves
In today's Gospel, we see that the disciples were so concerned about the hungry crowd that they asked Jesus to dismiss them so that they could go and buy for themselves something to eat. But Jesus tells them: "You give them something to eat. You take care of that yourselves." The disciples should provide food for the crowd.
*****
            Jesus does not solve the problem of hunger by himself. He uses what people already possess: 5 loaves of bread and 2 fish! We see this more clearly in the gospel of John where Andrew says to the Lord: "There is a boy here who has 5 barley loaves and 2 fish" (John 6:9).
*****
            The story of the miraculous feeding of the 5 thousand, like most stories in the gospels, speaks to us today, because many of us can identify ourselves very readily with the disciples. Like the disciples we find that our care and compassion are often very limited to prayer and good wishes.
Like the disciples, we wish people well but have no intention of taking POSITIVE ACTION to help the situation. We always find some fine excuse to get rid of a brother or a sister in need.
*****
            We say that it is not our task… it is the task of the government, the church or some other concerned institutions. Again, like the disciples, what prevents us from taking POSITIVE ACTION is that we feel that we have so little to give, and any contribution is not really going to make a difference at all.
*****
            But the message of the Lord is clear: We must contribute something in order that the miracle may take place. In the gospel he tells us that the LITTLE WE ARE ABLE TO DO IS MULTIPLIED by God's grace in such a way that it becomes more than sufficient for the need.
ALL THAT JESUS NEEDS FROM US IS OUR GENEROSITY (to share the limited talents, time and resources that we have).
*****
            Why didn't Jesus just go on and produce bread from air to feed the crowd? Because he wants to teach us and the disciples that as long as everyone acts on his own selfishness, taking only into account his own welfare, we suffer all kinds of hunger – hunger for food, hunger for love, hunger for peace!
*****
            God is able and willing to satisfy all hungers. But God is waiting for men and women who are able to give up generously their lunch pack – their 5 loaves and 2 fish…. Which God needs to make the miracle possible.
Think of this: WHEN WAS THE LAST TIME THAT YOU GAVE HELP TO SOMEONE IN NEED AND ALLOWED GOD'S MIRACLE TO HAPPEN AGAIN?
*****