Recoletos School of Theology: Solemn Investiture 2016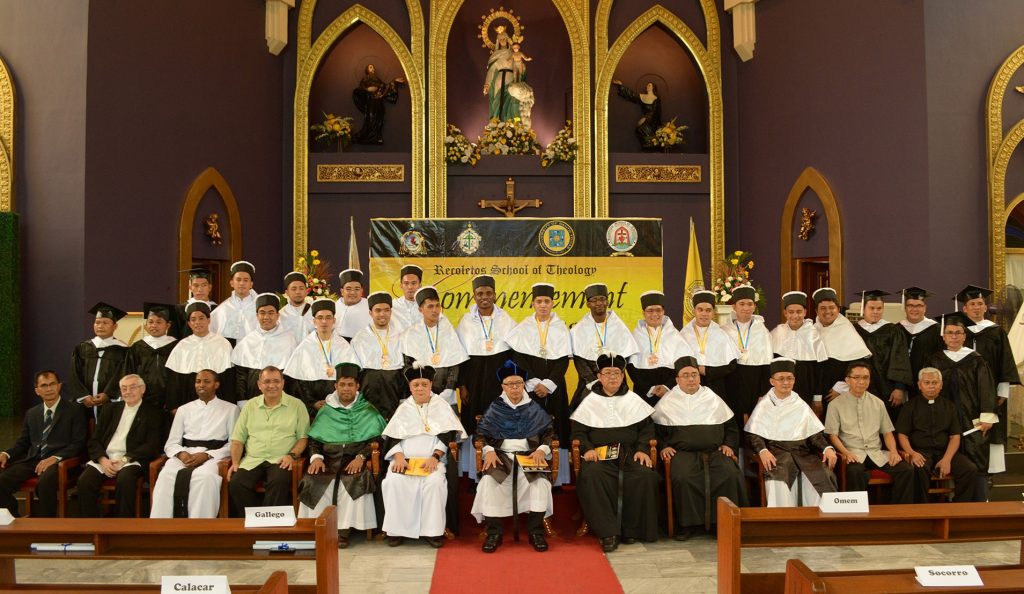 Mira-Nila Homes, Quezon City – May 28, 2016, seventeen students of Recoletos School of Theology (RST) were invested with the degrees in Bachelor of Sacred Theology and Masters of Arts in Theology. Seven Augustinian Recollects graduated from this batch.
The first part of the program was the Baccalaureate Mass that was held in the parish church of Our Lady of Consolation. The Holy Mass started at 8:30 AM. Fray Lauro V. Larlar, OAR, Rector of RST, was the main celebrant and homilist. Formators and guest priests from the other congregations concelebrated with the Father Rector.
The second part of the program, "The Commencement Exercises," began at 10:30 AM. Rev. Fr. Rolando V. de la Rosa, OP, Dean of the Faculty of Sacred Theology of the Pontifical and Royal University of Santo Tomas, Manila, conferred on the 17 graduates the decree in Bachelor of Sacred Theology. Fray Robin Ross S. Plata, OAR, graduated with honors, Magna cum laude. Four other Recollect friars — Fray Paul S. Demillones, Fray Jorr S. Rabacal, Fray Kenneth Caligdong and Fray Niel Jarumay — graduated also with honors, Cum laude.
Rev. Fr. Lauro V. Larlar, OAR, conferred on the following OAR candidates the decree in Master of Arts in Theology:
Thesis:
Fray Robin Ross s. Plata, OAR, Major in Systematic Theology;
Fray Paul S. Demillones, OAR, Major in Systematic Theology, Meritus;
Fray Kenneth S. Caligdong, OAR, Major in Church History, Meritus;
Fray Jorr S. Rabacal, OAR, Major in Church History; and
Fray Felipe U. Rollon, OAR, Major in Church History
Non-Thesis:
Fray Niel Ryan E. Jarumay, OAR, Translation, Meritus; and

Fray Elpedio N. Sarita, Jr., OAR, Translation, Meritus