2018 Recoletos Family Advent Recollection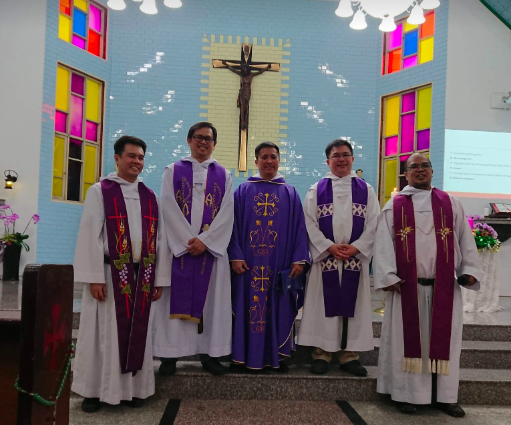 KAOHSIUNG CITY, TAIWAN–On the First Sunday of Advent (2 December, 2018), the annual Advent Recollection was held at St. Nicholas Parish in Daliao, Kaohsiung City for the Recoletos Family, that is, Filipinos under the pastoral care of Recoletos Friars in Taiwan. Attendees were from St. Joseph Parish of Xiaogang 小港區, St. Michael Parish of Donggang 東港, St. Ezekiel Moreno Chapel of Fanhua 繁華, St. Augustine Parish of Linyuan 林園區, and Holy Cross Parish of Daliao 大寮區.
This year's Advent Recollection was facilitated by Rev. Fr. Christopher Maspara, OAR, the current school president of the University of San Jose-Recoletos in Cebu City, Philippines, who graciously accepted the invitation by Taiwan OAR missionaries to visit Kaohsiung after his official trip to Taipei City.
With over a hundred Filipinos participating, the Recollection started at 30 minutes past one in the afternoon. Fr. Christopher "Crix" talked about the 5 P's everyone needs to properly enter into the spirit of Advent, namely: (1) Pagpapakumbaba or humility, (2)Pagpapatawad or Forgiveness, (3) Pagmamahal or Love, (4) Paglilingkod or Service, and (5)Pagdarasal or Prayer.
After an hour talk, the holy Rosary was prayed while the Recoletos Friars heard the confessions of penitents. Then, the Holy Sacrifice of the Mass capped the Advent Recollection with Fr. Christopher as main celebrant and homilist with Fathers Maturan, Dequilla, Magbojos, and Launio as concelebrating priests.
Occasions such as these is hard to come by, so, after the Advent Recollection, a simple Christmas party celebration was also held, whereby everyone shared a hearty meal beside the Church while Fr. Gio dished out gifts to those who can answer his questions or bring things that he asks. The group dance contest was the highlight of the celebration. Participating dancers from Daliao, Linyuan, Xiaogang, and Fanhua regaled everyone with their deft moves. The dancers from Fanhua, though, bagged the coveted first prize. Yet, the rest took home gifts too and lots of pictures to memorialize their participation.