Augustinian Recollects hail St. Augustine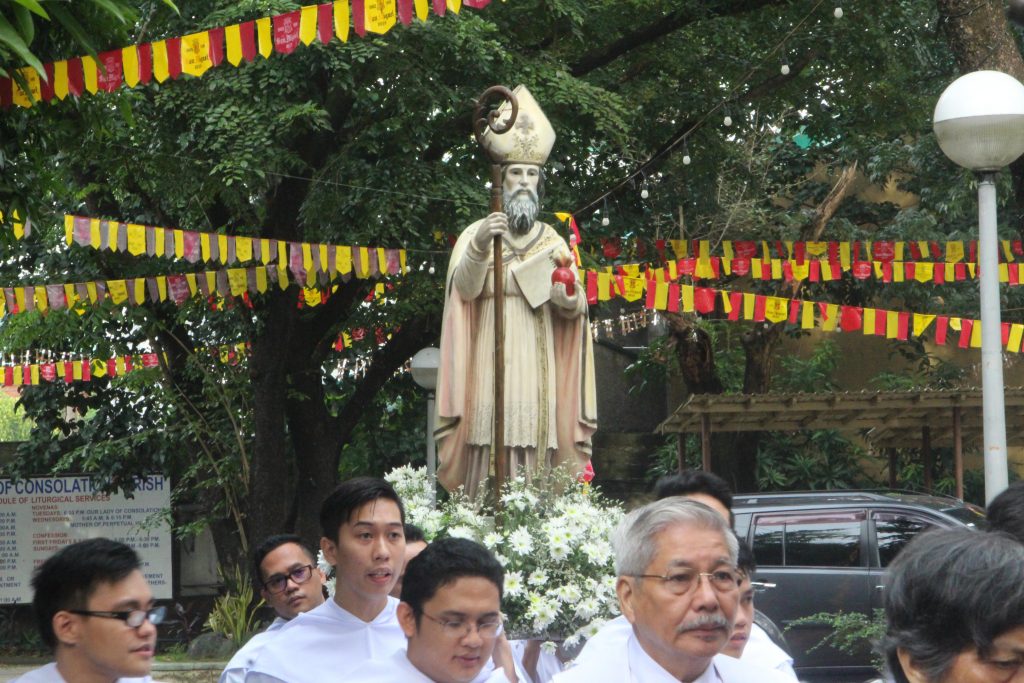 RECOLETOS FORMATION CENTER, Quezon City—The Augustinian Recollects celebrated the solemnity of St. Augustine. Fr. Francisco Antonio, OAR, presided the celebration of the Holy Sacrifice of the Mass and concelebrated by Fr. Hubert Decena, OAR, Fr. Hector Gonzales, OAR, Fr. Gideon Antolin U. Lagrimas, OAR and Fr. Lauro V. Larlar, OAR.  A procession to venerate St. Augustine and to praise God for giving him as model of holiness and as teacher of faith followed after mass.
In the afternoon, the community of the Recoletos Formation Center joined the Order of Saint Augustine –Province of Cebu in their celebration at the chapel of St. Augustine Center of Studies. The Holy Sacrifice of the Mass was presided by Fr. Arnel Recinto, Parish Priest of Our Lady of Mt. Carmel Parish. Together with him were the priors of the two communities: Fr. Lauro V. Larlar, OAR, prior of RFC, and Fr. Edgardo Lazo, OSA, prior of SACS.  Present as well were Fr. Joel Beronque, OSA, Fr. Rommel Bongcae, OSA, Fr. Willibaldus Jampa, OSA, Fr. John Jericho Mier, OSA and Fr. Norberto Dominic Don III, OSA.
Fr. Recinto emphasized in his homily the kinds of love we give and receive. He presented the difference of true love from fake love.  He used St. Augustine as the perfect model of true love and reminded the faithful that "love should be pure, without malice, free, and above all, patterned after the love of Christ."  Fr. Recinto ended his sharing with the words, "If you said 'I love You', make sure you mean it. Make sure that it's true, because Love is Life."
Viva San Agustin!!! (Fray Ricky John Austria, OAR)