Four Augustinian Recollect Friars Ordained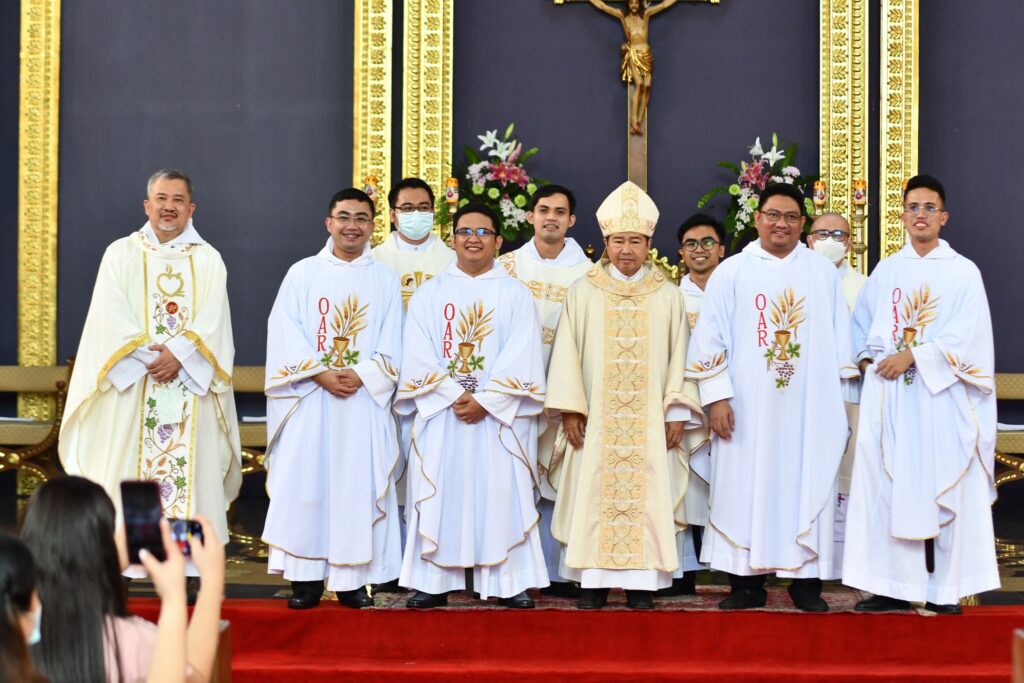 QUEZON CITY— Four Augustinian Recollect Friars join the ranks of presbyters last December 3, 2022 at the Our Lady of Consolation Parish, Mira Nila Homes, Quezon City.
Most Rev. Joel Z. Baylon, DD Bishop of the Diocese of Legazpi ordained to priesthood Rev. Fr. Cristito Rey P. Tepace, OAR from Laoang, Northern Samar; Rev. Fr. Julius James T. Tinapao, OAR from Bayawan, Negros Oriental; Rev. Fr. Ricky John A. Austria, OAR from Tiwi, Albay; and Rev. Fr. James Erold P. Gatinao, OAR from Narra Palawan.
"Certainly, this day marks the beginning of our priestly ministry, of course this would never happen without your guidance and moral support," said Rev. Fr. Cristito Rey P. Tepace, OAR as he delivered his words of gratitude in behalf of the neo-presbyters.
In his speech, Fr. Tepace, OAR thanked the persons who helped them in their initial formation and in their previous pastoral assigments.
"Indeed it was not an easy journey for us, for the four of us, yet with your prayers and support, together with God's Mercy and Grace we are able to persevere in our initial formation," he said.
"As we travel in this field of ministry rest assured, that all of you will be part of our day to day prayers and masses. As we continue to pray for you, please continue to include us in your daily intercessions, in order for us to carry out our priestly vocation," he ended.
Present in the celebration is Rev. Fr. Bernard Amparado, OAR, Prior Provincial of the Province, who gave the Plaque of Appreciation to the parents of the newly-ordained priests before the final blessing.
Before the final blessing, Rev. Fr. Jose Ernil Almayo, OAR, Secretary of the Province, read the assignments of the newly-ordained ministers. Their new communities are as follows:
Rev. Fr. Cristito Rey P. Tepace, OAR – Nuestra Señora del Carmen Quasi-Parish, Brgy. Dugmanon ,Hinatuan, Surigao del Sur
Rev. Fr. Julius James T. Tinapao, OAR – San Pedro Academy-Recoletos, Caidiocan, Valencia, Negros Oriental

Rev. Fr. Ricky John A. Austria, OAR – San Isidro Labrador Parish, Casian Island, Taytay, Palawan

Rev. Fr. James Erold P. Gatinao, OAR – Our Lady of Mt. Carmel Parish, Inagawan, Puerto Princesa Palawan.
Sent to the World
Concelebrating in the occasion are the priests from the different OAR communities.
Bp. Baylon, DD thanked the members of the Order of Augustinian Recollects for the invitation which he says is a "momentous event."
"This is something definitely we would not simply take for granted. A special event indeed. But it is very much a statement of affirmation on the part of our Lord, that he continues to bless us with an abundance of Priests," he said.
The Ordaining Prelate related a story of young men who tricked people to look for a goat painted with number three. He related the search for the non-existent goat as people's search for happiness in this world.
"In our search for goat number three what do we do? We rely on the promises of the world. We take advantage of the promises of power, money, prestige, even sex hoping that we would find goat number three, but there is no goat number three," Bp. Baylon said.
In this quest, people end up destroying themselves as they walk in the "darkness of selfishness and sin."
"The Lord is sending you to the world, as the Father sent Him to the world. It is the world that continues to look for goat number three. Tell them, that there is no goat number three, if there is a goat that they are looking for, it is THE GOAT—God Of All Time."
The prelate reminded the ordinands that other than the mission to proclaim the Good News about Jesus they also need to journey into themselves. Borrowing the words of St. Augustine the bishop invited them to look for the GOAT in their hearts.
"'Lord you are closer to me than I am to myself.' And it is this journey to this self, my heart, my being, that you are also called to. Unless you experience the darkness that will empty yourself, and allow God to be there present, you will never be true witnesses to the Word that you will proclaim to the world," he said.