Formands Encounter: Arrival (January 9, 2003)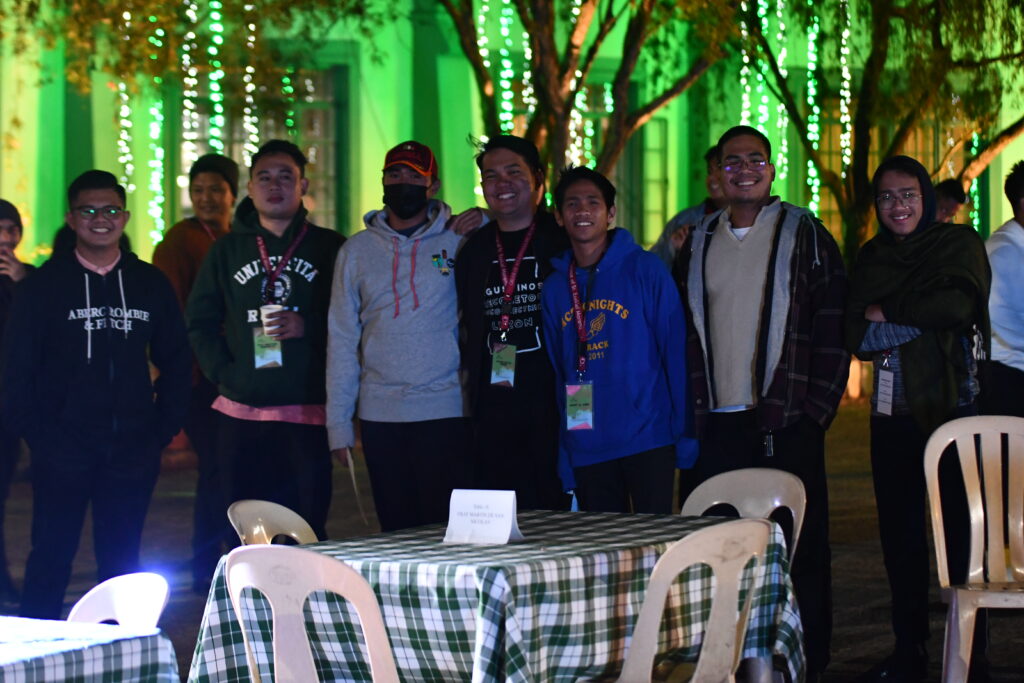 BAGUIO CITY – Casiciaco Recoletos Seminary (CARES) hosts the 13th Formands Encounter on January 9-12, 2023 with the theme: Walking Together: The Augustinian Recollect Spirit of Synodality.
The formands (aspirants, postulants, pre-novices, novices, simply professed friars and deacons) of the Province of St. Ezekiel Moreno of the Order of Augustinian Recollects, formators, and personnel convene at CARES, the cradle of OAR vocations.
Previously called Formands Convention, it was renamed to emphasize a more personal encounter between brothers as opposed to the structured and strict sense of its previous name.
Fray Mc Ariel Capinpin, OAR, this year's chairman, explains that this event aims to strengthen the brotherhood and personal encounter with God, the author of vocation.
He adds that this is the OAR's response to the challenge of the Mother Church, in walking together as a synodal church.
Fray Anthony Irineo, OAR, the seminary vice rector, reiterates that the activity is by the Rule of St. Augustine: to live together in one mind and heart, and to answer the call of the Order to be present in the needs of the Church – formators, education managers, professors, pastors, confessors, and missionaries. Br. Jestoni Latagan
S
M
Tu
W
Th
F
S
1

SOLEMNITY OF MARY, MOTHER OF GOD

56th WORLD DAY OF PEACE BIRTHDAY

Sr. Cristita Cha, AR

2

BIRTHDAY

Bro. Conrado Flores, SAR (Antipolo Chapter)
Sis. Emma Toro, SAR (Valencia Chapter)
Sis. Marcelina Nicolas, SAR (Tondo Chapter)
Sis. Erlinda Casaje, SAR (Manila Chapter)
Sis. Arsenia Villanueva (Trial / Urbiztondo Chapter)
Charlene Catchillar (RAY-Urbiztondo)
Jorge Datuin (RAY-Urbiztondo)

ANNIVERSARY OF SIMPLE PROFESSION

(2021-2023)
Fray Chrislean Rey Pamilaga

DEATH ANNIVERSARY

+Sis. Rizalina Salera, SAR (Cavite Chapter)

3

BIRTHDAY

Br. Danny Cabuslay Jr. (aspirant)
Sr. Ma. Bella Mojica, AR
Sis. Basilisa Espinola, SAR (Miranila Chapter)
Sis. Carmencita Abis, SAR (Manila Chapter)
Sis. Melodina Paragat, SAR (Talisay Chapter)
Sis. Estelita Buenavista, SAR (Cebu Chapter)
Sis. Angelina Bacalso, SAR (Cebu Chapter)
Sis. Tita Montemayor (Tondo Chapter / Trial)

DEATH ANNIVERSARY

+Sr. Clemencia Ranin, AR

4

BIRTHDAY

Bro. Ernil Orbecido, SAR (Bacolod Chapter)
Sis. Mary Grace Susas, SAR (Talisay Chapter)
Sis. Ma. Cristina Domingo, SAR (Miranila Chapter)
Bro. Nenito Javarez (Puerto Prtincesa Chapter / Trial)
Fran Cheska Marie Andan (RAY-Laray)

DEATH ANNIVERSARY

+Sr. Regina Cadiz, AR
+Sr. Adelaida Elli, AR

5

FUNERAL OF THE LATE +POPE-EMERITUS BENEDICT XVI

BIRTHDAY

Br. Jude Dacullo (postulant)
Sis. Estelita Divinagracia, SAR (Miranila Chapter)
Sis. Emiliana Carao, SAR (Cebu Chapter)
Bro. Jose Pepito Bonete Jr., SAR (Puerto Princesa Chapter)
Sis. Yulanda Lim, SAR (Trial / Miranila Chapter)
Leila Barizo (RAY-Cavite)

DEATH ANNIVERSARY

+Fray Casiano Cosmilla
+Sr. Ma. Cleofe Claro, AR

6

BIRTHDAY

Sis. Sylvia Evina, SAR (Puerto Princesa Chapter)
Sis. Grace Aba-a, SAR (Cebu Chapter)
Sis. Aurora Decipolo, SAR (San Carlos Chapter)
Sis. Remedios Solatan, SAR (Cebu Chapter)
Sis. Dominga Torregosa, SAR (Cebu Chapter)

DEATH ANNIVERSARY

+Sr. Juana de la Merced, AR
+Bro. Rustico Magdales, SAR (Manila Chapter)

7

BIRTHDAY

Sis. Eliza Stubbs, SAR (Miranila Chapter)
Sis. Ma. Lorelie Cabanes, SAR (San Carlos Chapter)

8

SOLEMNITY OF THE EPIPHANY

HOMETOWN THANKSGIVING MASS

Fray Cristito Rey Tepace, OAR
St. Michael the Archangel Parish Church
Laoang, Northern Samar / @1600H

BIRTHDAY

Fray Ian Anthony Espartero
Sr. Leticia Cerdeño, AR

ANNIVERSARY OF EPISCOPAL ORDINATION

Most Rev. Julito Cortes, D.D. (Diocese of Dumaguete)

9

FEAST OF THE BAPTISM OF THE LORD

PROVINCE-LEVEL CHRISTMAS PARTY
Venue: Provincial Curia
Time: 1200H

BIRTHDAY

Br. Joshua Miguel Salmon (postulant)
Sr. Rosario Bianes, AR
Sis. Marcelina Taguinod, SAR (Tondo Chapter)

DEATH ANNIVERSARY

+Sr. Dominga Gargarita, AR

10

OAR FORMANDS' CONVENTION START
Venue: CARES, Baguio City
Inclusive Dates: January 10-12, 2023

BIRTHDAY

Br. Jayson Solmayor (postulant)
Sis. Shirley Ostia (Tondo Chapter / Trial)

DEATH ANNIVERSARY

+Sr. Ma. Luz Asuncion Nitura, AR
+Sr. Paulina de la Purisima Corazon de Maria, AR

11

BIRTHDAY

Sr. Catalina Ruiz, AR
Sis. Elena Dagdag, SAR (Baguio Chapter)
Ian Gabrielle Canlubo (RAY-Cavite)

DEATH ANNIVERSARY

+Sr. Ma. Zita Lloren, AR
+Sis. Elena Caballero, SAR (San Carlos Chapter) f

12

BIRTHDAY

Fray Reynaldo Jaranilla
Sis. Josephine Guinto, SAR (Tondo Chapter)

DEATH ANNIVERSARY

+Sr. Ma. Fortunata Gaspillo, AR
+Bro. Hilario Torcedo, SAR (Baguio Chapter)

13

ANNIVERSARY OF EPISCOPAL ORDINATION

(1998-2023)
Archbp. Jose Palma, D.D. (Archdiocese of Cebu)

BIRTHDAY

Bro. Jonathan Casiño, SAR (Provincialate Chapter)
Bro. Antonio Sonsona, SAR (Tondo Chapter)

DEATH ANNIVERSARY

+Mo. Rosario Rosales, AR

14

HOMETOWN THANKSGIVING MASS

Fray James Erold Gatinao, OAR
St. Joseph the Husband of Mary Parish Church
Poblacion, Narra, Palawan / @900H

BIRTHDAY

Sr. Emilia Madrigal, AR
Bro. Jose Valdez, SAR (Provincialate Chapter)
Sis. Luisa Gumiran, SAR (Antipolo Chapter)
Bro. Patrich Miguel Ajos (Bacolod Chapter / Trial)

DEATH ANNIVERSARY

+Sis. Esterlita Gracia, SAR (Antipolo Chapter)
+Sis. Aurea Figura, SAR (Cebu Chapter)
+Sis. Vicenta Prado, SAR (Cebu Chapter)

15

FEAST OF THE STO. NINO

BIRTHDAY

Fray Anthony Irineo
Sr. Ma. Marcela de la Cruz, AR
Bro. Maximo Epanto, SAR (Cebu Chapter)

DEATH ANNIVERSARY

+Sr. Ma. Virgen de la Consolacion, AR

16

COMMEMORATION OF THE DEAD RELATIVES OF THE MEMBERS OF THE ORDER

ANNUAL RETREAT (THIRD BATCH)
Retreat Master: Fr. Elias Ayuban Jr., CMF
Theme: "Synodality and Charismatic Identity"
Venue: Talavera House of Prayer, Cebu City
Inclusive Dates: January 15-19, 2023

BIRTHDAY

Br. Jhon Russel Manalstas (aspirant)
Br. Janrhey Palmis (aspirant)
Mo. Maria del Carmen, OAR (Bacolod)
Sr. Zerah Cordero, AR
Sis. Alice Mojica, SAR (Cavite Chapter)
Sis. Bernarda Tan, SAR (Tondo Chapter)
Sis. Melissa Sandil, SAR (Manila Chapter)

DEATH ANNIVERSARY

+Sis. Lucia Degamo, SAR (Manila Chapter)
+Sis. Ma. Amelia Casiño, SAR (Provincialate Chapter)
+Bro. Rustico Magdales, SAR (Manila Chapter)
+Sis. Cleofe Alvarez, SAR (Cebu Chapter)
+Sis. Carmencita Victorino, SAR (Manila Chapter)
+Sis. Lucila Young, SAR (Cebu Chapter)

17

BIRTHDAY

Fray Corvin Maturan
Sis. Belen Taniagao, SAR (Miranila Chapter)

DEATH ANNIVERSARY

+Sr. Celedonia de la Santissima Trinidad, AR
+Sr. Cesaria Barbarona, AR

18

WEEK OF PRAYER FOR CHRISTIAN UNITY
January 18-25, 2023

BIRTHDAY

Fray Joseph Dexter Palagtiosa
Sis. Guia Gonzales, SAR (Provincialate Chapter)
Sis. Ma. Christina So, SAR (Antipolo Chapter)
Rhea Canania (RAY-Urbiztondo)

19

BIRTHDAY

FRAY MIGUEL ÁNGEL HERNÁNDEZ, OAR (Prior General)
Sr. Cleofe Maria Agua, AR
Sis. Angelica Tejada, SAR (Antipolo Chapter)
Sis. Myrna Amante, SAR (Tondo Chapter)
Sis. Teodora Delus, SAR (Baguio Chapter)
Sis. Sheny Valerio, SAR (Urbiztondo Chapter)
Sis. Rosario Grace Roldan, SAR (Manila Chapter / Trial)

20

ST. SEBASTIAN (Patron Saint of Manila & Cavite Communities, Diocese of Bacolod)

BIRTHDAY

Sr. Adelina Reyes, AR
Sis. Mercedes Velada, SAR (Tondo Chapter)

DEATH ANNIVERSARY

+Sis. Bibiana Madrietta, SAR (Cebu Chapter)

21

BIRTHDAY

Fray Urbano Galanido
Fray Jerome Virtudazo
Sis. Leticia de Silva, SAR (Baguio Chapter)
Sis. Alicia Catulong, SAR (Cebu Chapter)
Sis. Ofelia Balocating, SAR (Urbiztondo Chapter)

DEATH ANNIVERSARY

+Sis. Flaviana Minoza, SAR (Cebu Chapter)

22

SUNDAY OF THE WORD OF GOD

[Pope   Francis'   Apostolic   Letter, Motu   proprio Aperuit  illis, published on  30 September 2019, establishes that "the Third Sunday in Ordinary Time is   to   be   devoted   to   the   celebration, study   and
dissemination of the Word of God".]

BIRTHDAY

Most Rev. Victor Bendico, DD (Bishop of Baguio)

DEATH ANNIVERSARY

+Bro. Jovito Padua, SAR (Provincialate Chapter)

23

BIRTHDAY

Bro. Marciano Cleofas, SAR (Provincialate Chapter)
Sis. Gloria Acosta, SAR (Manila Chapter)
Sis. Esterlina Silva, SAR (San Carlos Chapter)
Sis. Rose Marie Gaspar, SAR (Valencia Chapter)
Sis. Melba Cariño, SAR (Puerto Princesa Chapter)
Judith Mondejar (RAY-Caidiocan)
Kathrine Bacalso (RAY-Laray)

DEATH ANNIVERSARY

+Sr. Gertrudis del Pilar, AR
+Sr. Cresencia Vailoces, AR
+Sis. Felisa Torrecampo, SAR (Cebu Chapter)

24

BIRTHDAY

Sr. Ma. Paz Bawagan, AR
Sr. Faith Niña Fuertes, AR
Sis. Florida San Juan, SAR (Tondo Chapter)
Sis. Raymunda Co, SAR (Laray Chapter)
Sis. Ma. Paz Chico, SAR (Baguio Chapter)
Analyn Martinez (RAY-Valencia)

DEATH ANNIVERSARY

+Bro. Teofilo Jabonero, SAR (Cebu Chapter)

25

SOLEMNITY OF THE CONVERSION OF ST. PAUL

BIRTHDAY

Bro. Rodelio Gasparillo, SAR (Bacolod Chapter)
Bro. Feddie Junsay Jr., SAR (Bacolod Chapter)
Joelle Maria Mendoza (RAY-Miranila)

DEATH ANNIVERSARY

+Sr. Ma. Lucia Sagmit, AR

26

BIRTHDAY

Fray Cristopher Maspara
Br. Ken Joshua Manalo (aspirant)
Sis. Henrietta Morales, SAR (Antipolo Chapter)
Sis. Emenciana Cabaral, SAR (Cebu Chapter)

ANNIVERSARY OF EPISCOPAL ORDINATION

(2005-2023)
Most Rev. Reynaldo Evangelista, D.D. (Diocese of Imus)

DEATH ANNIVERSARY

+Sis. Margarita Zafra, SAR (Antipolo Chapter)

27

BIRTHDAY

Sr. Marilyn Cula, AR
Sr. Remilyn Leonido, AR
Sis. Evelyn Balingit, SAR (Antipolo Chapter)
Sis. Florepis Vergara, SAR (Cebu Chapter)
Sis. Welim Husayan (Laray Chapter / Trial)

DEATH ANNIVERSARY

+Sis. Murita Jara, SAR (Tondo Chapter)
+Sis. Eusebia Siarez, SAR (Cebu Chapter)

28

HOMETOWN THANKSGIVING MASS

Fray Julius James Tinapao, OAR
Sto. Tomas de Villanueva Parish Church
Bayawan City, Negros Oriental / @1000H

BIRTHDAY

Fray Louie Gabinete
Sis. Lita Lorenzo, SAR (Manila Chapter)

DEATH ANNIVERSARY
Sr. Fernanda del Pilar, AR
Sr. Ines Garcia, AR

29

4TH SUNDAY IN ORDINARY TIME

70th WORLD LEPROSY DAY BIRTHDAY

Sr. Francisca Rojas, AR
Sis. Lourdes Insigne, SAR (Antipolo Chapter)
Sis. Anecita Paglinawan, SAR (Laray Chapter)
Sis. Angelina Duhig, SAR (Cebu Chapter)
Jona Mendoza (RAY-Miranila)
Marielet Vital (RAY-Urbiztondo)

30

BIRTHDAY

Fray Jonathan Caballero
Sr. Angelica Fuentes, AR
Sr. Pascualina Peral, AR
Sis. Violeta Siozon, SAR (Antipolo Chapter)
Sis. Fedencia de la Cruz, SAR (Brooke's Point Chapter)
Sis. Minerva Alcarde, SAR (San Carlos Chapter)
Sis. Evangeline Castro, SAR (Urbiztondo Chapter)
Sis. Julieta Dawa, SAR (Laray Chapter)

DEATH ANNIVERSARY

+Bro. Jay Rosauro Cortez, SAR (Manila Chapter

31

APOSTOLIC JOURNEY TO CONGO-KINSHASA
(January 31 – February 3)

DAY 1: ROME-KINSHASA

07:55     Departure by airplane from Rome/Fiumicino International Airport to Kinshasa
15:00     Arrival at Kinshasa "Ndjili" International Airport
15:00     OFFICIAL WELCOME
16:30     WELCOME CEREMONY at the "Palais de la Nation"
16:45      COURTESY VISIT TO THE PRESIDENT OF THE REPUBLIC in the "Salle Présidentielle" of the "Palais de la Nation"
17:30      MEETING WITH AUTHORITIES, CIVIL SOCIETY AND THE DIPLOMATIC CORPS in the garden of the "Palais de la Nation"

BIRTHDAY

Sr. Josephine Ativo, AR
Sis. Saturnina Antolihao, SAR (Tondo Chapter)
Lance Raven Lapinig (RAY-Talisay)