26th Sunday in Ordinary Time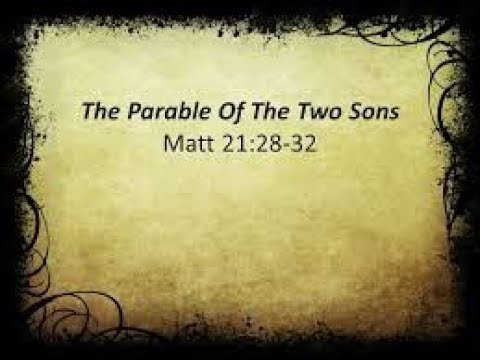 Gospel Bullet Points ( (Matthew 21:28-32)
The parable is about two sons. Invited by the father to go and work in the vineyard. The first son said no but later reconsidered his decision and did the work, while the second son said yes but failed to do the work. Who actually did what the father wanted? Clearly, it is the first son who did what the father wanted.
The Lord compares the tax collectors and prostitutes to the son who first said no at first but later did what the father wanted, and the Scribes and Pharisees to the son who enthusiastically said yes but did not go. One group has no fine words but abounds in good deeds. The other group has fine words but lacking in good deeds.
The parable is for us, too. The two sons represent two kinds of people and the different ways they try to respond to God. Like the first son, we can say yes to the Lord in appearance, while deep inside us we say NO to him. Like the Pharisees, we can appear so pious, making pretentious long prayers, attending bible studies, recollections not so much out of love, and searching for deeper meaning in life. One can SAY yes to the Lord while slandering others, neglecting one's responsibilities, and holding on to our attachments….
Jesus says in another gospel passage: "Not everyone who says to me LORD, LORD, shall enter the kingdom of heaven but he who does the will of my Father who is in heaven" (Matthew 7:21). We become disciples only when we fulfill the will of the Father