8th SUNDAY in ORDINARY TIME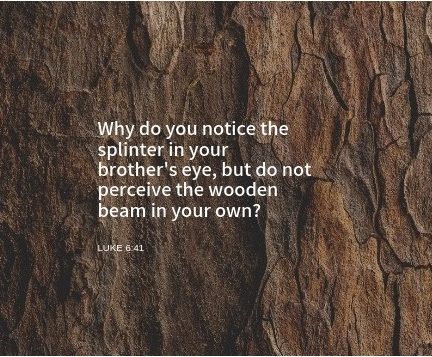 Gospel: Luke 6:39-45
"Why do you notice the splinter in your brother's eye but do not perceive the wooden beam in your own?" Using this image, Jesus condemns shallow, hypocritical, or selfish criticism of others. Jesus shows us that judging others as if we are the standard of goodness is evil. We are in no position to casually judge others because we can be guilty of sin—none of us is sinless like Mother Mary.
Let me share with you a story: A young couple moves into a new neighborhood. The next morning while they are eating breakfast, the young woman sees her neighbor hanging the wash outside. "That laundry is not very clean; she doesn't know how to wash correctly. Perhaps she needs better laundry soap." Her husband looks on, remaining silent. Every time her neighbor hangs her wash to dry, the young woman makes the same comments. A month later, the woman is surprised to see a nice clean wash on the line and says to her husband: "Look, she's finally learned how to wash correctly. I wonder who taught her this. The husband replies, "Honey, I got up early this morning and cleaned our windows." (Source unverified)
Criticizing is easy, but it seldom yields any positive results. It would be better if we keep our windows clean, fill ourselves with some amount of gratitude towards life, and compassion for others. Whenever there are criticizing thoughts in our mind about others' behaviors or acts, we should check our windows first!
St. Ignatius says, "Beware of condemning any man's actions. Consider your neighbor's intention which often is honest and innocent, even though his act seems bad in outward appearance."
In other words, always give people the benefit of the doubt instead of harshly and hastily judging them. You do not know what problems other people might have.