CST-R CEDO responds to calamity victims in San Carlos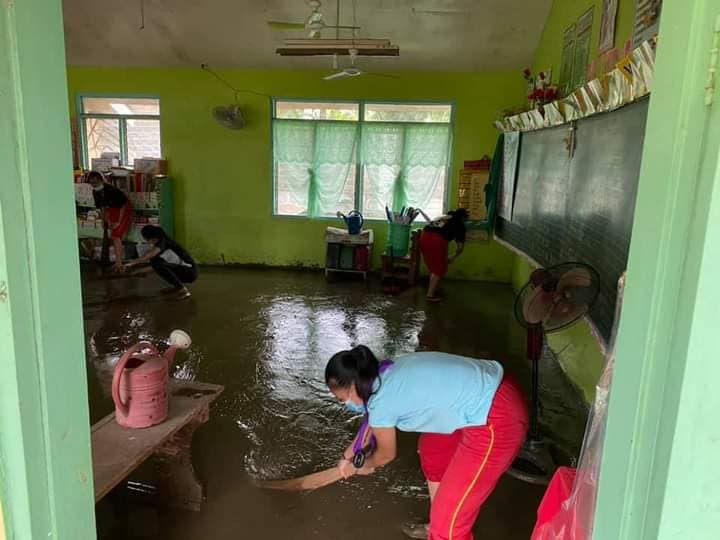 San Carlos City, NEGROS OCCIDENTAL—"God's love is higher than any flood," Fray Monday Benjamine Edobor, OAR, said as he led the "Abag Recoleto," an emergency relief operation of CST-R Community Extension and Development Office (CEDO) for the victims of the flash flood in San Carlos City.
Water Rising
On January 16, 2021, Saturday, heavy rain caused the city's rivers to overflow thereby overwhelming the capacity of the city's drainage system. Residents in Barangays 1, 5, 6, Punao and Rizal had flood in their homes in less than an hour. At least 111 families were evacuated, as the official local government data indicated.
A Thomasian faculty member said that in barely five minutes, the muddy water that got into her house rose to knee level then almost to the waist. Her family had just enough time to go up the second floor. Her neighbors, who had only ground floor, wanted to evacuate to her house but could not cross the narrow street already filled with flood that rushed in a strong current.
One Family
CEDO, together with Thomasian teachers, monitored students whose houses were also flooded. Based on report to teachers, at least 81 enrolled students were affected by the flood and heavy rains that lasted throughout the weekend. Several teachers and staff became victims, too.
CST-R has deferred synchronous online classes last January 18, 2021 to help flood victims re-settle and to encourage Thomasians who have not been affected to aid their brethren. Thomasian flood victims are also excused from taking the examinations based on the schedule.
Outpouring of Love
On January 18, while CEDO had been packing relief goods, more donations from parents, guardians, students and benefactors arrived allowing CST-R to distribute 53 relief bags with rice, noodles, canned goods and basic toiletries at Medina Elementary School, Brgy. Rizal on that same day. The public school serves as evacuation center for flood victims from the riverside areas of Brgy. Rizal.
Meanwhile, senior members of the Girl Scouts of the Philippines (GSP) CST-R Chapter cleaned the flooded and muddy kindergarten classroom of Florentina Ledesma Elementary School (FLES) in Purok Gemelina, Brgy. 1, where the water was said to have reached chest level. Ms. Shiena Basanta, CST-R GSP Coordinator, supervised the student-volunteers.
Fray Edobor, CEDO Director, said that he and the Recollect Community in San Carlos City is grateful for the support of Thomasians, stakeholders and benefactors who are all quick to respond to the needs of the flood victims in the city.
CEDO is currently organizing relief operations in other affected barangays.