Fray Ian Anthony R. Espartero, OAR is new Prior of RFC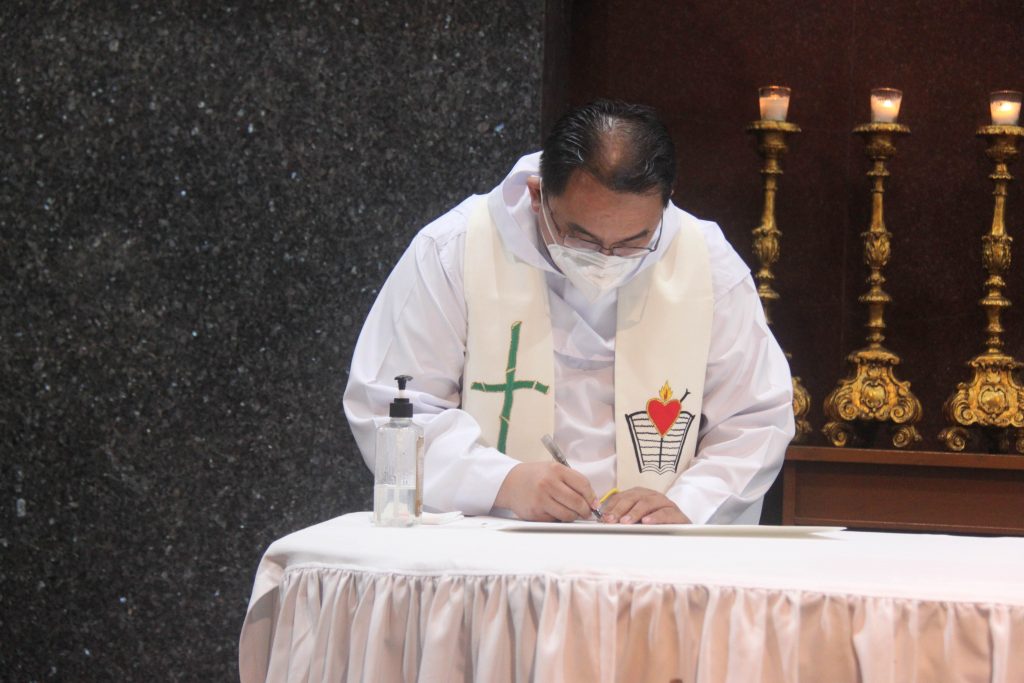 Mira Nila Homes, QUEZON CITY – Recoletos Formation Center community had its new local prior, Rev. Fr. Ian Anthony R. Espartero, OAR installed by Rev. Fr. Bernard C. Amparado, OAR, Prior Provincial of the Province of St. Ezekiel Moreno, last August 8, 2022.
The Rite of Toma de Posesion of Fray Ian was started with the Eucharistic Celebration presided by the Prior Provincial himself at St. Thomas of Villanova Chapel. During the homily, Fr. Bernard highlighted the Communitarian Character of the Order as he quoted the paragraph 18 in the Article 3 of the OAR Constitutions, "in the practice of common life, all should show themselves happy with their vocation and with the company of brethren, in such a way that everywhere the community may diffuse the sweet fragrance of Christ." (cf. OAR Const. #18). He also reminded the new prior that being first among equals his duty is to lead them to Christ.
After the homily, Fr. James C. Castelo, OAR, Master of the Professed, read the Patente of Fray Ian signed by the Prior General, Fray Miguel Angel Hernandez, OAR, and Fray Jose Ernil F. Almayo, OAR, Chapter Secretary of the 8th Provincial Chapter. Immediately after the reading of the appointment, Fray Ian recited the Professio Fidei and signed it before the Prior Provincial and the community.
Just a trivia according to Fray Emilio Quilatan, OAR, a clever and renowned OAR Historian, "Fr. Ian is the first prior of the RFC Community who is the product of the same institution."
The RFC Community for the next triennium are as follows:
Local Prior: Fray Ian Anthony R. Espartero, OAR
Vice Prior: Fray Joseph Kenneth L. Onda, OAR
Members:
Fray Mark Rochelle Renacia, OAR
Fray James C. Castelo, OAR
Fray Jorr S. Rabacal, OAR
Fray Roy Baluarte, OAR
Fray Reno C. Villalino, OAR
Fray Radni Caparas, OAR
Fray Emilio Edgardo Quilatan, OAR
Fray Hubert Dunstan M. Decena, OAR