LECTIO DIVINA: 3rd Sunday of Lent, Cycle B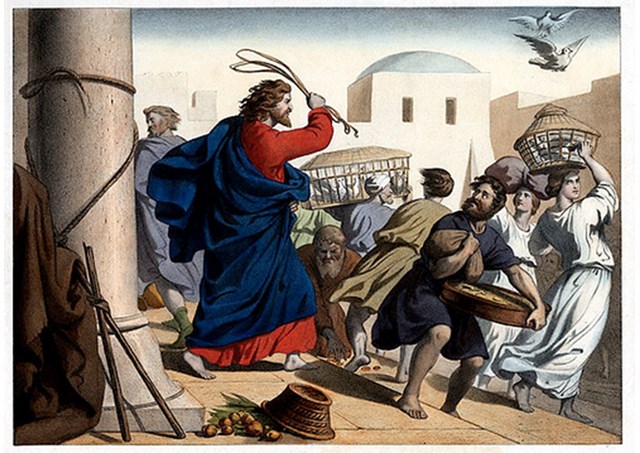 Translated by Fray Dunstan Huberto Decena, OAR
JN. 2: 13-25
A. INVOCATION OF THE HOLY SPIRIT
WE INVOKE THE HOLY SPIRIT USING THE WORDS OF ST. AUGUSTINE
Come, Holy Spirit, by whom every devout soul, who believes in Christ, is sanctified to become a citizen of the City of God! (en. Ps. 45:8) Come, Holy Spirit, grant that we receive the motions of God; put in us your flame; enlighten us and raise us up to God (s. 128, 4). Amen.
B. LECTIO
WITH THE HEART WELL DISPOSED, WITH SERENITY, READ SLOWLY THE FOLLOWING WORDS, SAVORING THEM AND ALLOWING YOURSELF TO BE TOUCHED BY THEM.
Since the Passover of the Jews was near, Jesus went up to Jerusalem. He found in the temple area those who sold oxen, sheep, and doves, as well as the money-changers seated there. He made a whip out of cords and drove them all out of the temple area, with the sheep and oxen, and spilled the coins of the money-changers and overturned their tables, and to those who sold doves he said, "Take these out of here, and stop making my Father's house a marketplace." His disciples recalled the words of scripture, "Zeal for your house will consume me." At this the Jews answered and said to him, "What sign can you show us for doing this?" Jesus answered and said to them, "Destroy this temple and in three days I will raise it up." This temple has been under construction for forty-six years, and you will raise it up in three days?" But he was speaking about the temple of his body. Therefore, when he was raised from the dead, his disciples remembered that he had said this, and they came to believe the scripture and the word Jesus had spoken. While he was in Jerusalem for the feast of Passover, many began to believe in his name when they saw the signs he was doing. But Jesus would not trust himself to them because he knew them all, and did not need anyone to testify about human nature. He himself understood it well.
C. MEDITATIO
LET US MEDITATE NOW WITH THE COMMENTARY OF ST. AUGUSTINE ON THESE WORDS OF THE GOSPEL ACCORDING TO ST. JOHN.
"Behold, the temple was still a figure, and from it the Lord drove out all those who sought his own, those who had come to the markets.
And what were they selling there? What men needed for the sacrifices of that time. Know, therefore, my Brothers, that in accord with their carnality and stony heart, this people were given sacrifices such that they impeded
them from passing little by little to idols and they offered sacrifices there –oxen, sheep, and doves- ; you know because you have read it. Therefore, there was no grave sin if in the temple they would sell what was bought to be offered in the temple. And, nevertheless, he drove them out of there… Nevertheless, brothers, neither did he give them consideration – he who was to be flogged by them, he flogged them first-, I say; he shows us a sign, because he made a whip of cords and with it he flogged those undisciplined men who were making the temple of God a commercial establishment. The fact is that each one has woven by their sins a whip for himself. A prophet says: Woe to those who drag their sins like a large whip. Who makes a long whip? He who adds sin upon sin that we may seek the mystery of the fact in figure: Who are those who sell oxen, who are those who sell sheep and doves? These are the same as those in the Church who seek what is their own, not those that belong to Jesus Christ. They hold everything for sale who do not want to be redeemed; they do not want to be bought, but they want to sell. In fact, it is good for them that the Blood of Christ redeem them in order to arrive at the peace of Christ. For what does it profit one to acquire in this world something temporal or transitory, be it money or pleasure of the belly or the gullet, or honor in human praise? Is not everything perhaps a smoke or wind? Does not everything perhaps pass by and runs away? And there are those who had adhered to the transitory because they pass altogether! Is not everything perhaps a precipitating current rushing to the sea? And there is one who had fallen because it will be dragged to the sea. We must, therefore, maintain all these affections very far from such concupiscence…. Whom does the zeal for God's house devour? Whoever tries to correct the self and desires to mend all defects that he might see in it; he does not rest; if he cannot mend it, he tolerates, he moans. The grain is not expelled from the threshing floor, he supports the husk in order to enter into the granary when the husk is separated. Before the granary is opened, you, if you are a grain, do not want to be expelled from the threshing floor, lest the birds pick you up before being gathered into the granary. In fact, the birds of the sky, the heavenly powers, await to take away something from the threshold, and they do not take away but what may have been expelled from there. Thus, devour the zeal for the house of God; devour every Christian the zeal for the house of God; the house of God of which you are a member. Your house, in fact, is the house where you have eternal salvation. You enter your house by a temporal rest; to the house of God you enter by the eternal rest (Io. eu. tr. 10, 4-9).
D. ORATIO
WITH THE TEXT, LET US NOW PRAY FROM THE DEPTHS OF OUR HEART. I SUGGEST THE FOLLOWING PHRASES AND QUESTIONS THAT CAN AWAKEN IN YOU DIALOGUE WITH GOD, AND AT THE SAME TIME CAN GIVE RISE TO AFFECTIONS AND SENTIMENTS IN YOUR DIALOGUE WITH GOD. DO NOT MOVE TO THE NEXT PHRASE OR QUESTION IF YOU CAN STILL CONTINUE DIALOGUING WITH GOD IN ONE OF THEM. IT IS NOT A MATTER OF EXHAUSTING THE LIST, BUT OF HELPING YOU TO PRAY WITH SOME POINTS THAT BETTER FIT YOUR PERSONAL EXPERIENCE.
a. "His disciples remembered what has been written: 'The zeal for you house devours me'" (Jn. 2:17).
•What desire do you feel for God?
•What respect do you have for the house of God?
b. "… he flogged the undisciplined who made the temple of God into a commercial establishment. The fact is that each one by his sins has made a whip. A prophet says: Woe to those who drag their sins like a long whip! Who makes a long whip? One who adds sin upon sin" (Io. eu. tr. 10, 5).
•What importance do you give to small sins, do you allow that they go braiding to form a cord?
•How is your resolution for conversion?
E. CONTEMPLATIO
I PROPOSE TO YOU SOME POINTS FOR AFFECTIVE INTERIOR CONTEMPLATION. ONCE AGAIN, YOU NEED NOT FOLLOW ALL OF IT, RATHER YOU CAN CHOOSE WHAT FITS YOUR PERSONAL EXPERIENCE.
a. Contemplate how Christ expels the vendors from the temple. Contemplate how Christ expels from your heart everything that is not of God, what impedes you to be truly his. Contemplate and experience the freedom of Jesus.
b. Contemplate your heart as the temple of God. Ask Jesus to throw away from your interior everything that does not belong to the kingdom of heaven. Contemplate how God is in your interior. Contemplate and adore.
F. COMMUNICATIO
THINK OF EVERYTHING THAT YOU CAN SHARE WITH THOSE AROUND YOU ABOUT THE EXPERIENCE YOU HAD WITH GOD, ESPECIALLY CONCERNING THE SECOND COMING OF CHRIST AND THE UNIVERSAL JUDGMENT. THE FOLLOWING POINTS CAN HELP YOU AS GUIDE TO SHARE WITH YOUR COMMUNITY THE EXPERIENCE OF THE LECTIO DIVINA ON THIS TEXT.
• What have I discovered about God and about myself in this moment of prayer?
• How can I apply this text of Scripture at this moment of my life? What light does it give me? What challenges does it put before me?
• What concrete commitment does this text of Scripture ask of me in my spiritual life, in my community life?
• What has been my dominant sentiment during this moment of prayer?
G. FINAL PRAYER OF ST. AUGUSTINE
Turning towards the Lord: Lord God, Father Almighty, with a pure heart, as far as our littleness permits, allow us to give you our most devoted and sincere thanks, begging with all our strength from your particular goodness, that by your power you may drive away the enemy from all our thoughts and actions; that you may increase our faith, govern our mind, give us spiritual thoughts, and bring us to your happiness, through your Son Jesus Christ, our Lord, who with you lives and reigns, in the unity of the Holy Spirit, God, forever and ever. Amen (en, Ps. 150:8).