LECTIO DIVINA: Solemnity of the Most Holy Trinity, Cycle B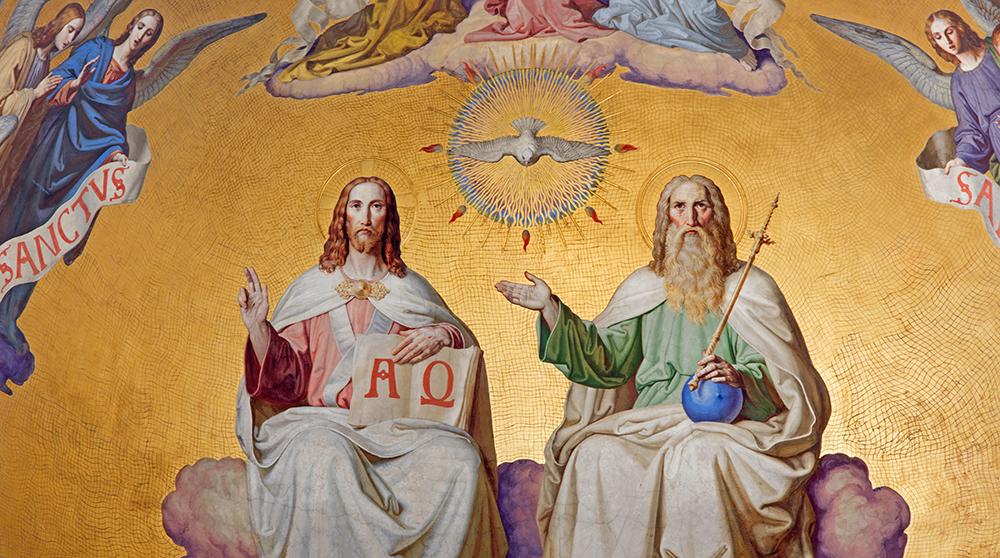 Translated by Fray Dunstan Huberto Decena, OAR
MT. 28: 16-20
A. INVOCATION OF THE HOLY SPIRIT
WE INVOKE THE HOLY SPIRIT USING THE WORDS OF ST. AUGUSTINE
Come, Holy Spirit, by whom every devout soul, who believes in Christ, is sanctified to become a citizen of the City of God! (en. Ps. 45:8) Come, Holy Spirit, grant that we receive the motions of God; put in us your flame; enlighten us and raise us up to God (s. 128, 4). Amen.
B. LECTIO
WITH THE HEART WELL DISPOSED, WITH SERENITY, READ SLOWLY THE FOLLOWING WORDS, SAVORING THEM AND ALLOWING YOURSELF TO BE TOUCHED BY THEM.
The eleven disciples went to Galilee, to the mountain to which Jesus had ordered them. When they saw him, they worshiped, but they doubted. Then Jesus approached and said to them, "All power in heaven and on earth has been given to me. Go, therefore, and make disciples of all nations, baptizing them in the name of the Father, and of the Son, and of the Holy Spirit, teaching them to observe all that I have commanded you. And behold, I am with
you always, until the end of the age."
C. MEDITATIO
LET US MEDITATE NOW WITH THE COMMENTARY OF ST. AUGUSTINE ON THESE WORDS OF THE GOSPEL ACCORDING TO ST. MATTHEW.
O Lord my God, I believe in You Father, Son and Holy Spirit. I would not be telling the truth: Go, to all nations in the name of the Father and of the Son and of the Holy Spirit, if you were not Trinity. And you would not command your servants to be baptized, my Lord and God, in the name of him who is not Lord and God. And if You, Lord, were not at the same time Trinity and only One Lord and God, I would not say the divine word: Hear, O Israel; the Lord your
God is only one. And if you yourself were God the Father, and you were also the Son, the Word Jesus Christ, and the Holy Spirit were your gift, we would not read in the canonical Scriptures: God sent his Son; and you, the Only Begotten! You would not say of the Holy Spirit: whom the Father will send in my name; and, whom I will send to you from the Father.
Fix the focus of my attention on the rule of faith, I have sought you with my strength and in the measure that you allowed me to do so, and I sighed to see with my intelligence what my faith believed, and I argued and I was very eager. Lord my God, my only hope, hear me that I may not succumb to discouragement and stop seeking;
I always yearned for your face with ardor. Give me strength for the search, you who allowed that I find you and have given me hopes for a more perfect knowledge. Before you is my firmness and my weakness: heal this and preserve that. Before you is my knowledge and my ignorance; if you open to me, receive him who enters; if you close the postern, open to him who calls. Make me remember you, understand you and love you. Increase in me these gifts until I am completely reformed.
When we rise up to your presence, these many things will cease, of which we speak without understanding, and you will remain all in all, and then we will modulate an eternal canticle, praising you at one time all united in you.
Lord, One and Triune God, whatever with your help remain said in these books of mine, let your servants know them; if there is something in them that gives me a harvest, you forgive me, Lord, and let your servants forgive me. So be it (trin. 15, 28,51).
D. ORATIO
WITH THE TEXT, LET US NOW PRAY FROM THE DEPTHS OF OUR HEART. I SUGGEST THE FOLLOWING PHRASES AND QUESTIONS THAT CAN AWAKEN IN YOU DIALOGUE WITH GOD, AND AT THE SAME TIME CAN GIVE RISE TO
AFFECTIONS AND SENTIMENTS IN YOUR DIALOGUE WITH GOD. DO NOT MOVE TO THE NEXT PHRASE OR QUESTION IF YOU CAN STILL CONTINUE DIALOGUING WITH GOD IN ONE OF THEM. IT IS NOT A MATTER OF EXHAUSTING THE LIST, BUT OF HELPING YOU TO PRAY WITH SOME POINTS THAT BETTER FIT YOUR PERSONAL EXPERIENCE.
a. "PLord my God, I believe in you, Father, Son and Holy Spirit" (trin.15, 28, 51).
•How do you live your faith in the Blessed Trinity?
•What does it mean to you that God is a community of Persons?
b. "Go and make disciples of all nations, baptizing them in the name of the Father and of the Son and of the Holy Spirit" (Mt. 28:19).
•How do you live the missionary command of Christ?
•Why is the Trinity important in your missionary apostolate?
c. "Pray with the statement: "Give me strength to search, you who made me find you and gave me hopes for a more perfect knowledge" (trin. 15, 28, 51).
E. CONTEMPLATIO
I PROPOSE TO YOU SOME POINTS FOR AFFECTIVE INTERIOR CONTEMPLATION. ONCE AGAIN, YOU NEED NOT
FOLLOW ALL OF IT, RATHER YOU CAN CHOOSE WHAT FITS YOUR PERSONAL EXPERIENCE.
a. Contemplate how the Triune God dwells in your heart; how he fills your whole interior and animates and gives meaning to your life. Contemplate and adore.
b. Contemplate how God sends you to proclaim the message of salvation from the Blessed Trinity. Receive the charge with love and contemplate what you are to proclaim: God who is Father, Son and Holy Spirit. Contemplate, be thankful and adore.
F. COMMUNICATIO
THINK OF EVERYTHING THAT YOU CAN SHARE WITH THOSE AROUND YOU ABOUT THE EXPERIENCE YOU HAD WITH GOD, ESPECIALLY CONCERNING THE SECOND COMING OF CHRIST AND THE UNIVERSAL JUDGMENT. THE FOLLOWING POINTS CAN HELP YOU AS GUIDE TO SHARE WITH YOUR COMMUNITY THE EXPERIENCE OF THE LECTIO DIVINA ON THIS TEXT.
• What have I discovered about God and about myself in this moment of prayer?
• How can I apply this text of Scripture at this moment of my life? What light does it give me? What challenges does it put before me?
• What concrete commitment does this text of Scripture ask of me in my spiritual life, in my community life?
• What has been my dominant sentiment during this moment of prayer?
G. FINAL PRAYER OF ST. AUGUSTINE
Turning towards the Lord: Lord God, Father Almighty, with a pure heart, as far as our littleness permits, allow us to give you our most devoted and sincere thanks, begging with all our strength from your particular goodness, that by
your power you may drive away the enemy from all our thoughts and actions; that you may increase our faith, govern our mind, give us spiritual thoughts, and bring us to your happiness, through your Son Jesus Christ, our Lord, who with you lives and reigns, in the unity of the Holy Spirit, God, forever and ever. Amen (en, Ps. 150:8).
"Charity, that comes from God and is God, properly is the Holy Spirit, through whom the love of God is poured out into tour hearts making the Trinity dwell in us" (trin. 15, 18, 32).