LECTIO DIVINA: XII Sunday in Ordinary Time, Cycle B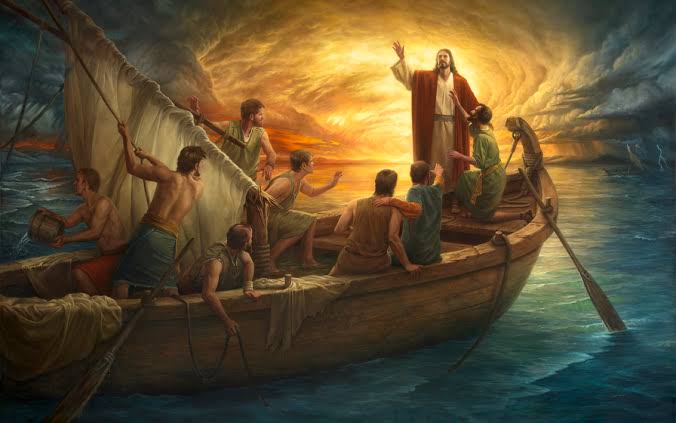 Translated by Fray Dunstan Huberto Decena, OAR
 MK 4: 35-41 
A. INVOCATION OF THE HOLY SPIRIT
WE INVOKE THE HOLY SPIRIT USING THE WORDS OF ST. AUGUSTINE
Come, Holy Spirit, by whom every devout soul, who believes in Christ, is sanctified to become a citizen of the City of God! (en. Ps. 45:8) Come, Holy Spirit, grant that we receive the motions of God; put in us your flame; enlighten us and raise us up to God (s. 128, 4). Amen.
B. LECTIO
WITH THE HEART WELL DISPOSED, WITH SERENITY, READ SLOWLY THE FOLLOWING WORDS, SAVORING THEM AND ALLOWING YOURSELF TO BE TOUCHED BY THEM. 
On that day, as evening drew on, he said to them, "Let us cross to the other side." Leaving the crowd, they took him with them in the boat just as he was. And other boats were with him. A violent squall came up and waves were breaking over the boat, so that it was already filling up. Jesus was in the stern, asleep on a cushion. They woke him and said to him, "Teacher, do you not care that we are perishing?" He woke up, rebuked the wind, and said to the sea, "Quiet! Be still!" The wind ceased and there was great calm, Then he asked them, "Why are you terrified? Do you not yet have faith?" They were filled with great awe and said to one another, "Who then is this that even wind and sea obey?"
C. MEDITATIO
LET US MEDITATE NOW WITH THE COMMENTARY OF ST. AUGUSTINE ON THESE WORDS OF THE GOSPEL ACCORDING TO ST. MARK.
Why then are you terrified? Your heart is terrified by the tribulations of the world, like the boat where Christ was asleep. Observe, wise man, the cause of the fear in your heart, notice what the motive is. The boat in which Christ is asleep is your heart where faith is asleep. Is something new being told to you, oh Christian? Is something new being told to you? "In Christian times the world is devastated, the world perished. Did not the Lord tell you that the world would be devastated? Did not the Lord tell you that the world would perish? Why did you believe when it was promised and are fearful when it is accomplished? The tempest against your heart is abated; a shipwreck is avoided, Christ is awake. The Apostle says that Christ dwells by faith in our hearts (Eph. 3:17). Christ dwells in you by faith. If faith is present, Christ is present; if faith is awake, Christ is awake; if faith is forgotten, Christ sleeps. Wake him up, shake him, tell him: "Lord, we are perishing! Look at what the pagans tell us, what the bad Christians say –and this is more serious: Wake up, Lord, we are perishing." Let your faith be awake, let Christ begin to speak to you: "Why are you afraid? I predicted all this to you. I predicted it to you, so that when the evil things happen you hope in the good things and you do not succumb in their midst. Are you surprised that the world is destroyed? Be surprised that the world has grown old. One is man: he is born, he grows, he grows old. Many are the ailments of old age. (…) Thus, man grows old and is filled with ailments; the world grows old and is filled with tribulations.
Is it little what God has granted you, God who in the old age of the world, sent you Christ to strengthen you precisely when the world is crumbling down? He came when everything was growing old and he made you new. As a reality made, created, perishable, it was already approaching the sunset. It was necessary that fatigue abound; he came to console you in their midst and promise you eternal rest. Do not adhere to this aging world and yearn to rejuvenate in Christ, who tells you: "The world perishes, the world grows old, The world crumbles and breathes with difficulty because of old age. Be not afraid, your youth will be renewed like and eagle's (s. 81, 8).
D. ORATIO
WITH THE TEXT, LET US NOW PRAY FROM THE DEPTHS OF OUR HEART. I SUGGEST THE FOLLOWING PHRASES AND QUESTIONS THAT CAN AWAKEN IN YOU DIALOGUE WITH GOD, AND AT THE SAME TIME CAN GIVE RISE TO AFFECTIONS AND SENTIMENTS IN YOUR DIALOGUE WITH GOD. DO NOT MOVE TO THE NEXT PHRASE OR QUESTION IF YOU CAN STILL CONTINUE DIALOGUING WITH GOD IN ONE OF THEM. IT IS NOT A MATTER OF EXHAUSTING THE LIST, BUT OF HELPING YOU TO PRAY WITH SOME POINTS THAT BETTER FIT YOUR PERSONAL EXPERIENCE.
a. "If faith is awake, Christ is awake; if faith is forgotten, Christ is asleep. Wake him up" (s. 88, 1). 
•How is your faith in Christ in the midst of difficulties? 
•How can you awaken Christ who sleeps in your heart? 
b. "The waves were breaking over the boat to the point of filling it up" (Mk. 4:37).
•What are the dangers that today surround your life? 
•In face of your fears and anxieties, what is the role of Christ? 
E. CONTEMPLATIO
I PROPOSE TO YOU SOME POINTS FOR AFFECTIVE INTERIOR CONTEMPLATION. ONCE AGAIN, YOU NEED NOT FOLLOW ALL OF IT, RATHER YOU CAN CHOOSE WHAT FITS YOUR PERSONAL EXPERIENCE.
a. Contemplate the disciples together with Jesus in the boat and how the squall threatens to sink the boat. Contemplate the fear of the apostles and how Jesus, upon waking up, makes the squall stop by his words. Contemplate the scene and verify your sentiments before Christ, the powerful savior.
b. Contemplate Christ sleeping in the boat in the middle of the squall and contemplate that you are alone with him. The waves that threaten the boat are your problems and fears and that Christ is asleep. Contemplate how you awaken Christ and how Christ restores the peace. Relish the contemplation and the moment of peace that Christ has given you. 
F. COMMUNICATIO
THINK OF EVERYTHING THAT YOU CAN SHARE WITH THOSE AROUND YOU ABOUT THE EXPERIENCE YOU HAD WITH GOD, ESPECIALLY CONCERNING THE SECOND COMING OF CHRIST AND THE UNIVERSAL JUDGMENT. THE FOLLOWING POINTS CAN HELP YOU AS GUIDE TO SHARE WITH YOUR COMMUNITY THE EXPERIENCE OF THE LECTIO DIVINA ON THIS TEXT.
• What have I discovered about God and about myself in this moment of prayer? 
• How can I apply this text of Scripture at this moment of my life? What light does it give me? What challenges does it put before me? 
• What concrete commitment does this text of Scripture ask of me in my spiritual life, in my community life? 
• What has been my dominant sentiment during this moment of prayer? 
G. FINAL PRAYER OF ST. AUGUSTINE
Turning towards the Lord: Lord God, Father Almighty, with a pure heart, as far as our littleness permits, allow us to give you our most devoted and sincere thanks, begging with all our strength from your particular goodness, that by your power you may drive away the enemy from all our thoughts and actions; that you may increase our faith, govern our mind, give us spiritual thoughts, and bring us to your happiness, through your Son Jesus Christ, our Lord, who with you lives and reigns, in the unity of the Holy Spirit, God, forever and ever. Amen (en, Ps. 150:8).
"Christian, Christ sleeps in your boat; wake him up; he will command the tempests and calm is restored to all" (s. 361, 7).