LECTIO DIVINA: XV Sunday in Ordinary Time, Cycle B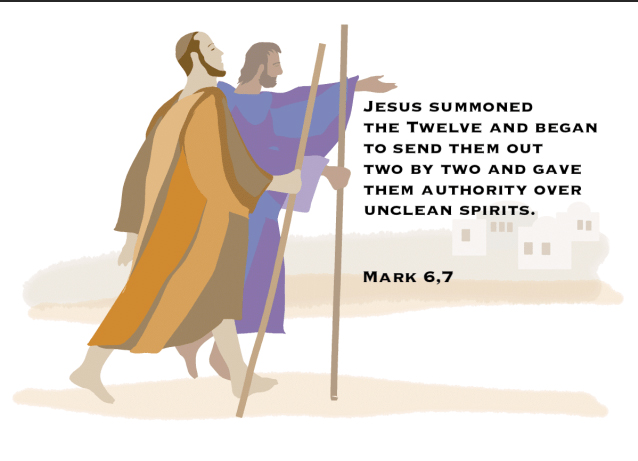 MK. 6:7-13 
A. INVOCATION OF THE HOLY SPIRIT
WE INVOKE THE HOLY SPIRIT USING THE WORDS OF ST. AUGUSTINE
Come, Holy Spirit, by whom every devout soul, who believes in Christ, is sanctified to become a citizen of the City of God! (en. Ps. 45:8) Come, Holy Spirit, grant that we receive the motions of God; put in us your flame; enlighten us and raise us up to God (s. 128, 4). Amen.
B. LECTIO
WITH THE HEART WELL DISPOSED, WITH SERENITY, READ SLOWLY THE FOLLOWING WORDS, SAVORING THEM AND ALLOWING YOURSELF TO BE TOUCHED BY THEM. 
He summoned the Twelve and began to send them out two by two and gave them authority over unclean spirits. He instructed them to take nothing for the journey but a walking stick – no food, no sack, no money in their belts. They were, however to wear sandals but bot a second tunic. He Sid to them, "Wherever you enter a house, stay there until you leave from there. Whatever place does not welcome you or listen to you, leave there and shake the dust off your feet in testimony against them." So they went off and preached repentance. They drove out many demons, and they anointed with oil many who were sick and cured them.
C. MEDITATIO
LET US MEDITATE NOW WITH THE COMMENTARY OF ST. AUGUSTINE ON THESE WORDS OF THE GOSPEL ACCORDING TO ST. MARK.
Let us see, then, how I myself understand what the Lord commanded to those he sent out to preach the Gospel (…) He says, carry no money bag, no knapsack, no sandals, (…) Though briefly, let us review all point by point. He says, do not bring any money bag. What do I do? When I travel, I confess, I bring some money; I bring what is indispensable for the journey. No knapsack. Possible that I do not bring any. No sandal. What is this about? He commanded me to walk barefooted? That I walk with sandals, you see that yourselves, since I utter no words and I hide my feet: before your eyes I walk with sandals (…) The other, to say 'Peace to this house' when we enter any, is already easy. But, what refers to the money bag and the sandal causes us pain! Let us look to the Lord, for he might console us and concede to us the understanding of these words. (…) Consequently, neither the first text is to be taken in literal sense., and similarly perhaps neither the money bag nor the sandal, nor the knapsack either.(…) Even the Lord himself brought money bag on the road, money bag that he entrusted to Judas. Even though he was a thief, he bore him beside him. But I, begging pardon from my Lord, desiring to learn, I tell him, I say: "You, Lord, put up with the thief Judas, how come that you had something that he could take away? Me, wretched man that I am and powerless, you advice me not to carry any money bag? You brought it and it was in it that you had to endure a thief. If you had not brought it he would not have found what to take from you!" What remains but that he tells me:" Understand what you hear: Carry no money bag"? What does money bag mean? The money placed into it is this hidden wisdom. What does 'Carry no money bag' mean? Be wise not only for yourselves. Receive the Holy Spirit: in you there should be a fountain, not a deposit; something from which to give, not something into which to put. The knapsack is the same as the money bag. 
And what is the sandal? What is the sandal that we use? They are hides of dead animals; hides of dead animals with which we protect our feet. We cover our feet with hides of dead animals. What then is commanded of us? Renounce the deeds of death. Towards this the Lord exhorts Moses in figurative form when, upon approaching his glory; he tells him: 'Remove your sandals for the place where you stand is holy ground.' Is there ground more holy than the Church of God? Therefore, let us maintain ourselves firm in her, let us remove our sandals, let us renounce the works of death. As regards the sandals we use in walking, my Lord himself consoles me. If he were not wearing sandals, the Baptist would not have said of him: 'I am not worthy to untie his sandal strap.' Therefore, let an intelligent obedience be vigilant; let not a proud liberality infiltrate it. Someone may say: "I comply with the Gospel, because I walk discalced." "You can, I cannot." Let us maintain what we altogether received; let love keep us ablaze; let us love one another. And thus will it be that I love your fortitude, and you support my weakness" (s. 101,5-7).
D. ORATIO
WITH THE TEXT, LET US NOW PRAY FROM THE DEPTHS OF OUR HEART. I SUGGEST THE FOLLOWING PHRASES AND QUESTIONS THAT CAN AWAKEN IN YOU DIALOGUE WITH GOD, AND AT THE SAME TIME CAN GIVE RISE TO AFFECTIONS AND SENTIMENTS IN YOUR DIALOGUE WITH GOD. DO NOT MOVE TO THE NEXT PHRASE OR QUESTION IF YOU CAN STILL CONTINUE DIALOGUING WITH GOD IN ONE OF THEM. IT IS NOT A MATTER OF EXHAUSTING THE LIST, BUT OF HELPING YOU TO PRAY WITH SOME POINTS THAT BETTER FIT YOUR PERSONAL EXPERIENCE.
a. "What does it mean 'do not bring money bag'? Do not be wise only for yourselves" (s. 101, 6).
•In your apostolate and in your daily life, how do you share the gifts of God with those around you? 
•What gifts have you received from God that you need to share with your brothers? 
b. "What is the footwear? (…) renounce the works of death" (s. 101, 7).
•How do you live your commitment to conversion every day? 
•For you, what is the relationship between preaching the Gospel and living a holy life? 
E. CONTEMPLATIO
I PROPOSE TO YOU SOME POINTS FOR AFFECTIVE INTERIOR CONTEMPLATION. ONCE AGAIN, YOU NEED NOT FOLLOW ALL OF IT, RATHER YOU CAN CHOOSE WHAT FITS YOUR PERSONAL EXPERIENCE.
a. Contemplate Jesus sending his disciples to proclaim the Gospel. Contemplate how you are in their midst. Contemplate their enthusiasm and infinite trust in Christ and in his word. Contemplate your own enthusiasm and your own trust in God.
b. Contemplate how Christ abundantly showers his gifts on you. Then contemplate how Christ himself sends you with those gifts, so that you share these gifts with those around you.
F. COMMUNICATIO
THINK OF EVERYTHING THAT YOU CAN SHARE WITH THOSE AROUND YOU ABOUT THE EXPERIENCE YOU HAD WITH GOD, ESPECIALLY CONCERNING THE SECOND COMING OF CHRIST AND THE UNIVERSAL JUDGMENT. THE FOLLOWING POINTS CAN HELP YOU AS GUIDE TO SHARE WITH YOUR COMMUNITY THE EXPERIENCE OF THE LECTIO DIVINA ON THIS TEXT.
• What have I discovered about God and about myself in this moment of prayer? 
• How can I apply this text of Scripture at this moment of my life? What light does it give me? What challenges does it put before me? 
• What concrete commitment does this text of Scripture ask of me in my spiritual life, in my community life? 
• What has been my dominant sentiment during this moment of prayer? 
G. FINAL PRAYER OF ST. AUGUSTINE
Turning towards the Lord: Lord God, Father Almighty, with a pure heart, as far as our littleness permits, allow us to give you our most devoted and sincere thanks, begging with all our strength from your particular goodness, that by your power you may drive away the enemy from all our thoughts and actions; that you may increase our faith, govern our mind, give us spiritual thoughts, and bring us to your happiness, through your Son Jesus Christ, our Lord, who with you lives and reigns, in the unity of the Holy Spirit, God, forever and ever. Amen (en, Ps. 150:8).
"In prayer the conversion of our heart to God is verified, he is always disposed to give us his gifts if we are capable of receiving them " (s. dom. m.2, 3, 14).