LECTIO DIVINA: XXI Sunday in Ordinary Time, Cycle B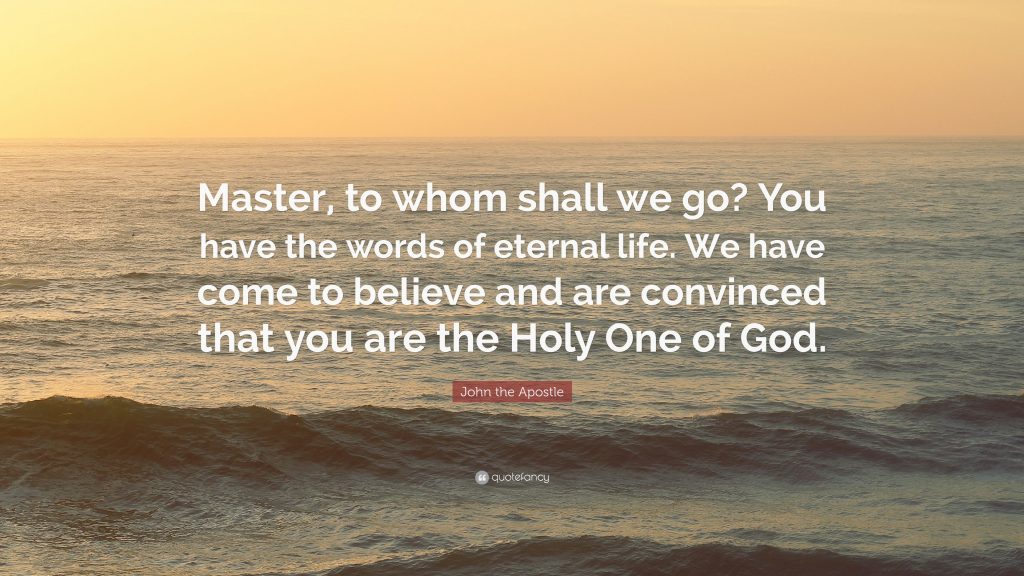 Translated by Fray Dunstan Huberto Decena, OAR
 JN. 6:60-69 
A. INVOCATION OF THE HOLY SPIRIT
WE INVOKE THE HOLY SPIRIT USING THE WORDS OF ST. AUGUSTINE
Come, Holy Spirit, by whom every devout soul, who believes in Christ, is sanctified to become a citizen of the City of God! (en. Ps. 45:8) Come, Holy Spirit, grant that we receive the motions of God; put in us your flame; enlighten us and raise us up to God (s. 128, 4). Amen.
B. LECTIO
WITH THE HEART WELL DISPOSED, WITH SERENITY, READ SLOWLY THE FOLLOWING WORDS, SAVORING THEM AND ALLOWING YOURSELF TO BE TOUCHED BY THEM. 
Then many of his disciples who were listening said, "This saying is hard; who can accept it?" Since Jesus knew that his disciples were murmuring about this, he said to them, "Does this shock you? What if you were to see the Son of Man ascending to where he was before? It is the spirit that gives life, while the flesh is of no avail. The words I have spoken to you are spirit and life. But there are some of you who do not believe." Jesus knew from the beginning the one who would not believe and the one who would betray him. And he said, "For this reason I have told you that no one can come to me unless it is granted him by the Father." As a result of this, many of his disciples returned to their former way of life and no longer accompanied him. Jesus then said to the Twelve, "Do you also want to leave?" Simon Peter answered him, "Master, to whom shall we go? You have the words of eternal life. We have come to believe and are convinced that you are the Holy One of God." 
C. MEDITATIO
LET US MEDITATE NOW WITH THE COMMENTARY OF ST. AUGUSTINE ON THESE WORDS OF THE GOSPEL ACCORDING TO ST. JOHN.
What does what he adds mean: It is the spirit that gives life, the flesh is of no avail? Since he supports us, if, instead of contradicting him, we desire to know and so we ask: Lord, Good Master, how can the flesh be of no avail, when you had said: "He who does not eat my flesh and drinks my blood, shall have no life?" Or life serves for nothing? And, why are we what we are if not to have eternal life that you promise with your flesh? What does 'the flesh is of no avail' mean? It serves for nothing but in the way those understood; certainly they understood the meat of a carcass that is chopped or sold in the market; not as given life by the spirit. That is why it is said: "The flesh serves for nothing," as it is said: science inflates. Should we then hate science? Nonsense! And what does it mean: Science inflates? Alone by itself, without charity. That is why he added: On the other hand, charity edifies. Therefore, add charity to science and science shall be useful, not by itself, but by the charity. So also now, "The flesh serves for nothing," but only flesh by itself; add the spirit to the flesh, as charity is added to science, and it will serve very much. In fact, if the flesh would serve for nothing, the Word would not have become flesh to dwell among us. If Christ had served us much through the flesh, how can the flesh be of no use? But the Spirit by means of the flesh has accomplished something for our salvation. The flesh was the vessel; observe what he had not what it was. The apostles were sent; perhaps, their flesh served us for nothing. If the flesh of the apostles served us, could the flesh of the Lord serve for nothing? In fact, how does the sound of the word arrive to us if not through the voice of the flesh? How does a stylus function, how does a writing arrive to us? All of that is the work of the flesh, but because the spirit moves it as an instrument. Thus, the Spirit is what gives life; the flesh serves for nothing. I do not give my flesh to eat the way they understood the flesh.
Thus he affirms: The words that I spoke to you are spirit and life. I already said, Brothers, that in eating his flesh and drinking his blood, the Lord recommends to us this: that we remain in him and he in us. Well then, we remain in him when we are his members; for his part, he himself remains when we are his temple. Now, the unity binds us to be his members. Who, but charity makes the unity to bind? And the love of God from where it comes? Ask the Apostle: The Love of God, he says, has been poured out into our hearts through the Holy Spirit that has been given to us. It is the Spirit, therefore, that gives life, since the spirit makes the members alive. The spirit does not make alive except the members that he may find in the body that the spirit himself vivifies. Therefore, oh man, the spirit that is in you, of which you consist to be human, does it perhaps vivify the member that is separated from your flesh? I call your spirit your soul; your soul does not vivify except the members that are in your flesh; if you remove one, then it is no longer vivified by your soul for not being associated with the unity of your body. This is affirmed so that we may love the unity and fear the separation. Therefore, there is nothing that the Christian should fear most as to be separated from the Body of Christ, because if he is separated from the Body of Christ, he is no longer its member; if he is not his member, his Spirit does not vivify him: Everyone who does not have the Spirit of Christ, says the Apostle, is not his. The Spirit, therefore, is he who vivifies; the flesh, on the contrary, serves for nothing. The words that I spoke to you are spirit and life. What does "they are spirit and life" mean? They must be understood spiritually. Have you understood them spiritually? They are spirit and life. Have your understood them carnally? Nonetheless, they are spirit and life, but for you they are not. 
From then on, many of his disciples turned away and no longer walked with him. They turned away, but after Satan, not after Jesus. For certain, on some occasion, Christ the Lord called Peter, Satan because he rather wanted to precede his Lord and advice him not to die, he who had come to die so that we may not die eternally, and he told him: Get behind me, Satan, because you do not think according to God but according to man. He rejected him and called him Satan not that he may walk after Satan, but he made him walk behind him (Jesus), so that walking behind the Lord, he may not be Satan. On the other hand, those turned back like certain women the Apostle tells us: Hence some have turned back after Satan. In the future they did not walk with him. For this, ripped off from the body, they lost the life, perhaps because they were not in the body. Also those had to be counted among the non-believers, even though they were called disciples. Not a few but many turned back. This happened perhaps for consolation because sometimes it happens that a man says the truth and what he says is not understood, and those who hear him are scandalized and they turn back. On the other hand, it pains the man having spoken the truth; in fact this man inwardly says: "I should not have spoken thus; I should not have said this." It happened to the Lord: he spoke and lost many, few remained. But he was not disturbed because from the beginning he knew who would believe and who would not believe; if it happened to us we would be perturbed. Let us find solace in the Lord, nevertheless, let us cautiously speak the words.
And he speaks to the few who had remained. Perhaps, you also would like to go? Jesus then said to the twelve who remained: He asks, perhaps, you also want to go? Not even Judas left. But for the Lord, it was clear why he remained; afterwards, he would make that clear to us. Peter replied for all, one for the many, the unit for the whole without exception: Thus, Simon Peter answered: Lord, to whom shall we go? You repulse us from you, give another you, To whom shall we go? If we depart from you, to whom shall we go? You have the words of eternal life. Look how Peter, by the gift of God, because the Holy Spirit has returned to create him, has understood. Why, if not because he has believed? You have the words of eternal life, since you have eternal life at the service of your body and your blood. And we have believed and have known. And we have believed and have known. We have not known and have believed, rather we have believed and have known, because we have believed in order to know, because, if we had wanted first to know and then to believe, we would not be capable neither to know nor to believe. What have we believed and what have we known? That you are the Messiah, the Son of God, that is, that you are eternal itself, and that in your body and blood you do not give but your very self. (Io, eu. tr. 27, 5, 6, 8, 9).
D. ORATIO
WITH THE TEXT, LET US NOW PRAY FROM THE DEPTHS OF OUR HEART. I SUGGEST THE FOLLOWING PHRASES AND QUESTIONS THAT CAN AWAKEN IN YOU DIALOGUE WITH GOD, AND AT THE SAME TIME CAN GIVE RISE TO AFFECTIONS AND SENTIMENTS IN YOUR DIALOGUE WITH GOD. DO NOT MOVE TO THE NEXT PHRASE OR QUESTION IF YOU CAN STILL CONTINUE DIALOGUING WITH GOD IN ONE OF THEM. IT IS NOT A MATTER OF EXHAUSTING THE LIST, BUT OF HELPING YOU TO PRAY WITH SOME POINTS THAT BETTER FIT YOUR PERSONAL EXPERIENCE.
a. "The words that I spoke to you are spirit and life." (Jn. 6:63) 
•What for you is the word of Christ? 
•What does it mean to you that word of Christ is "spirit and life"? 
b. "Lord, to whom shall we go? You have the words of eternal life. We believe and we know that you are the Holy One of God." (Jn. 6:68-69) 
•What have you done or thought of when you feel disillusioned with the Church or your faith in God? What do you think of Peter's response? 
•What does it mean to you "to believe and to know" that Christ is the Holy One of God, the Messiah? 
E. CONTEMPLATIO
I PROPOSE TO YOU SOME POINTS FOR AFFECTIVE INTERIOR CONTEMPLATION. ONCE AGAIN, YOU NEED NOT FOLLOW ALL OF IT, RATHER YOU CAN CHOOSE WHAT FITS YOUR PERSONAL EXPERIENCE.
a. Contemplate how many persons abandon Christ after his words on his body and blood. While contemplating, repeat Peter's words: "Lord, to whom shall we go?" Contemplate how you remain beside Christ.
b. Contemplate the words of Christ as a light. Strive to keep this light in your heart, knowing that this light is what illumines your life and gives it meaning. Let this light invade your whole being and transform you into the image of Christ. Verify your affections and commitments to Christ.
F. COMMUNICATIO
THINK OF EVERYTHING THAT YOU CAN SHARE WITH THOSE AROUND YOU ABOUT THE EXPERIENCE YOU HAD WITH GOD, ESPECIALLY CONCERNING THE SECOND COMING OF CHRIST AND THE UNIVERSAL JUDGMENT. THE FOLLOWING POINTS CAN HELP YOU AS GUIDE TO SHARE WITH YOUR COMMUNITY THE EXPERIENCE OF THE LECTIO DIVINA ON THIS TEXT. 
• What have I discovered about God and about myself in this moment of prayer? 
• How can I apply this text of Scripture at this moment of my life? What light does it give me? What challenges does it put before me? 
• What concrete commitment does this text of Scripture ask of me in my spiritual life, in my community life? 
• What has been my dominant sentiment during this moment of prayer? 
G. FINAL PRAYER OF ST. AUGUSTINE
Turning towards the Lord: Lord God, Father Almighty, with a pure heart, as far as our littleness permits, allow us to give you our most devoted and sincere thanks, begging with all our strength from your particular goodness, that by your power you may drive away the enemy from all our thoughts and actions; that you may increase our faith, govern our mind, give us spiritual thoughts, and bring us to your happiness, through your Son Jesus Christ, our Lord, who with you lives and reigns, in the unity of the Holy Spirit, God, forever and ever. Amen (en, Ps. 150:8).
"You have the words of eternal life, since you have eternal life at the service of your Body and your Blood" (Io. eu. tr. 27, 9).