UNO-R hosts REAP lecture-workshop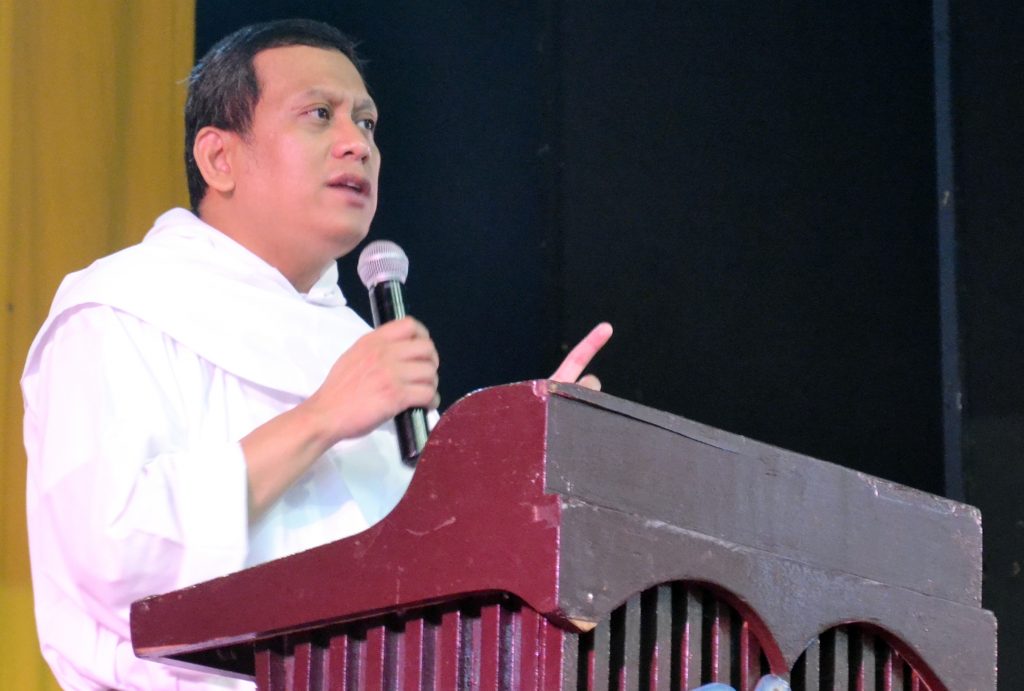 The University of Negros Occidental – Recoletos hosted the three-day Recoletos Educational Apostolate in the Philippines (REAP) lecture – workshop on Augustinian Values and Pedagogical Principles, UNO-R Gymnasium, November 16-18, 2017. The Activity was participated by OAR schools in the Negros Island, namely, UNO-Recoletos; Colegio de San Nicholas de Tolentino, Talisay; San Pedro Academy – Recoletos, and San Pedro Academy – Recoletos, Negros Oriental; and Colegio de Santo Tomas – Recoletos, San Carlos City.
The Activity opened with the Concelebrated Mass led by Rev. Fr. Julius M. Marcos , OAR with Fr. William Villaflor, OAR; Fr. Leo Alaras , OAR; Fr. Perzius Joseph Decena, OAR; Fr. Joel Alve, OAR; Fr. Enrico Peter Silab, Oar; Fr. Abraham Latoza, OAR; Fr. Roweno Hamo, OAR; and Fr. Romeo Ben Potencio, OAR as concelebrants.
In his homily, Fr. Marcos shared about Love and Service and Service in Love. He reminded the community that Love means service to others and this is expressed in our selfless prayers. After the Eucharistic Celebration, Fr. Silab welcomed the participants and shared that sense of "being at home". He discussed the need to be a community. Afterwards, Fr. Decena read the rules of the House and introduced the speaker of the afternoon.
The speaker is Rev. Fr. Romeo Ben Potencio, OAR. The 1st talk was about the life of St. Augustine as seen on his on his spiritual journey. Fr. Potencio shared the stages in the Spiritual journey of St. Augustine as manifested in his commentary of Psalm 106 which are "Error in wondering", "Concupiscence" , "The spiritual dryness", and "Honor in praise". The speaker also shared that in order to understand St. Augustine; one has to take into consideration these philosophies of Astrology, Manichaeism, Neo- Platonism, Donatism and Pelagianism. Fr. Potencio also discussed the "theory of the Interior Master" who is Christ, himself.
The Second day (November 17, 2017) opened with the recapitulation of the first day's talks and activities by Dean of the College of Arts and Sciences, Dr. Annabee Claur. The talks for the day were: "Pedagogical lines of St. Augustine", "Augustinian Values of Interiority", "Augustinian Value of Truth", "Augustinian Values of Freedom", "St. Augustine on Friendship", "St. Augustine about community" and the Augustinian Value of Justice and Solidarity. The Third day (November 18, 2017) opened with the talk on "Iconography of the book and Pierced Heart: St. Augustine as Teacher" by Fr. Potencio. A lecture on OAR History and Charism was given by Rev. Fr. Emilio Edgardo Quilatan, OAR.
The whole Lecture – Workshop came to a close with a Eucharistic Celebration to be led by Fr. Potencio, OAR, Saturday, November 18.