Perspectives: CST-R's holistic approach to Distance Learning Preparations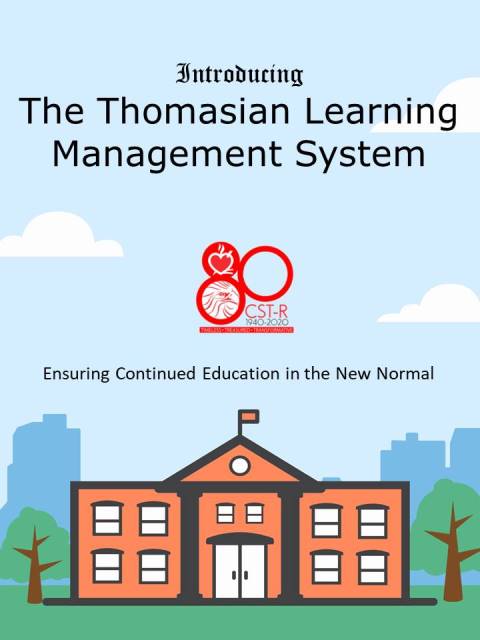 San Carlos City, NEGROS OCCIDENTAL—How does a Recollect school mitigate the blows of an unprecedented pandemic?
After the Philippine government declared lockdown last March 2020 to stop the spread of COVID-19, Colegio de Sto. Tomas-Recoletos has set new goals and new systems to continue educating the Negrense youth at a time of the highly infectious coronavirus disease. From the outside, all these activities and schemes are numerous but looking from within, these are one, concerted effort all directed towards the achievement of the CST-R Vision-Mission.
The Parent-Teacher Collaboration
Last August 15, 2020, Thomasian parents and guardians, whose children are now enrolled in the Thomasian Learning Management System (TLMS) Online Classes, participated in the virtual orientation. Thomasian teachers and staff worked together to walk the parents through the details of online learning from establishing teacher-student virtual lectures to guided parent-teacher consultation schemes. After the orientation, parents actively joined the virtual forum and pitched in varied questions and comments to help the school take the TLMS and its implementation another level higher than the current standard.
When school opens and the first batch of modules gets distributed, parents of modular learners will also receive their orientation through the TLMS Primer Brochure for Modular Distance Learning. The school has also established Academic Hotlines for parents and guardians who cannot access the school services using the Internet.
The collaboration between parents and teachers is just the beginning. This shall make a huge difference in the success of Thomasians at a time of remote learning.
The Challenge to Private Institutions
While a number of Philippine private schools like CST-R are getting ready to begin classes on August 24, 2020, Department of Education Secretary Leonor Briones announced last August 14 that school opening is moved to October 5, 2020. The fate of private schools started to hang on a balance but CST-R remained optimistic and continued with the preparations.
DepEd Division of San Carlos City, Negros Occidental visited and assessed CST-R's level of preparedness last August 13. Education Program Supervisor Anastacio Macabihag, Jr. inspected the school including the modules for varied grade levels and subjects, social distancing measures, learning management system for online classes, and the imposed safety and health protocols.
After the August 15 clarification advisory of Sec. Briones, CST-R gained the thumbs-up to go ahead with school opening through remote learning on August 24, 2020. Along with hundreds of private schools in the country, CST-R is now set to face the challenge of delivering private education and Recollect formation to the youth at a time of this pandemic.
Testing the New Platform
Barely a week into the school opening that will go down in history books, Thomasian teachers began to conduct mock online classes and to give students a trial run of what will happen during synchronous (live) classes through gadgets and internet.
Math teacher Danilo A. Roblico, who has coached Thomasian Math Olympiad winners, began his online class with a prayer just as he always did when his classes were in the traditional Thomasian classroom. While the excitement of students screamed out of the laptop screen, Roblico gave them briefing about proper online class etiquette.
Student-Leadership in Distance Learning Set-up
CST-R Supreme Student Council also gathered virtually to re-align their duties and responsibilities for the students' welfare while everyone stays at home. Last August 20, 2020, elected SSC officers led by Lester Tejones met online and began mapping out new student programs that will engage distance learners with non-curricular, non-contact activities.
Thomasian student-leaders are getting ready to exercise leadership to a student population that remains united despite the hindrances of learning from home. By September 2020, student activities via CST-R's Facebook Page will begin.
Continued Student Services Online
CST-R also launched iSupport—the Student Support Online Services. iSupport is a team made up of the Student Development and Placement Center (SDPC), CST-R library, school clinic, Office of the Prefect of Discipline, Office of the Academic Coordinator and the Campus Ministry Office (CMO). For the alumni and outgoing students, the Office of the School Registrar is available online.
At the heart of iSupport is the T.R.E.A.T.S.S. principle—Thomasians Respond to E-learning with Activities, Training and Support Services. Here, guidance and counselling services are made available online and continue to be personal and customized to individual student concerns. The school clinic will continue to facilitate medical-dental consultations throughout the school year. The library will begin to migrate online and sources are now linked as e-books. Academic consultation for students with learning challenges will be delivered through available modes of communication.
Continued Values Formation in the New Normal
While critics remain adamant of the quality of education this school year, CST-R focuses on ensuring that Augustinian values are still formed among Thomasians while learning is being delivered remotely. The promulgation of the TLMS Primer is a re-enforcement of the CST-R Student Handbook and is designed to help parents and guardians implement modules effectively at home.
The new TLMS Primer also covers guidelines for teachers and staff to make sure that they remain outstanding model Internet citizens that students can emulate. True to its 80th Founding Anniversary theme, CST-R continues to be a transformative institution with education as its goal and values as its spirit despite the migration to distance learning system. Although the school's milestone is now mired with the challenges of a pandemic, CST-R continues to prove that it truly is a timeless and treasured institution that continues to prioritize the development and formation of the Negrense youth. All these united efforts create a holistic approach to CST-R's preparation for a historic School Year 2020-2021.
Photos by: Ma. Nita V. Bolo, Marinell Ocampo, and Marionne Van Sasis