Recollect community dedicates Monteagudo chaplet to Mary, Birhen sa Rosaryo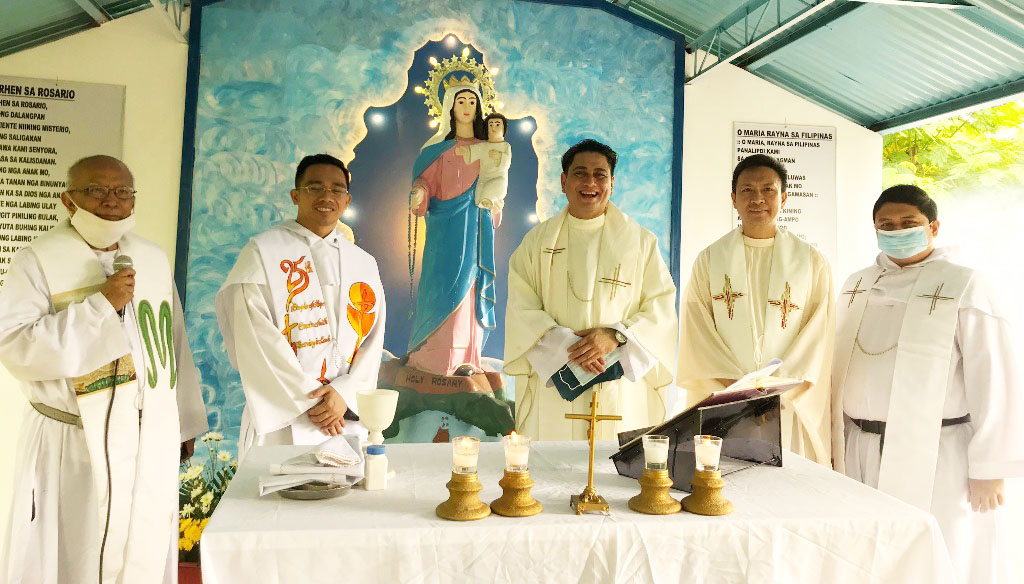 San Carlos City, NEGROS OCCIDENTAL—The Recollect community of Sto. Tomas de Villanueva-Recoletos Formation House celebrated the Feast of the Our Lady of the Holy Rosary, October 7, 2020, by dedicating a chaplet to Her at Monteagudo-Recoletos Retreat House, Barangay Rizal.
The chaplet was constructed through the generosity of a long-time benefactor who asked that she be included in prayers made at the Chaplet of the Our Lady of the Holy Rosary (Birhen sa Rosaryo, Rayna sa Filipinas).
Fray Vicente Ramon, Jr., OAR, local prior, led the blessing and was the main celebrant of the Holy Mass. Meanwhile, Fray Rafael Cabarles, OAR, in-charge of Monteagudo Recoletos, organized the exclusive yet meaningful feast day rites.
In his homily, Fray Ramon alluded to the relationship of Mary and her son Jesus. "Filho de Maria," Brazilian phrase for "Son of Mary," is Jesus' identity that is highlighted in the Rosary.
The Chaplet used to be an area of refuge where Monteagudo visitors could seat down to rest or reflect after a challenging hike around the hilly sanctuary. In 2018, delegates of the Students Congress of Recollect Schools (SCORES) tested their concentration while racing against each other to make a Rosary.
Monteagudo-Recoletos was also the venue of SCORES 2018 Amazing Race. In the past school years, Thomasian teachers and students would go up to Monteagudo for their annual recollection and retreat. During the Holy Week, devotees perform penitence by joining the Monteagudo Via Crucis.
This spiritual sanctuary has an underground chapel that currently houses antique images of beloved Augustinian saints made of togas.
Although Monteagudo is currently closed to the public, Fray Cabarles is preparing the sanctuary so that when community quarantine protocols are eased and the transmission of COVID-19 is lessen, this sacred ground may be made ready for religious celebrations and activities.