Reflection: Holy Trinity Sunday, Cycle A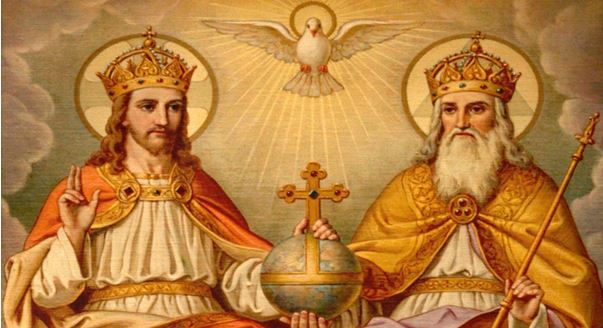 Ex 34:4b-6, 8-9; 2 Cor 13:11-13; Jn 3:16-18.
In this year A, the readings of this Sunday clearly suggest that we look at God from the perspective of Love. In the 1st reading, we hear Yahweh declaring to Moses: "The Lord, the Lord, a merciful and gracious God, slow to anger and rich in kindness (hesed) and fidelity." In the 2nd reading, Paul's greeting to the Corinthians is, "The grace of the Lord Jesus Christ and the love of God and the fellowship of the Holy Spirit be with you all." The Gospel reading from John reminds us, "God so loved the world that he gave his only Son,… that the world might be saved through him." These are all words of assuring love.
One explanation of the Blessed Trinity says: God is love. Contemplating his pure and infinite perfection he cannot but share with someone, and thus the Son becomes the pure image of the Father. Contemplating each other, the Father and the Son love each other and this love becomes the Holy Spirit. The three persons, thus, form a community of love, exchanging love infinitely, a dynamism of love.
Again this dynamic love cannot limit this love to itself, but share it, and so God created finite creatures to share in divine love. We are products of God's love and we are destined to live in eternal love. To reach that eternal love we are to love in our human, material and physical way. And so the greatest commandment is "to love the Lord your God with all your heart, with all your soul, with all your mind, and with all your strength,…and to love your neighbor as yourself." Thus Jesus commanded us to "Love one another as I have loved you."
In his mysterious ways, God created man male and female, in his image and likeness he created them. And he commanded that man "leave father and mother and cling to his wife and the two shall become one." St. Paul in Eph 5:21-33 teaches that the love between husband and wife is like Christ's love for his Church: "Christ loved the church and gave himself up for her." Thus the Church teaches that the love of husband and wife is on earth the living image of God who is love. And as their union grows into a family, the love between parents and children on earth is the living image of the Blessed Trinity which is a community of love. The happiness and the perfection of family is in maintaining this love among them in imitation of the Blessed Trinity. The family as a little church prospers in love, just as the universal church as a human family can prosper only when it lives in love. Eph 4:31-32 summarizes it for us: "All bitterness, fury, anger, shouting, and reviling must be removed from you, along with all malice. And be kind to one another, compassionate, forgiving one another as God has forgiven you in Christ."