Six Arcores representatives from Spain train in USJ-R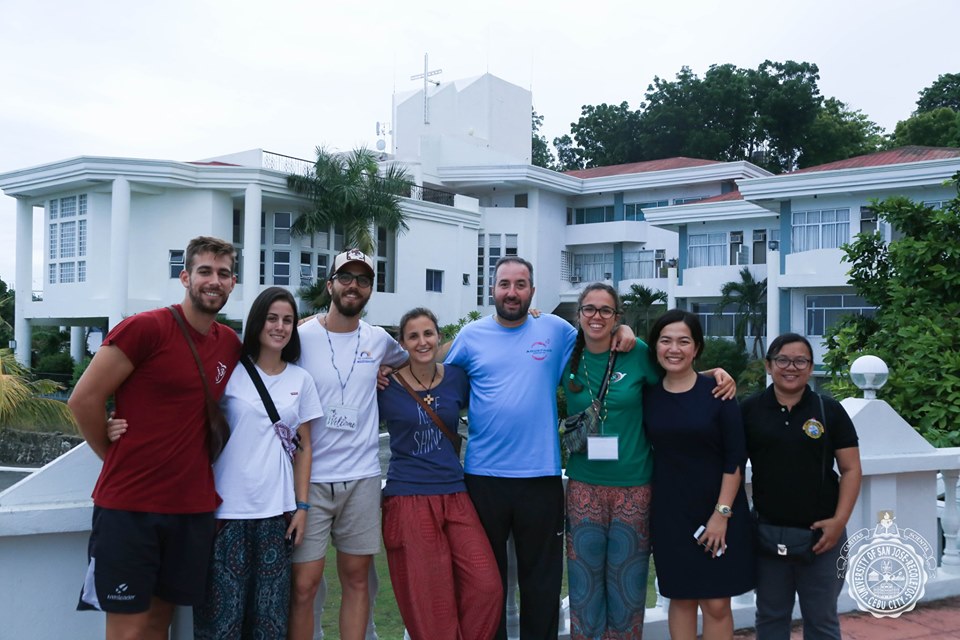 CEBU CITY–To prepare for a mission in Palawan, six delegates of Arcores – España visited the University of San Jose-Recoletos to train from August 3 to 5.
They are Marta Molinero Avilés, Ana Luna Avilés, Blanca Antolin Barrios, Juan Miguel Morales Moya, Victor Molinero Avilés, and Rev. Fr. Luciano Adisio, OAR. They represent Arcores, an Augustinian Recollect solidarity network primarily based in Spain. They are here in the Philippines for twenty days to go to the different islands of Casian, Taytay in Palawan.
Casian is a far-flung fishing community. In 2018, three Augustinian Recollects of the Province of St. Ezekiel Moreno begin a mission to help improve the quality of life in the said area.
The six Spaniards will be assisting the said priests and implement outreach programs. Since they are not yet familiar with the place and its culture, they needed to undergo an orientation first.
On their first day, they learned basic Tagalog and Cuyuno dialect (Casian language). They also went to different landmarks in Cebu City to get more familiar with the Filipino way of life.
On the second day, they were taught how to install solar lamps by representatives of USJ-R College of Engineering. Aside from putting up the solar lamps and teaching it to the people of the Casian community, the delegation hopes to observe what more they can do more to help the people.
The Arcores delegates expect to learn from the Casians as well. On a personal level, Victor expected that he will have a brand new experience.
"Give myself, what I have, what I am," he expressed.
Meanwhile, Martha expected people would be warm and accommodating. Ana is looking forward to learning more about the Casian people while Blanca is curious and wants to have a different perspective on life. Juan Miguel added that he wanted to see a different culture. Furthermore, Fr. Luciano said that he wanted to learn from people, to see if the mission will work, and lastly, to spread evangelization.
The highlights of their stay were that they see a big difference between the culture from the Philippines to them. When asked, the strong faith of the Cebuanos was their most significant observation.
Victor explained they learned that Filipinos would take the mass seriously. People wave goodbye to the Sto. Niño simply and sympathetically. The church was jam-packed.
Lastly, Fr. Luciano said that he was impressed with the Josenians for embodying the Tatak Recoleto and Spaniards can learn a lot from how Filipinos convey respect to God, their families, and their fellowmen.
---
Written by Cyde P. Obrero (AB Liacom Intern)