SSC-R dC Commemorates Msgr. Lerena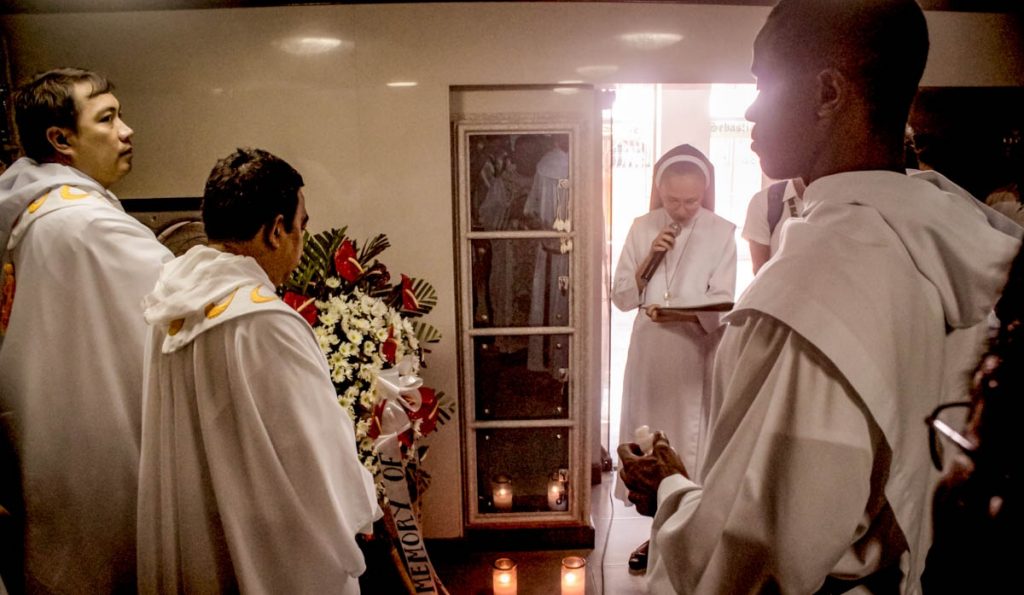 San Sebastian College-Recoletos de Cavite (SSC-RdC) commemorated the life of Msgr. Pedro L. Lerena during a mass said last, August 15, 2017, 9:00AM at San Roque Parish Church.
During the homily, Mass Presider Rev. Fr. Virgilio S. Mendoza, Parish Priest of St. Augustine Church in Tanza, Cavite, shared with the mass attendees the life story of Msgr. Lerena, especially, his mission as a Recollect Priest and his stay in Cavite City when he was assigned Parish Priest of San Roque. "He loves Cavite City so much, that he decided to leave the Order of the Augustinian Recollect (OAR) so he would not have to go to his new assignment and stay with the Caviteños. But never the less, Msgr. Lerena remained a Recoleto by heart." stressed Fr. Mendoza. Because of his love for the OAR, Msgr. Lerena initiated the establishment of St. Joseph College (SJC), an all-girls school ran by the Augustinian Recollect Sisters in 1945 and San Sebastian Junior College now SSC-RdC, an all-boys school ran by the Recollect Priests in 1966. Both are now co-educational institutions "Cavite City is really a baluarte of the Recoletos and hopefully, the Recollects will build a parish in Cavite City," added Fr. Mendoza.
The mass was concelebrated by Rev. Fr. Dominador B. Medina, Parish Priest of San Roque Parish, Rev. Fr. Hector Arellano, Parish Priest of San Pedro Apostol, and the SSC-RdC priests Rev. Fr. Cristituto A. Palomar, OAR, President, Rev. Fr. James Dexter R. Tanquis, OAR, VP Academics, Rev. Fr. Samuel L. Eyas, VP Religious Affairs, Rev. Fr. James C. Castelo, OAR, VP Finance, Bro. Agustin E. Culaton, OAR, Property Administrator, and Bro. Benjamine Edobor, OAR. The Augustinian Recollect Sisters, Secular Augustinian Recollect Fraternity (ARF), Lay Administrators, Employees, Students of SSC-RdC and SJC, and guests were at the occasion. Fr. Palomar, together with Fr. Eyas, awarded the certificates of appreciation to Sr. Noemi O. Mapa, Directress, SJC, Fr. Medina, and Fr. Menodza.
After the mass, Fr. Mendoza blessed the relics of Msgr. Lerena in the columbarium of San Roque Parish Church.