The Nativity of Christ (Christmas Day)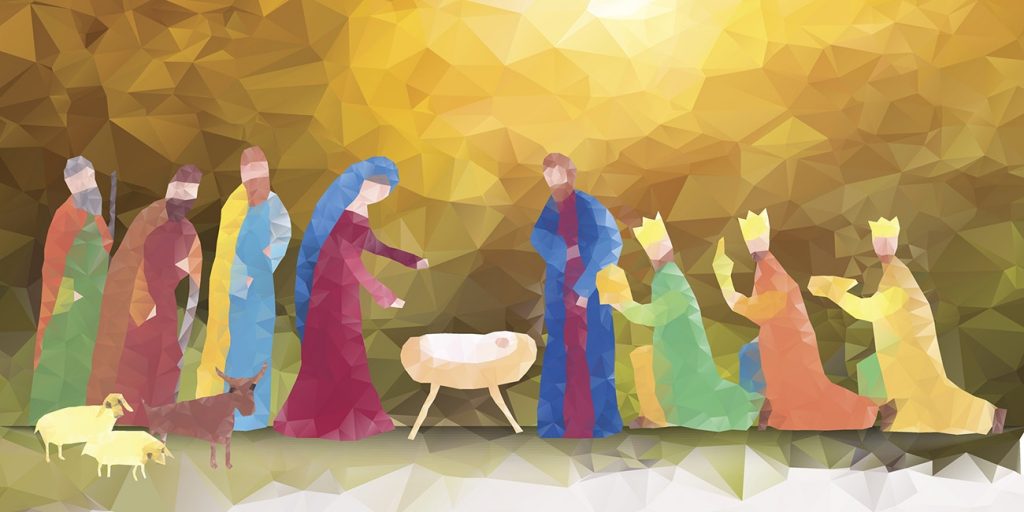 Readings: Is 52:7-10; Ps 98:1,2-3,3-4,5-6; Heb 1:1-6; Jn 1:1-14
"COME." This has been our cry while hopefully waiting for our Savior Jesus Christ. This prayerful supplication is a confession of a wounded race that is incapable of coming closer to God without God himself extending his hands. At the same time, it is our confession about the One who is coming. He who is coming is God who will strip himself of his divinity (cf. Phil 2:5-11) to reconcile us back to the Father (cf. 2 Cor 5:18).
Today, He whom we begged to come has come in the form of our fallen nature, in an infant covered with blood and wrapped in swaddling cloths. Yet, Isaiah proclaimed that this infant laid on the manger is our KING. He will bring glad tidings, peace and salvation to his chosen people (Is 52:7). And for the author of the letter to the Hebrews, it is through this infant, the Father's Son, that the Father has finally spoken. He is the word of the Father through whom all things were created and are sustained. It is also through this holy infant that the "purification from sins" will be accomplished (Heb 1:1-5). What we have been begging God for is now in front of us, among us, so intimate with us. God has indeed extended his hands and our reconciliation is began for this infant is "In the beginning was the Word, and the Word was with God, and the Word was God. He was in the beginning with God (Jn 1:1)."
In this infant devoid of any kingly symbol, the Church confesses that it is He who wonderfully restored the dignity of our fallen nature, and she prays that we may become sharers in his divinity who humbled himself to share in our humanity (Collect, Mass of the Day). He is the light shining in the darkness, and the darkness has not overcome Him (cf. Jn 1:5). From Him who shares in our humanity we have received "grace upon grace (Jn 1:16)." And all we can do is to offer Him due homage, and even in our desire to give Him glory, we pray to make our oblation acceptable for it is only He, the Son of God, who can fully offer divine worship to the Father (cf. Prayer over the Offerings, Mass of the Day).
Today, we behold our salvation. May this celebration of God's graciousness upon us not only move our emotion like movie-goers. May it move us in faith to draw closer to Him, not to simply check the new-born child like by-standers do. But, may it unite us to the Author of our divine generation and Giver of immortality (Prayer after Communion, Mass of the Day), so that we may sing with the psalmist, acclaiming: "All the ends of the earth have seen the saving power of God." For indeed, today, we have seen God.
By Fray Lounal E. Jarumay, OAR