UNESCO-accredited orgs in USJ-R receive awards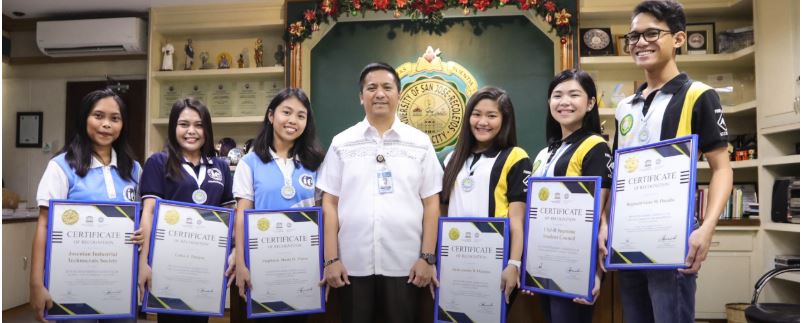 Two accredited UNESCO organizations from USJ-R received different awards during the 2019 International Assembly of Youth for UNESCO at the University of the Assumption, Pampanga in December 2019.
These two organizations were the Supreme Student Council (SSC) and the Josenian Industrial Technocrats Society (JOINTS). These two organizations were marked as two of the outstanding clubs because of its sustainability in giving the best advocacy and programs for the community.
SSC was recognized under the Social and Human Sciences Category. The award was received by SSC representative Criselle Aurea Encabo. JOINTS was recognized under the Science and Technology Category. It was presented to the JOINTS representative Denessa Villariasa.
Out of 160 accredited UNESCO clubs in the Philippines, only 60 clubs are in good standing including the two organizations from USJ-R. In 2018, both organizations submitted their papers to UNESCO with their flagship programs, achievements and their respective definition of leadership.
The flagship program presented by the SSC was Caritas et Scientia. This program aims to nurture those youth and children who are unfortunate at the same time not intellectually capable.
"We have this stigma in the Philippines that those poor but hardworking and intelligent youth and children are the ones who can capable of getting scholarships. So, in our program, we wanted to impart love and knowledge to those deserving individuals who are poor with low intellectual capability," said Encabo.
The JOINTS organization also presented its flagship program entitled 3R.io. According to Villariasa, the 3R stands for Reach out, Revitalize, and Remodel. This program aims to reach out to the youth in revitalizing the essence of recycling by remodeling used tarpaulins into an envelope.
Individual awards were also given. Four Josenians college students were given the 2019 Outstanding Unesco Club Youth Leader Of The Philippines. They are former SSC Officers Alexes Janine Ocampo & Reginald Gene Orcullo as well as former JOINTS Officers Stephanie Marie Flores and Laika Tampus.