UNO-R installs 17th President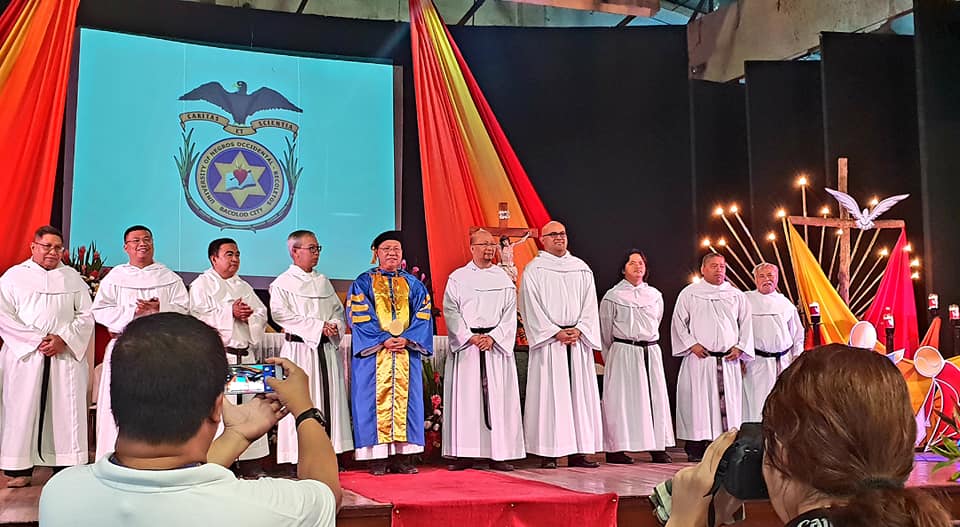 After the Mass of the Holy Spirit, a concelebrated Mass to be led by Prior Provincial, Rev. Fr. Dionisio Selma, OAR today, July 05, 2018., Rev. Fr. Don Hormillosa Besana, OAR will be installed as the 17th Recollect President of the University of Negros Occidental –Recoletos. The program will start with the relinquishment message by Rev. FR. Eduardo S. Celiz, Jr., OAR , UNO-R President, Triennium 2015-2018. Presentation of Plaque to Fr. Celiz by Fr. Selma follows. Rev. Fr. William Villaflor, OAR, REAP President and Recoletos de Bacolod House Prior, will read the letter of Appointment of the new President who ill then Profess his Faith publicly. The Vice President for Academics, Rev. Fr. Jose Alden Alipin, OAR assisted by the deans of the Colleges of Engineering and Arts and Sciences will don the Academic Gown to Fr. Besana. Vice president for Administration, Rev. Fr. Ronel Gealon, OAR to be assisted by the Dean of the Colleges of Education and information Technology will put the Presidential Medallion to the new President. The University Mace shall be presented by Rev. Fr. Amadeo Lucero, OAR, VP-Student Welfare, and shall be assited by Engr. Christopher Taclobos, UNO-R Registrar; and the Dean of the College of Business and Accountancy. The Presentation of the Vision –Mission of the university to the President is Rev. Fr. Cristituto Palomar, OAR, VP-Religious Affairs with Dr. Sheila Arnibal of the College of Allied Medical Health Sciences and Director of Student Affairs, Dr. Dexter Paul Dioso. Rev. Fr. Walthrode Conde, OAR, UNO-R HRMDO with associate Director, Dr. Carmenda Leonoras and Dr. Dennis Madrigal, Graduate School Associate Dean will present to the New President his roles and functions. Presentation of the Bible by Rev. Fr. Jose Teodulfo Jadulco, OAR with Criminal Justice Education Dean, Dr. Jasmin Parreno and ICTD Mariano Antenor will precede the Introduction of the new president by Dr. Carlos Eduardo Legaspi, Jr. The new President will then deliver his Inaugural Address. Statements of support shall be delivered by Rev. Fr. Persiuz Decena, OAR, Director of Basic Education; Dr. Monafreda Secondes, Research and Development Director; Dr. Angelus Diamante, Alumni President; Engr. Noli Ortiz, UNOFELA President; and John Lewis Pabilona, President, student government. Atty. John Paola Villasor,MSc, Dean of the School of Law will give the closing message. The emcess of the program is Mrs. Ma. Judy B. Legaspi.
He finished his basic education from his hometown in San Jose, Antique. He joined the Order as a minor (high School) seminarian in San Carlos City. He made his simple profession in April 27, 1996; his solemn profession on July 23, 1999. He was ordained deacon on October 30, 1999. He received the Sacrament of Holy Order on the Birthday of the Blessed Mother, December 8, 2000.
Prior to his election as President of the University, Fr. Besana's religious assignments are as follows: Parish Priest of Our Lady of Mount Carmel, Cebu in 2000-2001; He was transferred to UNO-Recoletos as Chaplain, CMO Director, UCDO Director, and RESOURCE-Handumanan Treasurer and Vice President from 2001 – 2003; He was then transferred to Casiciaco Recoletos Seminary (formerly Seminario Mayor, Recoletos) as Spiritual Director, Vice Prior and Procurator. Answering the call for missionary work, He was sent as Prior to the OAR African Mission in Kamabai, Sierra Leone from 2004 to 2006; He was then returned back to form future workers in the vineyard of the Lord as Spiritual Director, Dean of Studies and Registrar from 2006 – 2013. He was then called to serve the educational apostolate by his appointment as VP-administration and Human Resource Development Center Director of San Sebastian College –Recoletos, Manila from 2013-2015. After the triennium, he was assigned to San Sebastian College –Recoletos , Cavite until 2017 as Vice Prior and Vp-Admin and HRMDO Director. In 2017, He was transferred to UNO-R as Vice President for Academics. And on May 25, 2018, the Board of Trustees, chaired by the Fr. Prior Provincial, elected Fr. Don as the 17th President of the University of Negros Occidental –Recoletos.
[Photos by Fr. Leonardo Pauligue, OAR]