UNO-Rian recognized as "Global Changemaker"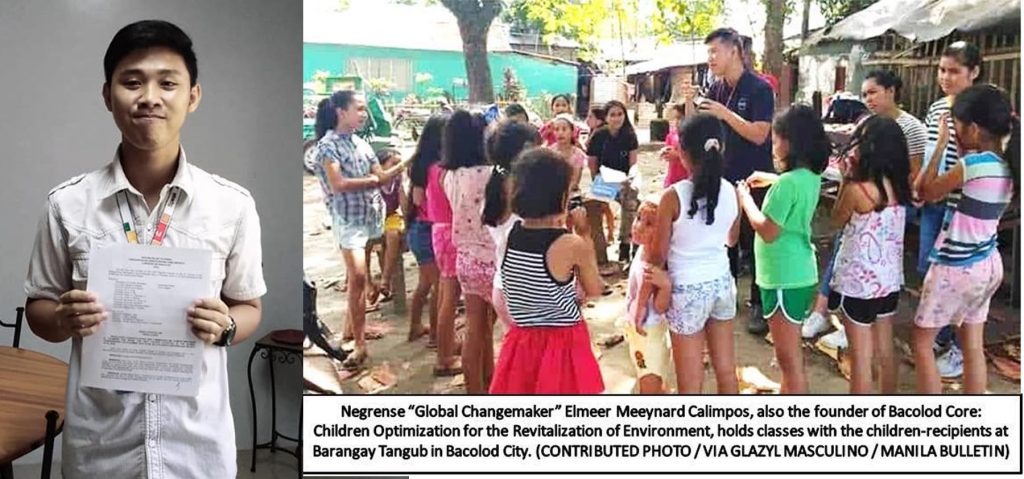 Bacolod City, NEGROS OCCIDENTAL–The international organization, Global Changemakers has given a 21-year-old climate advocate from Bacolod the title "global changemaker" for the initiating a solution to address climate change and plastic pollution. Elmeer Meeynard Calimpos was the only Filipino chosen to represent the Philippines in the week-long Global Youth Summit in Switzerland in July this year. He was among the 60 young people chosen from 1,294 applicants from different countries in the world to join the network of "global changemakers" comprised of at least 1,000 young leaders whose works have impacted over four million people.
The Global Changemakers is based in Zurich, Switzerland, and maintains a presence in 180 countries. As a child advocate for climate, Calimpos said he wants his fellow "changemakers" to reach out to the children of their community since it is evident that mortality rate across the globe is rising because of the changing climate. "I want to attend this summit because I firmly care for my country which is one of the largest polluters of the ocean in the whole world," he said. Calimpos started his advocacy after he saw children diving in a degraded sea side full of single-used like diapers, napkins, sando bags, sachets, and feces during his visit to one of the communities in the province in November 2017. "It was ultimately heart breaking when my team knew that they were doing such act — competing for trash — just to earn even just a small amount of money," he said. Calimpos, who founded the Bacolod Core: Children Optimization for the Revitalization of Environment, is pushing for a multi-step learning process to the children in their formative stage by inculcating values of environmental stewardship through education, experiential learning and exposure for a sustainable and balanced ecology.
The Bacolod Core: Children Optimization for the Revitalization of Environment formed in February 2018 is a local youth-led organization with a heart for building a community of environmentally conscious children for the children to their children, the nation, and to God. Calimpos encouraged him to join the Negrosanon Young Leaders Summit Wave 2 and later to form the Ecological Saturdays Initiative, a multi-step learning process for children age 9 to 12 years. One of Bacolod Core's projects is the Core Bamboo Coin Bank. The group volunteers teach children to save for themselves and their community instead of buying candies and junk food. Calimpos said he will highlight the power of small communities and encourage the people to think globally and act locally during the summit to extend the project to other communities. (By Glazyl Masculino, Manila Bulletin, published June 15, 2019)