USJ-R opens first Grand Marian Exhibit, features 41 images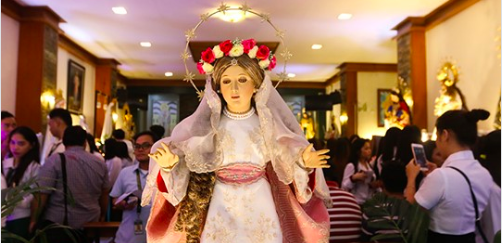 CEBU CITY–Forty-one images of the Blessed Mother Mary under her different titles were displayed at the USJ-R chapel from September 2 to 7.
This is the first time that the University of San Jose-Recoletos organized a Grand Marian Exhibit.
VP Religious Affairs Rev. Fr. Arian Josef Ocheda, OAR said that the purpose of showcasing the different images of the Blessed Virgin Mary was a prelude to her birthday on September 8. The second reason is catechetical which means to introduce to the Josenian community the titles of Mary and to remind them that she will always be in our daily lives. Lastly, the activity hoped to strengthen the spiritual beliefs of Josenians and to get closer with Mama Mary.
He was happy to see the outcome that people would visit the Main chapel to pray and ask for guidance. He was glad that Josenians appreciated the exhibit.
"Nalipay ko na appreciated ang exhibit sa mga Josenians unya daghan nisulod sa chapel," he expressed.
It was primarily intended for Josenians but the exhibit was also open to all who wanted to visit.
As a liturgist, Fr. Ocheda wanted to introduce the practice of conducting a Marian Exhibit since it was part of his previous assignments.
The preparation for the said activity took two months. First, it was conceptualized during the meeting he attended with the Campus Faculty and Staff Ministry (CFSM). He challenged one of the representatives and pointed out Professor Emerson Aller. They had their preliminary meeting for the Marian Exhibit in the last week of July.
The initial number of images of Blessed Virgin Mary was only thirty-eight.
CFSM members also recalled that they had difficulties in looking for the right venue. The first chosen venue was the main lobby. However, it did not push through because of the security risk and these images will be exposed in the environment – pollution. The second venue picked was the Noberto Quisumbing Hall but there are classes on weekdays which makes it not a feasible option. Finally, the venue selected is the chapel at the main campus.
The organizers then coordinated with the security to receive the images loaned by the Carmareros, the private individuals who owned the different images.
For the next year's celebration for the birthday of Blessed Virgin Mary, Fr. Ocheda is looking forward to having more images. Moreover, the next exhibit will be more advertised to the public. The Campus Ministry Office (CMO) is also eyeing the possibility of conducting an exhibit at a bigger venue.
The event theme is "Mary, Mother of God, The Light and Inspiration to the Josenian Youth."
---
Written by Cyde Obrero (AB LIACOM intern)