USJ-R team wins 2019 PICPA Quiz Bowl for Accountancy Students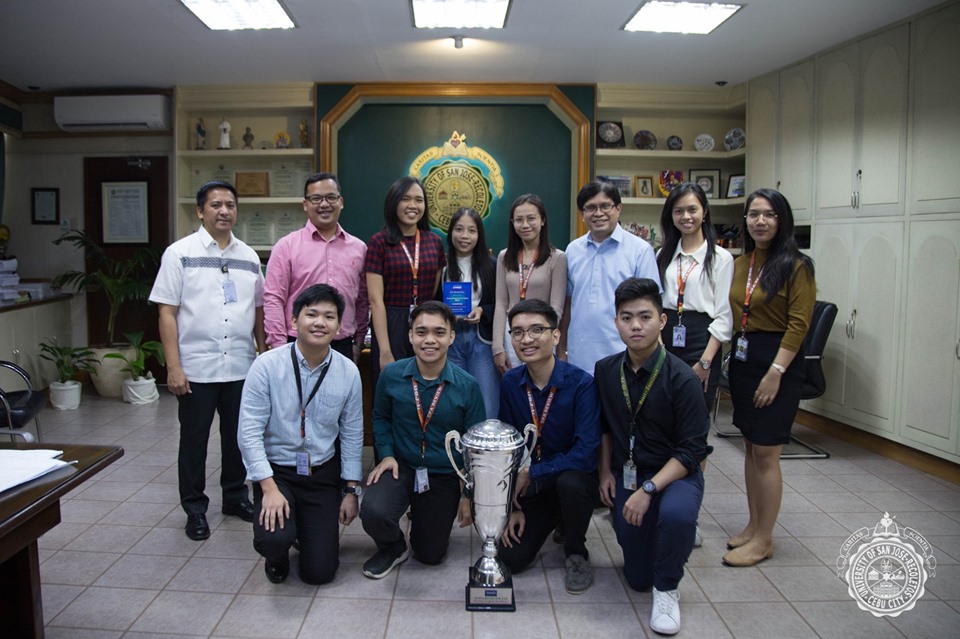 CEBU CITY–The first place of the Philippine Institute of Certified Accountants (PICPA) Accounting Quiz Bowl Level 2 was bagged by a Josenian team on July 17.
It is composed of Shiena Rose Vilbar, Mary Belle Cane, John Karlo Caminero, Dhan Michael Olmilla and Francis Honorato Matmat.
Meanwhile, the USJ-R Level 1 team placed sixth. It is composed of Hebban Tawantawan and Alexa Camille Bongabong.
The quiz bowl has two categories namely Level 1 and Level 2. Each category has three rounds namely easy, average, and hard.
When the participants recounted their experience, they said they took the lead but they had a difficult time answering the items on the later part of the contest. They confessed they have been struggling with the subjects which are not yet covered during their review.
To cheer themselves, the said Accountancy students would chant "Above Phoenix!" every time they get a correct answer. Phoenix is the name of their batch.
"Pag himo sad mo ug chant. Bahalag ma wrong mo, chant lang," Matmat said.
It is expected that there will be a lot of new topics to be addressed for the next participants. They recommend preparing, not losing hope and creating a chant to help them ease the tension between the quiz.
The competition was tight as Team USJ-R tied with UC and USC in the last round. The team said that getting the right answer for the last question was instrumental for their win.
Looking back, the team spent a month to prepare for the exam with the assistance of their coach. The members went to concurrent practices and reviews. Each of them was assigned a particular subject to focus on. They prepared themselves spiritually as well.
The team also went through various contests in the previous years with older opponents to serve as their training ground.
The rigorous training is a testament of USJ-R's Junior Philippine Institute Accountants' (JPIA) – Quiz Bowlers' Society commitment to excel.
---
Written by Cyde Obrero (AB Liacom Intern)