USJ-R welcomes students from Lumad Bakwit Schools of Mindanao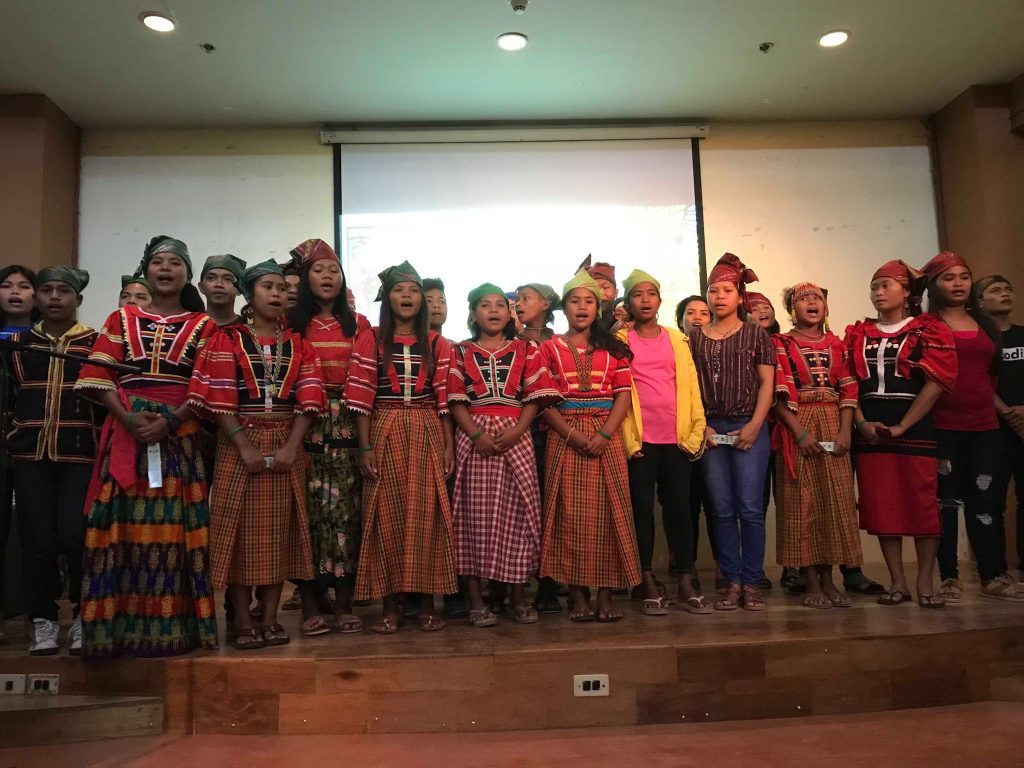 CEBU CITY—Thirty-two (32) students from the different Lumad Bakwit Schools are currently staying and availing the continuing education program in the University of San Jose–Recoletos, Basak Campus, Cebu City, Philippines. They will be in the university on the following dates September 10-14, 2018. The solidarity presence in Cebu is organized by the Save Our Schools (SOS) Network, and co-organized by the Cebu Archdiocesan Commission on Social Advocacies (COSA), Rural Missionaries of the Philippines (RMP) and the ARCORES-Filipinas.
The students are coming from the different indigenous tribes of Mindanao. They are currently 'on evacuation' as a result of the continued militarization of their communities; due to their active defense to protect their ancestral domain from mining companies and palm oil plantation. The militarization, the continued burning and occupation of their 'Lumad' schools affected their regular education. The imposition of Martial Law last year created more disruption in their communities. Many were threatened, murdered, and harassed. These Lumad students fled from their communities to escape from the onslaught of the heightened militarization, resulting in the continued bombings of their schools and communities. Beginning this month, they started to march from Mindanao, arriving in Cebu last September 4, 2018. Bringing their plight and telling their stories of struggle and survival; they hope to reach Manila on the first week of October.
Archbishop Jose Palma, D.D. of Cebu issued a statement of endorsement to support the Lumads, that says, "I am deeply saddened by the fresh stories of violations and abuses [that] their people are currently suffering. Their plight should be a concern not only for our rural missionaries working in the mountain barangays of Mindanao but should also be ours as we heed the call of our beloved Pope Francis to care for our brothers and sisters in the peripheries of society and as a Church that proclaims preferential option for the poor."
The Lumad students will be having classes related to their indigenous curriculum. Volunteer teachers from USJ-R will also assist the students to avail the learning module related to basic computer use, mathematics, English proficiency, and robotics. Other activities also include, psycho-social sessions to help them cope with the traumas related to bombings, harassment and killings; art sessions, paper making at the WOW-RIDEM center, and sports. Conferences, fora and encounters with the participation of USJ-R students form a component part of their presence in the campus. "Our sufferings are not being reported thoroughly, we are here to share our real stories…" said Jong Monzon, lead Convener of Save our Schools Network.
The Save Our Schools Network was formed by indigenous peoples' groups, educators and support groups to combine efforts to address the need to advocate and mobilize resources to serve the indigenous and children's rights to education. The network provides advocacy and services to the community schools that are recognized by the Department of Education Indigenous People's Education Office (IPSEO). They uphold these schools' programs that instill cultural heritage and pride to protect their culture and ancestral domain and prevent the encroachment of multinational investments. Instead they promote a sustainable, community-based development program. The Archbishop of Cebu made an appeal "to encourage your school, congregation, parish, or community to share a little of your time spending and immersing with the Lumads. They are presently having their makeshift schools called Bakwit schools in Cebu and are hosted by various academic and religious institutions that extend support to the educational needs of these eager yet displaced Lumad students. May we be always open to the call of solidarity with them…"