Alumni from OAR schools pass board exams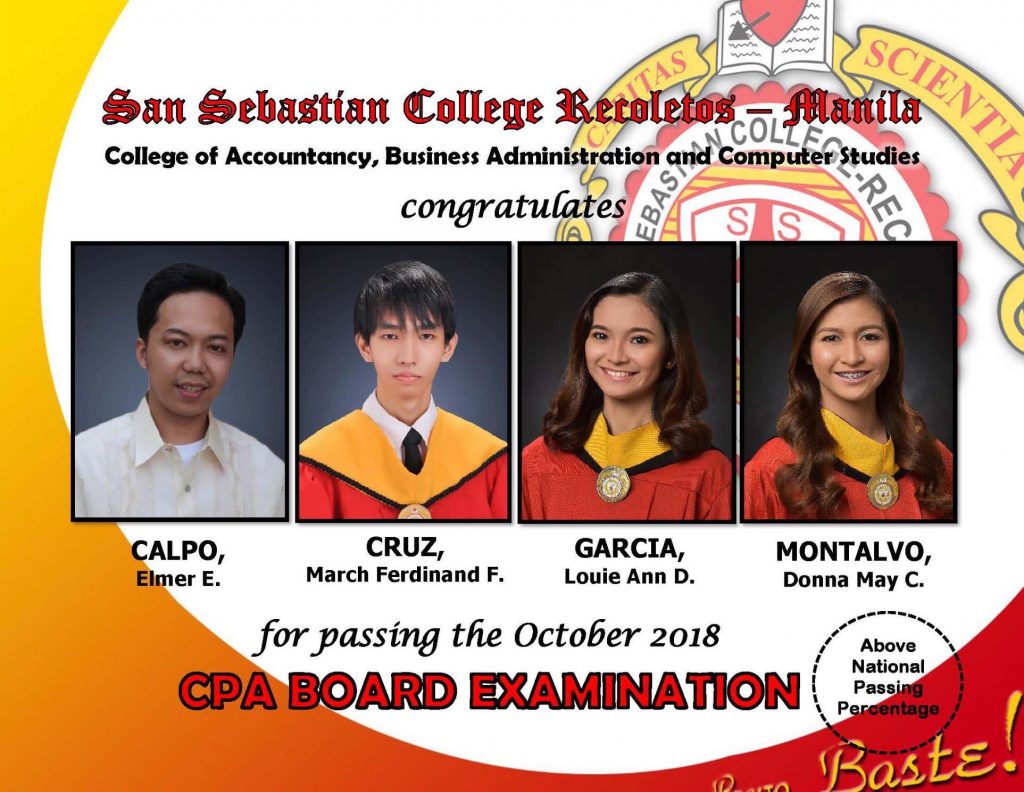 PHILIPPINES—Alumni from different OAR-administered schools passed in the recently concluded Board Examinations.
During the September 2018 Medical Technology Board Examinations, MedTech students from UNO-R were able to pass the board exam putting UNO-R in Rank 3 as Top Performing Medical Technology School Nationwide. They were:

Abalajon, Adrian P.
Abella, Mishael Kate B.
Amar, Jenny Rae G.
Badilla, Aina Joyce P.
Balgos, Julyn Grace M.
Baliguat, Krystel Mae E.
Balinas, Carryl Joy P.
Brillantes, Alessandra Rae T.
Bruna, Julyanna R.
Bulacja, Johnrev M.
Buslay, Nicole Mae B.
Cabana, Marianne Therese Augustine
Caña, Joshua Angelica M.
Cardinal, Lea Kate A.
Celis, Rianna Mara T.
Chan, Michelle Rose B.
Cortez, Kimberly A.
Deala, Althea Dune B.
Dolocanog, Jane Pauline H.
Domato, Norhainah M.
Dunton, Quenie Diane G.
Escollar, Jenny Belle B.
Española, Ruvie Grace D.
Esquerra, Aljon B.
Fernandez, Eunice E.
Flores, Genesis B.
Genova, Justine Kaye L.
Gequillana, Jaryl Kaye J.
Gonzaga, Shaira F.
Gultia, Exil S.
Hagonao, Nicole Grace T.
Huelar, Mae Shaira L.
Jalandra, Krizza Louise S.
Jalandra, Oscar III D.
Jolipas, Christine G.
Lachica, Anamae A.
Lagansoa, Patricia Joy B.
Lazalita, Raynon T.
Lim, Irish Lhou P.
Lima, Mia Paz O.
Lopez, Ron Brian C.
Mabugat, Paolo Augustine A.
Magbanua, Jan Cary R.
Mondejar, John Mark V.
Mondia, Noreen Mae C.
Montinola, Raul III H.
Moreno, Patrice O.
Natu-el, Ma. Flor Theresa L.
Patarata, Mark Anthony P.
Perartilla, Chlea Sheriez V.
Piezas, Christian Vincent Y.
Quintanilla, Jessa R.
Regalado, Kayzylyn Ann R.
Rodriguez, Angelica May G.
Rubin, June Anne A.
Rufino, Shantyl J.
Salcedo, Ro-Ann S.
Sarino, Stephanie Claire M.
Segovia, Louie John G.
Soldevilla, Nicole Ann R.
Tan, Shaun Andre V.
Tasic, Remel P.
Teodoro, Inza Rita S.
Tolbo, Yza June
Tortosa, Anne Mary Margret M.
Trabadillo, Myrdal P.
Tubongbanua, Rhyz C.
Tumbagahan, Rhea L.
Untalan, Ruby Ann V.
Villanueva, Marielle G.
Wee, Clarizze Andrea M.
Yangco, Maraille Zoie T.
University of San Jose-Recoletos alumna and San Sebastian College-Recoletos de Cavite alumnus also brought pride to their Alma Mater for ranking as Top 7 and Top 9, respectively, in the recently concluded Phychometrician Board Examinations.
Other alumni from San Sebastian College-Recoletos de Cavite also brought the laurels for their Alma Mater.
San Sebastian College-Recoletos, Manila also expressed their congratulatory remarks to their alumni who passed the October 2018 Certified Public Accountant Board Examinations.