UNO-R Institutional Planning 2015 -2020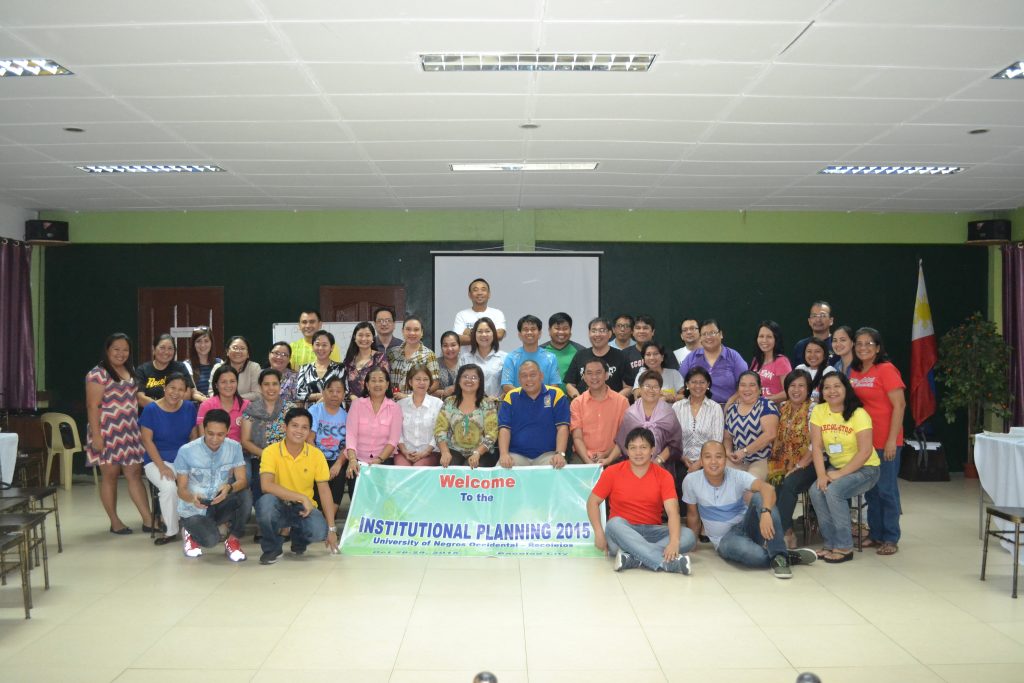 BACOLOD CITY–The university administrators, Program Chairs, and UNOFELA representatives gathered at the Forest Park in Taculing, Bacolod City, October 28-29,2015 for its 2015-2020 Institutional Planning.  The Sessions started with the Opening Remarks of Fr. President and the setting of the mood by Engr. Mona  Freda Secondes, PhD and Dr. Elmer Haro.  The presentation of the revised Philosophy-Vision-Mission and the formulation of the UNO-R Graduate Attributes were done and was followed by the reporting of strategies made by the different committees for the  themes and agenda statements that were previously formulated.
          Dr. Elmer Haro presented the revised Philosophy-Vision-Mission and the Graduate Attributes to the body and was further refined and for the School Board to decide on its adoption.   The group on the Human Capital Management  presented their report through Mrs. Eden Galve.  After Lunch three groups presented their reports on Research Culture by Engr.  Mona Freda Secondes, PhD; the Collaboration and  Partnership group by Dr. Carlos Eduardo Legaspi, Jr. and the Outreach Service program Group by Fr. Abraham Latoza, OAR.  The day capped with the report of the group on Accreditation and Certification by Dr. Haro.
          Day 2 opened with the prayer led by VP-Administration, Rev. Fr. Enrico Peter Silab, OAR.  Dr. Elmer Haro recapped the activities of Day 1.  The reporting of the groups continued with Engr. Christopher Taclobos for Campus Sustainablity; Dr. Carlos Eduardo Legaspi, Jr for Program Marketing;  Dr. Carmenda Leonoras for Management Efficiency  and Fr. Latoza, OAR  for Evangelization.   In the afternoon, Team Building session was conducted by Mr. Jojo Vito after the Opening remarks of VP- Academics, Rev. Fr. Albert Pellazar,OAR. The two-day activity was closed by Dr. Carmenda Leonoras, University Registrar, gave the closing Remarks by challenging everyone to cooperate and materialize the plans for the good of the institution.